In the grand scheme of things, the Sacramento Kings' transition defense is a piece of the puzzle in terms of what has persisted over the franchise in the last few years. The Kings have been bad, bordering at times on being horrific, never sniffing a .500 record or better since 2005-06 with Ron Artest. There's been massive roster upheaval over the years, and a bunch of off-court shenanigans that fortunately have subsided in the past year or so.
One thing that's persisted has been their terrible defense, something that some predicted to change to some extent with the hiring of Mike Malone. It hasn't, with the Sacramento Kings ranking 22nd in DefRtg according to Basketball Reference. In fairness, the Kings have actually improved from ranking 29th last year, a full 5.5 points per 100 possessions from league average. What's hurt the Kings over the years has been their transition defense. Via Synergy Sports, the Kings' ranking in transition points per possession since the 2009-10 season: 10th, 28th, 20th, 28th, 28th.
With the hiring of former assistant coach Mike Malone, who helped mold a solid defensive team in Golden State, there was hope for better results in these type of scenarios. 13.6 percent of Sacramento's defensive possessions end in transition, the second-highest for the Kings. They sadly are still giving up a ton of points, by far the most of any play situation. They give up 15.7 percent of their three-point attempts in transition, and some of their problems just stem from the personnel problems they have. Their big men are rather slow in coming back on defense, and their wings and guards more times than not look discombobulated in knowing where to go on defense.
It's hard to defend fast breaks when three guys track back defensively, and one of them (Derrick Williams) doesn't really track back all that much. It also doesn't help when one of your guards screws up and tries for a steal attempt in open play.
One of the things the Kings have is bad floor balance defensively, which is a symptom of teams that do poorly guarding transition possessions. Take this sequence of events from their game against the San Antonio Spurs around two weeks ago: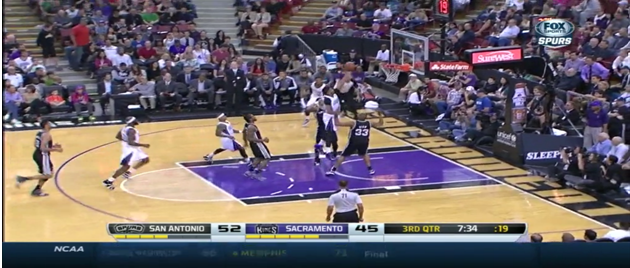 The sequence starts off with a Rudy Gay layup attempt over Boris Diaw. What spurred on the fast break however was a hopeless attempt at an offensive rebound by Reggie Evans.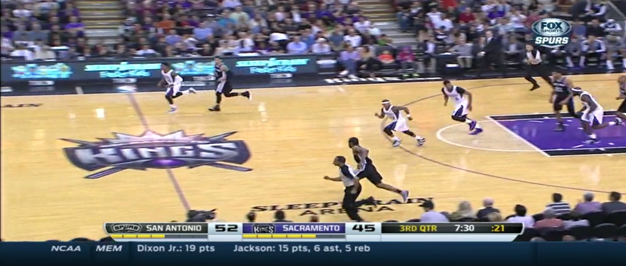 In my best Hubie Brown voice:
OK, you're Sacramento. You had an errant offensive rebound attempt go haywire and now it's a 4-on-3 with your point guard trailing the play. You need to make sure you can balance the floor as best as you can.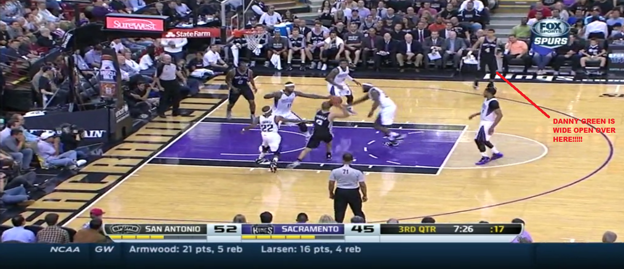 You won't be surprised to hear that Danny Green made a three on this play.
I'm not sure why the Kings have struggled for so long in this department. Some of this can be explained by personnel decisions, especially when the front court of Reggie Evans and DeMarcus Cousins is playing. Cousins is still prone to arguing for calls and falling behind in transition defense. Reggie Evans frankly is just slow. For the improvements that Rudy Gay has shown in Sacramento, he's still suspect in terms of transition defense. Plus all the things associated with bad transition defense (admiring one's own shot, bad floor balancing, lack of effort running back, etc.). The problems continued to reappear during the Kings' most recent game against the Dallas Mavericks last night.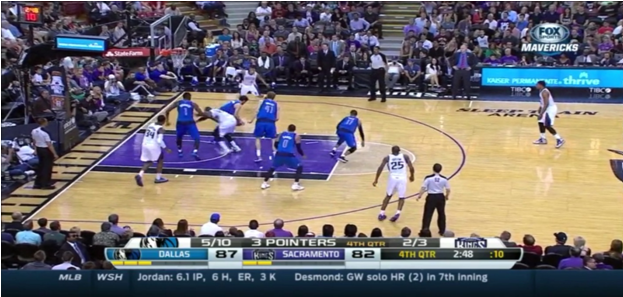 Boogie turns the ball over here in traffic and the Mavs are off. It's a 5-on-4 going on their end (it also doesn't help that Cousins complains for long enough to make this a permanent 5-on-4). Not the worst thing on earth to have, and I'm not even sure how much of a factor Cousins would've had if he had ran back properly, but still not ideal.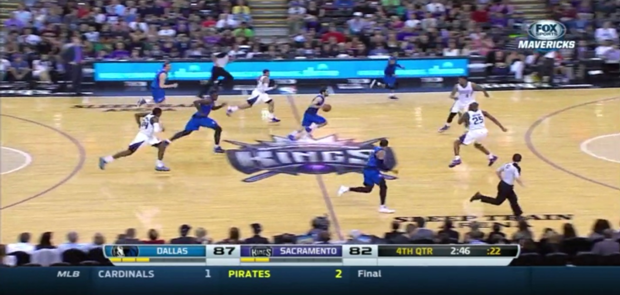 Again, it's a 5-on-4 with Monta Ellis and Shawn Marion filling the wings. Notice where Dirk Nowitzki is. One of Dirk's specialties over his career is shooting three-point shots as the trailing man.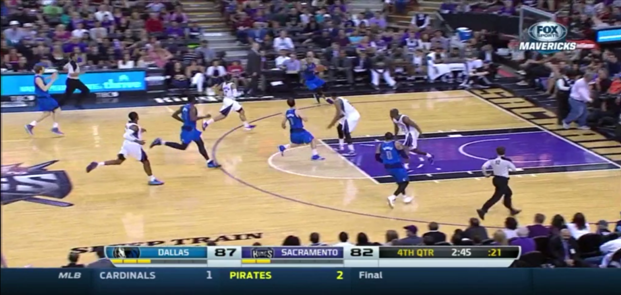 It's a five-point game in the 77th contest of the season and the Kings are still doing these type of things (Dirk missed the shot, by the way). I know that a bunch of variables had to go right for this to happen (Marion and Ellis filling the wings, Jose Calderon and Samuel Dalembert crashing the paint, Thompson forgetting to see where Dirk was, etc.), but it's concerning that these things are still regular occurrences.
The Kings are really bad at transition defense, and it's been that way for a number of seasons. Their problems with transition defense intrigues me, so much so that I tried, out of pure curiosity, to see some possible correlations as to stuff like team age and win-loss records have on transition points per possessions. First off is win-loss record: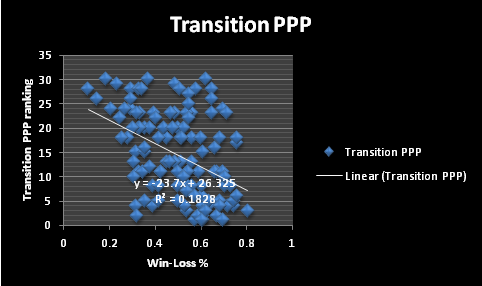 Synergy Sports only has a database tracking back to the 2009-10 season so I only have a four-season sample size to work with. We have an R2 correlation of 0.1828, which comes out to a Talent/Variance ratio of 43:57, indicating there's not much to see here in terms of a relationship. It gets even weirder when your try and separate win-loss percentages for good and bad teams. Here's for teams .500 and above: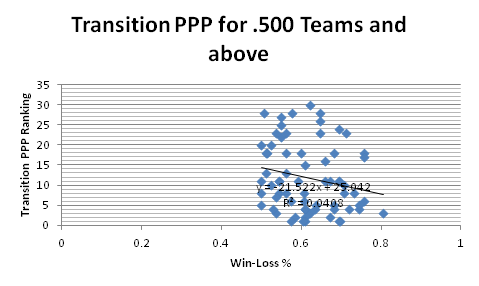 And for below .500: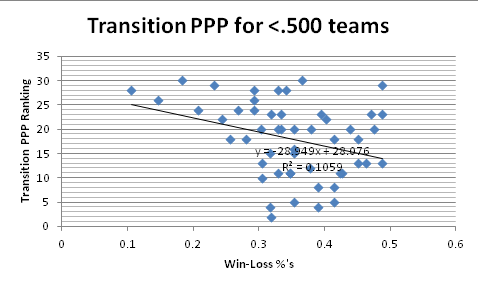 So we have a 20:80 Talent/Variance Ratio for .500 teams and better, and a 33:67 Ratio for teams below .500. We basically (in the limited sample size, mind you) have not much of a basis to say a team's winning percentages has an influence on how they fare in transition defense.
To be frank, I didn't feel much confidence in just using transition points per possession solely because of having only four seasons' worth of data, so I used the NBA's database that tracks back to the 1996-97 season to see a much larger sample size. I used opponent fast break points per 100 possessions as a substitute, and, instead of using their ranking, I simply just used the number of points given up. This is win-loss percentages: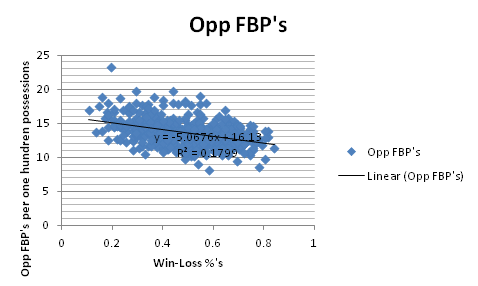 The split doesn't change at all, going to a ratio of 42:58. Something I did do that I felt some levels of confidence in was seeing whether there's repeatability in this measure. So I used the data collected from the 1996-97 season to the 2011-12 season so I would have completed seasons back to back evenly.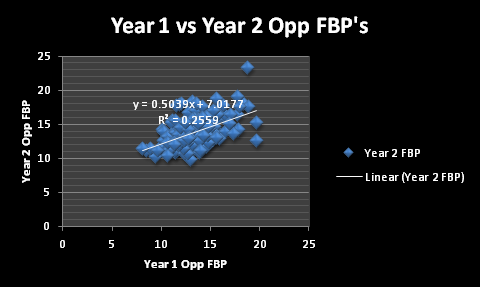 Hmm…. So this is the first graph done with a talent/variance ratio of 50:50 or better, coming out at 51:49. It still doesn't tell us that there's a particularly strong relationship but there's evidence of some correlations that comes from teams that struggle in back-to-back years, which can explain the Kings' problems over the years, specifically how the core has relatively stayed the same sans the Rudy Gay deal this season.
The other thing I tried to do is see any possible correlations with team age and transition PPP/opponent FBP.  There's a caveat with the ages taken (which came from Basketball Reference); they're from February 1 of that season on, so there's a decent chance of some variance within the data collected in terms of trades, buyouts, and stuff of that nature. Here is the relationship for transition PPP and age: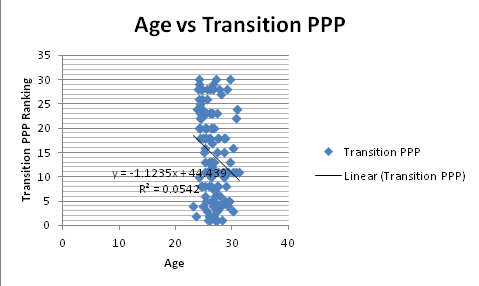 We basically have the same results for when I tried transition PPP and .500 and better teams. Our last graph (thank god) is between age and  opponent FBP per 100 possessions.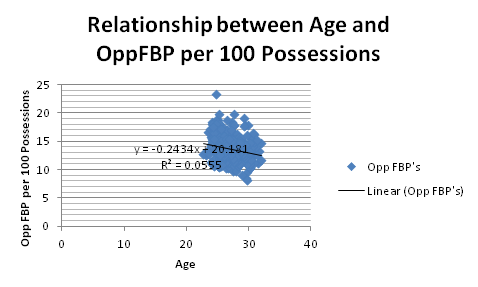 We don't have much to see here. A 23:77 ratio, which indicates much more variance relative to actual talent-driven metrics.
I'm sure there are other ways of doing this type of experiment and there are perhaps different results to it. Something that hasn't changed for some time is the ineptitude that is the Kings transition defense. There's proof of some repeatability in terms of giving up fast break points from year to year, and Sacramento is small proof of it. There's tangible reasons for their problems, some of them I detailed earlier, and I would suspect Mike Malone would say other reasons as well. It's been a lost season for the Kings and their future is unclear. Fixing this part of their team makeup will be a start, and perhaps it'll happen soon.