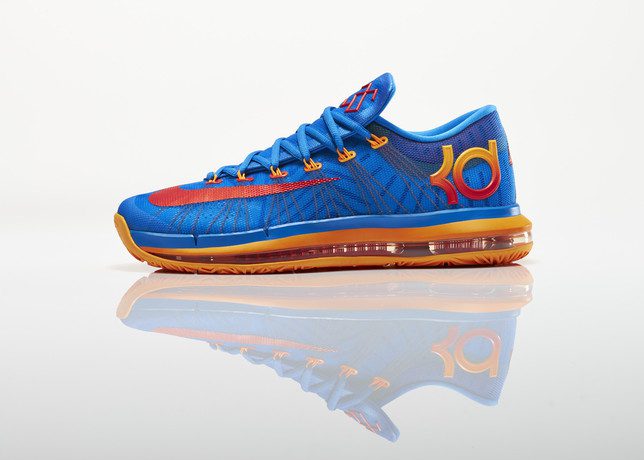 Courtesy of Nike — featuring the Nike KD VI Elite Team >>
As basketball's regular season winds down and the playoffs near, Nike's vision for excellence hits a high point. The Nike Basketball Elite Series Team Collection represents the best for the best: footwear designed to the exact specifications of LeBron James, Kobe Bryant and Kevin Durant.
Using premium materials, advanced construction and athlete insights, Nike Basketball's design team proudly unveils its most technically advanced trio of signature shoes in one collection.
The collection includes the LEBRON 11 Elite, KOBE 9 Elite and KD VI Elite, all in hyperized hues of their respective team colors.
KD VI Elite Team
Kevin Durant's initial response to the KD VI Elite Team says it all – he didn't want to take them off. Shedding weight and increasing breathability, the KD VI Elite Team moves precisely and naturally with the foot. For the first time in a KD signature shoe, this new version boasts a full-length, visible Nike Zoom unit that runs through the entire midsole. Flywire technology, reinforced with Kevlar fibers, provides Durant with optimal lockdown. Designer Leo Chang's vision to mimic the precision craftsmanship and fine details of a wristwatch are visually revealed in the KD VI Elite Team.