Baller Mind Frame's No Layups brings you the hottest NBA stories on the web mixed with personal opinion from our very own Aaron Lanton. Check it often and absorb the knowledge we're dropping on you!
[youtube]https://www.youtube.com/watch?v=IXNG7afGAjM[/youtube]
Thunder forward Serge Ibaka will not be disciplined for striking Los Angeles Clippers forward Blake Griffin in the groin during Sunday's game, a league official confirmed.
Ibaka hit Griffin in the groin as Griffin was going up for a shot less than a minute into Game 4. No foul was called and Ibaka claimed the hit was an accident, which the league agreed with, deciding not to fine or suspend him for Tuesday's Game 5.
Clippers coach Doc Rivers thought the league should look into the play and believes Griffin has taken more punishment, including illegal hits, than any player in the league this season…
Last year, Ibaka was fined $25,000 but not suspended for hitting Griffin in the groin during a regular season game on March 3, 2013.
When Griffin was asked about getting hit below the belt by Ibaka again on Sunday he was at a loss for words.
"I don't know," Griffin said. "I really don't know. I can't get into his head and I'm not going to try." ESPN
Defenders of Ibaka say he was pushed by Kendrick Perkins which caused his arm to forward with perfect precision into Blake Griffin's groin. The problem is that Ibaka is clearly looking at the lower part of Griffin's body until he connects, and also manages to make sure only his wrist connects. If someone pushes a person from behind, the arm doesn't swing like a thrown hook in boxing.
The NBA needs to reevaluate how they are making these decisions. Zach Randolph was suspended for a Game 7 following this comparatively tiny "punch."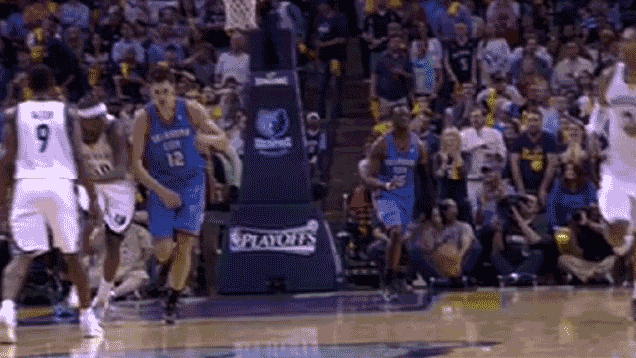 By any measure, this isn't fair.
@SpearsNBAYahoo I couldn't be more disappointed in this decision. What protects players from suspensions – playing with a superstar?

— aaron lanton (@alanton11) May 12, 2014
The rules were not applied fairly in this instance, and I would like to take a better explanation than accidental contact. Ibaka has a history of intentionally hitting Griffin in the groin.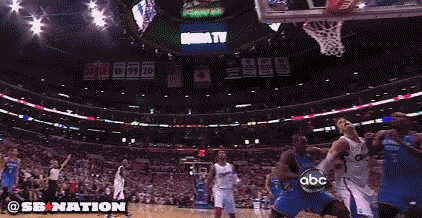 Does he need to use a battle mace versus Griffin's balls for this to be considered unfair? What is Griffin supposed to do to earn respect? If he hits him back, then he's the aggressor.
Playing with Kevin Durant shouldn't protect Thunder players from league suspensions for dirty play, and allow opposing players to be suspended when they finally retaliate to the Thunder's roughhousing. This bears watching but we all need to be a chorus of voices about dirty play in the league no matter which team is on the front of the player's jersey. – AL
Featured image courtesy of Keith Allison/Flickr.