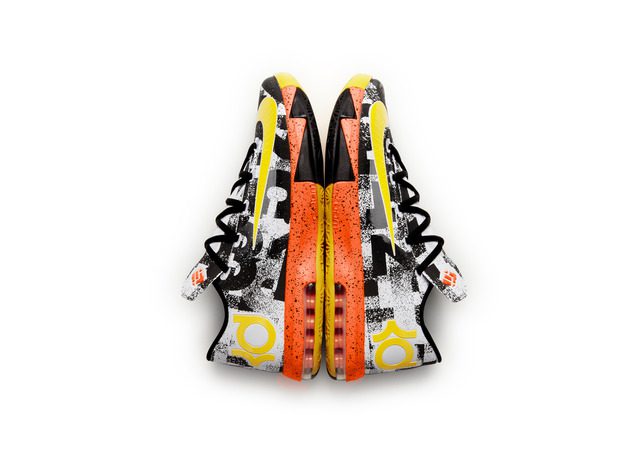 Courtesy of Nike | featuring the Nike KD VI NIKEiD MVP >>
The KD VI was developed to the exact specifications of MVP Kevin Durant, with a sharp focus on design benefits and personal stories. The journey continues with a KD VI NIKEiD MVP graphic celebrating Durant's first MVP award, now available exclusively on NIKEiD.
There is more to KD's MVP award than stellar statistics. His mental focus this season allowed him to cut through the clutter, represented by the pixelated KD VI NIKEiD MVP graphic. Key stats from the year — including Durant's 31+ points per game scoring average, 41 consecutive game streak scoring 25+ points and two 50+ point games — appear through an intentionally blurred graphic that becomes clear with these bright stats.
Shoe designer Leo Chang and the Nike Basketball design team took Durant's sixth signature shoe to new levels with ongoing stories and these paid off with an MVP season. Durant's interest in meteorology, childhood love for peanut butter and jelly sandwiches, collegiate days in Texas, taste for Maryland blue crab, all celebrate unique dimensions of KD.
Durant will receive a special one-of-one edition of the KD MVP shoe, similar to the KD VI NIKEiD MVP version. Athletes and fans globally can create their own MVP shoe or mimic the look of KD's.
The KD VI NIKEiD MVP shoe is now available globally on NIKEiD.com.