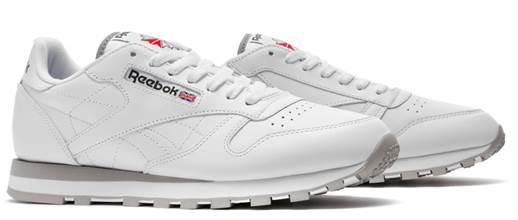 BMF Style: Because balling is more than the roundball – it's the lifestyle that surrounds the ball. BMF Style brings you the best styles in sportswear and fashion apparel for when you're away from the court, whether you're checking for new gear or checking for your favorite NBA players' pieces outside of the locker room.
Courtesy of Reebok | featuring the Reebok Classic OG Pack >>
Introduced in 1983 for "style-conscious men and women," the Classic Leather was a shoe that played the casual card over peak performance. A functional yet fashionable classic, the Classic Leather quickly became a wardrobe staple. Released a decade before runners became complicated and overly technical, it's the utter simplicity of the Classic Leather that defines its timeless appeal.
One of the best-known Reebok shoes in history and in the athletic footwear industry, the Freestyle Hi was introduced in 1982 as the first aerobic hi-top to combine support, stability and high-fashion. Sporty yet street enough to take girls right from the gym floor to the nightclub door, the Freestyle became a quintessential component of the '80's uniform and it was the first athletic shoe targeted for women. In the history of modern sportswear, few sneakers can lay claim to having changed the fundamentals of an entire industry but with the Freestyle, Reebok instantly captured the spirit of an entire generation.
With timeless style that is always on trend, white/white iterations of Reebok Classic's most iconic models – the Classic Leather and Freestyle Hi – will resurface on May 16th.  The Classic Leather will be available at key retailers Urban Outfitters, Shiekh Shoes, Shoe City, Expressions, Kicks USA, Karmaloop.com for $65, while the Freestyle Hi will be available at key retailers David Z, Shoe Palace, City Sports, Moe's Sneaker Spot, Reebok.com for $65.