[youtube]https://www.youtube.com/watch?v=5LMyO_wo240[/youtube]
What do you know about Atlanta?
The crown jewel of the South has become a center for the entertainment industry. Just walking outside your house, you're liable to walk into your favorite rapper/singer/athlete/actor. Life in Atlanta can be exciting.
What you rarely think of when you think of Atlanta is basketball. That should sound strange to a basketball fan. True hoop heads know that some of the game's best players were born and raised in the streets of Atlanta. Josh Smith, Dwight Howard, and Lou Williams are a few of the new guard of Atlanta-bred ballers to make an impact on the NBA.
With all these entertainers in the city, and the huge community of basketball players that reside in the "A," it's fitting that the city finally gets its own outdoor basketball league.
The Atlanta Entertainment Basketball League kicked off their inaugural season last summer. Names like 2 Chainz, Trinidad James, and Atlanta Hawks guard Lou Williams all fielded teams and competed weekly for bragging rights!
The new season of the AEBL will be kicking off June 15. To get a feel for what fans should expect this season, BMF sat down with league founder Jah Rawlins. Rawlins lets us in on some of the talents who will be bringing out teams this year and what else we can expect from another season of AEBL hoops action.
Baller Mind Frame: What made you want to start-up something like the Atlanta Entertainment Basketball League?
Jah Rawlins: Well for one my entire life has been dedicated to basketball. I've been playing since three years old up until about 2009 where a short stint as a pro came to an end. But I also felt like the city was missing something unique during the summers. And I wanted to bring something live and entertaining to the Atlanta community for free. I also felt it was time to get Atlanta summer basketball on the national radar.
BMF: Last year was your first season, what did you learn from that first year that you can take into this new season?
Jah Rawlins: I learned a lot man. Wearing multiple hats and being in the mix with every single aspect of the league taught me some things I've never done. I also learned that if we continue to build a strong community foundation and grow we'll be one of the most sought after events in the country.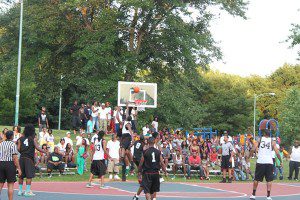 BMF: What was the reception like locally for the league?
Jah Rawlins: The response was great once we started rolling. I mean it definitely exceeded my expectations for the first year. But honestly I never had a doubt that this thing would be huge for Atlanta even when people told me they didn't think it would work or question how would I make it work in a city that's use to playing indoors. It got to the point where after the season was over and I would be around the city people would ask when is the next game or say the weekends were boring without the basketball league. So at that point I knew we did our job!
BMF: What was your biggest obstacle to get something like the league launched in a city like Atlanta?
Jah Rawlins: It was extensive process. Getting everyone to understand and on board with what we were trying to create. Something of this nature has never been done in Atlanta. They've heard about it or seen it with leagues like the EBC Rucker, Dyckman, Venice Beach etc but never physically witnessed it. But ultimately I was able to get everyone to see the vision and potential with year one, so this years process has been much, much smoother.
BMF: Who are some of the players who had a team last year? And who won the championship?
Jah Rawlins: Lou Williams, Trinidad James, Street Execs(Home to 2Chainz), Stevie J(LHHA) were the most notables, but all the teams had a professional player or two every weekend. Last year Trinidad James Gold Gang defeated Lou Wills squad in a nail bitter.
BMF: What can fans expect new this season?
Jah Rawlins: Man where do I began. We gonna turn this thing up a few notches as my guy Fort Knox would say. Were bringing the first ever outside hardwood basketball court to the league, more pro players, celebrities, live entertainment and most importantly more community service programs for the inner city. We have some big, big weekends planned. From community block parties, feeding the community, providing back to school supplies and two programs that I'm really excited about "Stop Your Bullying" and "Hoop In My Shoes". The best thing I can say is you don't wanna miss a weekend.
BMF: Looking down the road, where do you see the AEBL going in the near future?
Jah Rawlins: To the top of the best summer leagues list. Eventually developing a youth and women's division over the next couple of years. Becoming a staple and must see attraction in Atlanta and most importantly continuing to inspire and create positive opportunity for people of this city.
BMF: If someone wanted to learn more about the league, where can they go?
Jah Rawlins: They can connect with us on social media Twitter/@aeblhoops IG:@aeblhoops Facebook/Atlanta Entertainment Basketball League and our website:www.aeblhoops.com