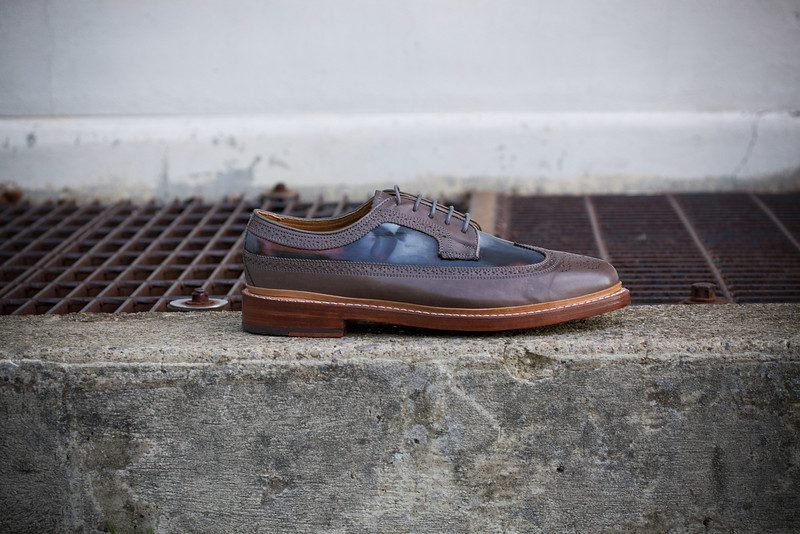 BMF Style: Because balling is more than the roundball – it's the lifestyle that surrounds the ball. BMF Style brings you the best styles in sportswear and fashion apparel for when you're away from the court, whether you're checking for new gear or checking for your favorite NBA players' pieces outside of the locker room.
Courtesy of Brush Footwear | featuring the Florshiem Veblen x Brush Footwear >>
In the world of footwear, in recent times, customization has taken on a whole new path to creativity, self-expression, and lots of notoriety for artists. In the case of Brush Footwear, the company has seen some of its best work shown with its collaborations with some of the biggest names in music (Mac Miller), companies (Nike), and even iconic publications and media (SLAM, BMF's very own Senior Editor, Sandy Dover). Now, resident artist of Brush, Ben Smith has created a new work using the Florshiem Veblen dress shoe.
Brush Footwear founder and resident artist Smith explains his work:
"I used the gray Florshiem Veblen as my canvas for this piece. The abstract painting is featured along the Vamp of the shoe. The color palette in the painting was used to bring out the rich colors in the leathers and the woods used on the Veblen."
You can find more of the Florshiem Veblem x Brush Footwear at BrushFootwear.com.