Rumors are swirling of the Cleveland Cavaliers' uncertainty regarding the first overall pick with the news of Joel Embiid's stress fracture that will reportedly have him sidelined for approximately four to six months. Stress fractures can be fatal injuries for big men, with the list dating back to Sam Bowie and Bill Walton and more recently with players like Yao Ming and Žydrūnas Ilgauskas. And with Embiid looking the part of the best prospect, this has fueled the rumored trade with the Utah Jazz that involves Derrick Favors, Alec Burks, and perhaps Utah's No. 5 and 23 picks for Cleveland's first overall pick.
The obvious headline piece in this other than Cleveland's No. 1 pick is Favors. Burks has improved in nearly every category this year with an added uptick in USG% and less dependability in terms of field goals that were assisted, a good sign going forward as a scorer.
| | | | |
| --- | --- | --- | --- |
| Year | Assisted 2 Pt FG  % | True Shooting % | USG% |
| 2011-12 | 51.4% | 50.6 | 22.5 |
| 2012-13 | 42.3% | 50.7 | 20.7 |
| 2013-14 | 32.7% | 54.7 | 23.9 |
How he would fill in exactly with Dion Waiters in Cleveland would be a question. The Jazz were better with Burks on the floor last season while the Cavaliers weren't with Waiters. That part doesn't matter much seeing as both teams were bad and they weren't substantially better or worse in terms of net ratings either way. Burks has a much healthier free-throw rate compared to Waiters, and is also a better defender. They're roughly the same age (22 years old). Waiters is a slightly more productive shooter percentage-wise but also takes twice the attempts Burks does from three. It's not a stretch to say Burks is a better player than Waiters.
But Burks will be a free agent after next season, and at 23 he could demand a pretty penny if he continues his career trajectory. Meanwhile Waiters is under team control for one extra season, plus he was the Cavs' pick at No. 4 overall in 2012, and perhaps Cleveland values him more than others do.
Favors is the biggest piece in this reported proposal, and perhaps the most fascinating. Embiid will be out of commission for a while and while Burks is a solid NBA player, there is a certain limitation if he can't shoot threes or become an elite mid-range shooter. Cleveland, as currently constructed, will have near-max cap room if they renounce the rights of Spencer Hawes and Luol Deng, and will have loads of cap space with an assortment of team options and qualifying offers, one of which includes Kyrie Irving. They also have Anderson Varejao and his contract which is only guaranteed for $4 million next season with no guarantee date.
Adding Favors will cut into some of that cap space with the contract he signed last October, and Irving's impending second contract will cut in even further. Again, though, the cap sheet for Cleveland going forward is mostly comprised of team options, qualifying offers and its upcoming picks from this draft and the next. It's a flexible cap sheet to have and Irving's max contract will be less than veteran max contracts. Plus they may try and woo a former Cavalier who played for the Heat and stars in Samsung commercials.
To this point, Favors is still a bit of an unknown entity. His new contract will kick in for the upcoming season, which sees him go from making his rookie-scale contract to over double that at nearly $13 million. His deal goes down until his last season where it rebounds back to what he'll earn in 2015-16. He's nearly the same caliber of athlete that Andre Drummond is, fouls at around the same rate, while also shooting free throws at a better clip. He's also better at guarding the rim, according to Player Tracking data. He's not as efficient as Drummond, has a lower PER, and rebounding metrics favor Drummond as well. Drummond, if he corrects the free-throw shooting (and that is a big question), will be the better player and he's  probably better now at a younger age.
But the gap isn't that substantial and Favors' clear advantage in free-throw percentage is something he has going for him, especially in close games where teams can intentionally foul Drummond. Beyond the comparisons, though, you have is still an intriguing big man in Favors, who's only 22 years old. He's a wonderful pick-and-roll finisher, ranking 17th in points per possession, according to Synergy Sports.
Favors can operate in a number of different ways in pick-and-roll situations. He can pretend to set a pick, drawing the player who's guarding him, and just slip to the rim and finish.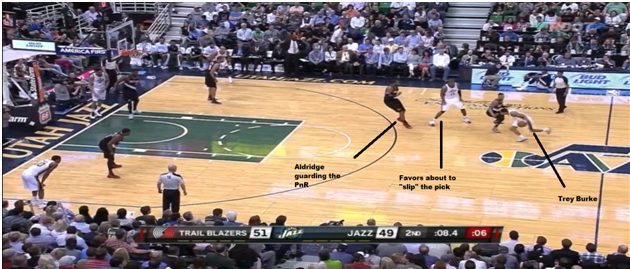 He can act in multiple pick-and-roll actions and still have more than enough energy to make the last action look like the initial action.
Perhaps his best quality as a pick-and-roll big man is just how quickly he can roll when he does set contact on the opposing guard.
Also something that's helped a little is Favors' progression as a jump shooter. He shot a career best 38.8 percent from 10-16 feet while taking 18.1 percent of his shots from there. Again, it's not groundbreaking as a big man but it's a decent progression from his previous season. And you can see Favors splice in some jumpers with the pick-and-roll. Just imagine how good he could be if he could shoot above 40 percent in that area of the court.
Also, what helps him in his case is the potential he could have if he had better shooting around him. The Jazz ranked 25th in three-point percentage while only ranking 20th in three-point attempts per game. It's actually quite remarkable how Favors has become fantastic as a pick-and-roll finisher despite rather poor shooting around him. The Cavs don't represent a giant upgrade, but getting to play with Irving and his shot creating ability is a substantial improvement offensively over Trey Burke.
Favors' post game, though, in comparison to his pick-and-roll prowess, is a couple of steps behind. He shot only 39.9 percent in possessions that ended up in post-ups according to Synergy, registering 0.78 points per possession, which ranks 117th in the NBA. A bit more concerning is that 32.1 percent of his possessions were from post-ups. It's not that he's a complete mess from the post. He's got a right hook shot from the left block, has decent footwork that at times looks really solid. But Favors also has a tendency to take weird fadeaways, which, considering his limitations as a jump shooter, is a reason he was bad in post-ups. He does though have confidence in taking those mini-jumpers from 10-16 feet and if he can improve as a jump shooter, it'll complement and perhaps ease Favors' developing post game.
And that's the key thing to remember: the post game is hard to learn and even harder to master. Post-ups nowadays are much more an avenue to contort a defense rather than something teams use to generate points possession after possession. Favors is only 22 years old and it takes years to learn the intricacies of posting up and how to use your lower body to establish positioning. Plus with David Blatt taking over for Mike Brown in Cleveland and Quin Snyder becoming the new coach for Utah, perhaps Favors will have fewer post-ups and more pick-and-roll opportunities.
Favors' defense at this point in his career grades around above average with the potential to be really good. His athleticism, in a way, displayed more on this end of the court with his malleability as a defensive big. Teams shot just above 50 percent at the rim against Favors, a mark that's close to DeAndre Jordan and the same as Marc Gasol. Sometimes Favors, as the big guarding the pick-and-roll, had to blitz or drop back and play a bit more conservative, something close to what Chris Bosh does with the Heat. You'll see glimpses of Favors being able to defend a pick-and-roll action with the guard handling the ball and be able to slide right back and contest a pick-and-pop.
And Favors is a good shot blocker as well. He's not great, along the likes of Anthony Davis or Serge Ibaka, but he's above average. His post-up defense is poor and is hindering him from becoming an elite defender. Teams shot 48.2 percent on post-ups against Favors; big men had an ability to get right hook shots in the paint against Favors when isolated on the left block. Also, Favors does allow his opposition to gain position rather easily, which must give his opponents confidence to initiate their moves. How much of this is correctable is up for debate, but even average post defense would be a significant step up in the value Favors has as a player.
Favors is a good NBA player with the potential to become really good. He's a wonderful pick-and-roll player, a very good pick-and-roll defender who can guard it in different ways, and is learning the post game on both ends. His contract is a fair one, one that could become a bargain when it's near its completion. The Cavs will have issues offensively massaging a Favors and Tristan Thompson frontcourt, though having Irving helps on that end. But Favors should help them defensively and that duo could be a solid defensive frontcourt in the East. Cleveland, if this deal in some form goes through, will be getting a solid NBA pro who still is very young and has shown massive improvements at key areas.