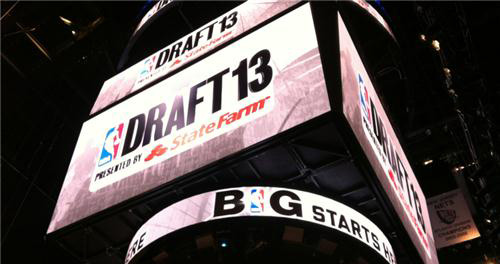 Welcome to the 2014 Baller Mind Frame NBA Mock Draft.
Join us as 14 brave basketball addicted souls pretend to be NBA GM's and wheel and deal their way through the NBA Lottery picks.
1 .Cleveland Cavaliers – A.J. DiCosimo
2. Milwaukee Bucks – Dennis Velasco
3. Philadelphia 76ers – Brian Flood
4. Orlando Magic – Ryan Buynak
5. Utah Jazz – Steven Covella
6. Boston Celtics – Aaron Lanton
7. Los Angeles Lakers – Sandy Dover
8. Sacramento Kings – Mike Hammel
9. Charlotte Hornets – Daniel Rakes
10. Philadelphia 76ers – Brian Flood
11. Denver Nuggets – Frankie Buckets
12. Orlando Magic – Ryan Buynak
13. Minnesota Timberwolves – Brian Sprowl
14. Phoenix Suns – Bryan Brandom
1. Cleveland Cavaliers – Traded to the Minnesota Timberwolves – Jabari Parker
The Minnesota Timberwolves trade Kevin Love and the 13th overall pick to Cleveland Cavaliers for 1st overall pick (Jabari Parker), Tristan Thompson, Dion Waiters, and Anderson Varejao.
Why the Cavaliers made the trade: Dan Gilbert has placed the Cleveland Cavaliers in win-now mode. So, the most logical thing to do would be draft the most NBA ready prospect of the bunch … and trade him in a package to the Timberwolves in exchange for Kevin Love and the 13th overall pick.
With adding Love you get another star to pair with Kyrie Irving and possibly make Cleveland an attractive destination for a certain free agent. Even if Love decides not to stay (if I'm the GM I don't make the move until he agrees to sign an extension), watching Uncle Drew and Uncle Wes get "buckets" will be fun, and instantly makes the Cavaliers a contender in the dismal Eastern Conference.
Why the Timberwolves made the trade: Kevin Love isn't planning on staying in Minnesota, so I figured I'd trade him and get the most back in return. The opportunity for Love to play with Kyrie Irving (and potentially LeBron now that he opted out) is one that he could not pass up (he plans on signing a four-year extension). Now, I get a potential franchise player in Jabari Parker, and valuable pieces to go along with the current group that I have led by Nikola Peković and Ricky Rubio. The starting lineup will be: Rubio, Kevin Martin, Jabari Parker, Tristan Thompson, and Pekovic. Off the bench: Dion Waiters, Chase Budinger, Varejao and J.J. Barea. Not a bad lineup in my opinion.
2. Milwaukee Bucks – Traded to the Philadelphia 76ers – Andrew wiggins
The Milwaukee Bucks trade of the second overall pick to the Philadelphia 76ers along with Larry Sanders for the third overall pick and Thaddeus Young
Why the Bucks made the trade: I'm a big fan of Young and his skill set. He's definitely an upgrade at the small forward position and fits the athletic model I'm going for. I knew how much the Sixers wanted Wiggins, so I played that up a bit in trade negotiations. Getting rid of Sanders' contract ($11 million per for the next four seasons) was a goal of mine. He's a talented player, but the contract and his behavior isn't something I want on this team. While Young can exercise his ETO next offseason, hopefully showing him a winning culture will convince the 26-year-old forward to stay with the team. If not, we'll have about $10 million to play with next offseason, as well as an almost-guaranteed spot for Giannis Antetokounmpo.
Why the 76ers made the trade: I was nervous that the Bucks would have taken Wiggins at No. 2. I felt that Wiggins was the best player in the draft and we didn't tank last season for nothing. So we gave up Thaddeus Young and took on the troubled Larry Sanders just to jump up one pick. It's worth it. We got, arguably, the best player in the draft without surrendering the No. 10 pick. Wiggins has tremendous upside. In a worst-case scenario he's Rudy Gay 2.0. He could resemble Paul George offensively and Bruce Bowen on the defensive end if everything falls right. Not too shabby.
3. Philadelphia 76ers – Traded to the Utah Jazz by way of the Milwaukee Bucks – Joel Embiid
The Milwaukee Bucks trade the third overall pick to the Utah Jazz along with Epke Udoh, Carlos Delfino, and the 31st overall pick for the fifth overall pick and Derrick Favors.
Why the Bucks made the trade: As big of a fan I am of Young, I'm even higher on Favors. He'll be turning 23 this summer and showed improvement last season, averaging career-highs of 30.2 minutes per game, 13.3 points, 8.7 rebounds, 52.2 percent shooting from the floor and a steal, as well as 1.5 blocks. His 19.0 PER is also a career-best. His recent four-year extension (about $49 million) is more expensive than Sanders', but for a young player with a great work ethic, I'm totally willing to take that on.
Why the Jazz made the trade: The recent news of Joel Embiid's surgery to repair a stress fracture in his foot came as a shock to everyone, triggering enough alarms to drop him from the No. 1 overall pick and perhaps even out of the top five. The development is concerning, especially when taking into account talented seven-footers that have had their careers derailed by similar injuries, but the reward of a healthy Embiid is worth the risk of trading up rather than taking someone else.
I'll ship off a questionable Derrick Favors for a player in Embiid who was the No. 1 overall pick just a week ago. The alternatives—Noah Vonleh, Dante Exum, and even Marcus Smart and Julius Randle, to an extent—pose their own risks. The former two, widely regarded as top-five picks, are mysteries. Exum played a few high school games against top talent then built up a mystique playing against abysmal competition in Australia, while Vonleh didn't accomplish much in one season with the University of Indiana. If Embiid recovers, he'll be the best player in this draft, something worth taking a big swing at.
4. Orlando Magic – Dante Exum
With the number four pick, the Orlando Magic look to solidify their backcourt with a trust-worthy point general. Dante Exum is the unknown soldier from down under, but his skill and athleticism make him the perfect candidate to shine bright light in the future.
5. Utah Jazz -Traded to the Milwaukee Bucks – Marcus Smart
I was looking for a player that could eventually take the place of Mayo and/or Brandon Knight. I do like Knight a lot and his ability to play off the ball on offense, as well as his overall skill set. Drafting Smart allows either one of the current backcourt duo to play alongside him since Smart is able to play either position. I really like Smart's toughness (shoving a fan, aside), versatility, and strength. His going back to school after his freshman year when he could have been a lottery pick really shows me something about his character and willingness to improve and be prepared for the NBA. I'm a big fan of his and look forward to the pressure and competition he creates off the bench (initially) toward the incumbents.
6. Boston Celtics – Julius Randle
Julius Randle gives the Boston Celtics two things they desperately need: tenacious rebounding and an imposing physical force in the post. During the 2013-14 regular season, no Celtic averaged more than 8.1 rebounds per game or had a reliable post game. Randle covers these trouble spots and has more athleticism than any Celtic in recent memory.
[youtube]https://www.youtube.com/watch?v=fLHhtBl1DTQ[/youtube]
The concerns about Randle's height (6'9″, 250 rounds) are of little worry because he's the same size as David West (6'9″, 250 pounds) and Blake Griffin (6'10", 251 pounds), big in today's era. Randle has the kind of game that translates well in the NBA, and will be no worse than a solid, contributing starter during his professional career. Other prospects might have more upside but Randle is more prepared to have an immediate impact than most of his counterparts.
7.  Los Angeles Lakers – Noah Vonleh
At this point in the (BMF) NBA Draft, it's unlikely that Noah Vonleh falls to No. 7, but in such a case, he would be the biggest steal. It's simple why the Los Angeles Lakers would select Vonleh if available: he's very skilled with the ball, he can shoot on the move, and he's built excellently—thick lower body and behind, beefy arms and shoulders—with physical attribute that makes near-seven-footers very valuable in the deep post. The Chris Bosh comparisons aren't without merit, but he's bigger than Bosh was at Vonleh's current stage. The Lakers would be thrilled to have the former Indiana Hoosier power forward/center.
8. Sacramento Kings – Elfrid Payton
With the eighth pick, the Sacramento Kings select Elfrid Payton. Maybe. If nothing else changes. Really, who knows. There may not be a team in the lottery with more uncertainty about their direction in the draft than the Sacramento Kings. It wouldn't be a surprise to see them move up, down, completely out of the draft for a veteran, or some wacky combination of the above. What is clear is that GM Pete D'Alessandro is going to be aggressive in considering ways to patch holes for the eternally lottery-bound Kings.
Primary targets for the Kings offseason include a pass-first point guard, a shot blocking counter to DeMarcus Cousins, shooters, and defenders. This draft has a number of options that meet one of these needs and apparently the Kings front office has narrowed down their options at the eighth pick to three or four of them. Payton has rapidly climbed the draft boards as the small conference point guard has reportedly impressed in workouts. He has great size and length for the position, plays pesky defense, and already has the tools to push a pro team in transition. His shooting and level of competition are the greatest concerns but with Isaiah Thomas facing free agency, Payton could (emphasis on could) provide high upside insurance for a suddenly aggressive team with a lot of needs.
9. Charlotte Hornets – Traded to the Orlando Magic- Nik Stauskas
The Charlotte Hornets trade the 9th Overall draft pick, Bismack Biyombo and Gary Neal to the Orlando Magic for Arron Afflalo, Andrew Nicholson and a 2016 second round draft pick
Why the Hornets made the trade: The Charlotte Hornets are in desperate need of outside shooting, Nik Stauskas and Doug McDermott would be the logical targets with the 9th overall pick. The Hornets want to work their way to the top of the Eastern Conference next season so, instead of taking an unproven rookie that may not have an immediate impact, the Hornets acquire a proven veteran sharp shooter in Arron Afflalo. Last season Afflalo posted career highs in points (18.2) and 3-point percentage (42.7) and is a solid defender. With Josh McRoberts opting out of his contract and becoming a free agent, Andrew Nicholson is a promising young player that will provide depth behind Al Jefferson and Cody Zeller. The Hornets unload Bismack Biyombo who has been a complete bust after being selected with the 7th pick in the 2011 draft and Gary Neal who was solid for the Hornets after being acquired via trade from the Milwaukee Bucks last season. To sweeten the deal Orlando's 2016 second round pick is thrown into the deal. The Hornets also have the 24th overall pick, with the depth in this draft this trade is easier to make because they feel like they can still come away with a solid prospect such as PJ Hairston, James Young or Jordan Adams.
Why the Magic made the trade: The number nine pick comes to Orlando via Charlotte in exchange for Arron Afflalo. The Orlando Magic look to differentiate from their other pick by stealing the big white hope, Nik Stauskas. He has incredible shooting ability and amazing range, while still be a stubborn stone hedge in the paint. The Magic will now look to pair him with their young core of Nikola Vucevic, Tobia Harris and Victor Oladipo.
10. Philadelphia 76ers – Aaron Gordon
No matter what happened, we planned to take the best player available with our second lottery pick. Gary Harris and Doug McDermott were extremely tempting and filled team needs, but Gordon's upside is just too high to pass on at this stage. Gordon is full of energy and has an extremely high basketball IQ. Our rebuilding team needs high-character players and the Gordon-Nerlens Noel combo will be difficult to defend once they both fill out. Gordon will be a perfect compliment to Wiggins and Michael Carter-Williams because he doesn't need the ball to make an impact.
11. Denver Nuggets – Gary Harris
My main intention heading into the draft was to blow the whole thing up. The Nuggets have an interesting blend of youth and talent, but obviously lack the firepower to be serious contenders out west. First order of business was to trade Danilo Gallinari. Nothing against Gallo, but the amount of money he makes compounded with his constant injuries make him expendable.  No bites … I even tried to throw Kenneth Faried in to sweeten the deal. With no luck on the trade front I switched gears to drafting the best player available that would still fill a need on the team.
If you look down the Nuggets roster the shooting guard position instantly stands out as being in need of an upgrade. With all due respect to Randy Foye, he is better suited coming off of the bench in a combo-guard role rather than that of a bona fide NBA starter. Enter Harris.
After an injury-riddled freshman season, Harris bounced back to become the Michigan State Spartans' leading scorer with 16.7 points per game. While Harris may lack elite athleticism, he more than makes up for it with his splendid shooting and effort on the defensive end of the ball. With his intelligence and basketball acumen, Harris projects to be a solid contributor right off the bat for the Nuggets. He may never develop into star player, but should have a long NBA career of keeping defenses honest with his shooting ability.
12. Orlando Magic – Ryan Buynak – Zach LaVine
The number twelve pick was risky and lingering, but the Magic got a darn steal with Zach LaVine. This kid is the sleeper of the draft, and after his awe-inspiring workouts the Magic are lucky to take him at the beginning of the dirty dozen. He is 6'6 and he averaged 9.4 points in a shortened season with the UCLA Bruins this past year. LaVine may very well turn out to be the biggest surprise of this year's entering NBA class.
13. Minnesota Timberwolves-  Traded to the Cleveland Cavaliers – Doug McDermott
Who better to play along side Irving and Love than McDermott? No one. All he does is score the ball, and in a variety of ways. People like to make a big deal about his shooting ability, and they should; he has a beautiful stroke and long range (during his junior year at Creighton he shot 49 percent from deep). He can shoot, but what nobody is talking about is his ability score inside. You don't become the NCAA's fifth all-time leading scorer by just chucking up three-point shots. Check him out destroying Bradley University inside.
There are question marks about his athleticism, and his speed, but they also said the same thing about Paul Pierce when nine teams passed on him in the 1998 draft, and he did pretty well for himself.
14.  Phoenix Suns – Adreian Payne
This is a pretty simple one: The Phoenix Suns love floor-stretching bigs like Jorah Mormont loves Daenerys Targaryen, and they have one of those very cogs entering free agency in Channing Frye (who just turned down a player option worth $6.8 million this season). Drafting Payne, who shot 42.3 percent on 3.4 three-point attempts per game at Michigan State last year, gives them the option of replacing Frye's skill set—plus adding more of a post presence and defensive ability—at a fraction of what Frye will likely command on the open market.
Payne, who's already 23, doesn't have much in the way of potential upside, but that's OK; the Suns, coming off a 48-win season and hoping to be healthy all year, are ready to compete right now with their tantalizing backcourt (or, and 'tis the season to make this sort of exception, whomever the Suns trade one of Goran Dragic and Eric Bledsoe for). With toughness on both ends of the floor, Payne can contribute right away at power forward behind Markieff Morris, and occasionally at center if Miles Plumlee and Alex Len are injured or need a spell, or if the latter isn't ready for big minutes.
The tempting choice here was James Young at small forward, but the Suns love P.J. Tucker in that starting role, Markieff's twin Marcus is improving each season, and, probably most importantly, Gerald Green has proven to be valuable off the bench at both wing spots. Tucker, Green, and Marcus Morris are also testament to the fact that solid three-and-D role players can be had for a decent price, and at a much better price than a bona fide stretch-4.