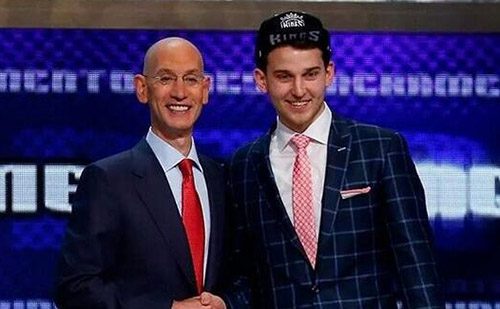 Nik Stauskas saw his first NBA minutes in the Sacramento Kings' match-up with the San Antonio Spurs' Las Vegas Summer League squad, withholding both the positive and negative criticisms of his game in a performance, which went the way many expected. His efforts resulted in a relatively efficient game for a rookie entering his first game, but ended in an 85-69 loss for the Kings despite a roster loaded with stable talent.
Much of Sacramento's young, inexperienced team is playing in the 2014 Las Vegas Summer League, such as Quincy Acy, Ray McCallum, Derrick Williams and Ben McLemore who all started the game for acting head coach Tyrone Corbin. With a squad of established players, one would expect the end result to be something more, especially against a San Antonio team with potential NBA players hoping to make a development squad with only two spots available.
Stauskas began the game shooting the ball well, as he displayed his ability to shoot the ball in all situations, whether off the dribble or from a catch-and-shoot situation. He played well with Acy, using screens to free himself up and get a shot off before San Antonio's defense could reach him. His driving offense, on display for much of his 2013-14 season with Michigan, was shown through much of the second half of this basketball game in which he used his speed to break down defenses and dish out a few passes to Williams and Acy.
Defensively, Stauskas played as one would expect. He was one step behind on most plays defensively, taking too long to switch and losing his man in the fray often, but not as a result of lack of hustle. Even as he followed players along the perimeter for most defensive possessions for the Kings, Stauskas showed his commitment to disrupting shots and making life difficult for his man, which he did despite his obvious need for improvement on that side of the ball.
He finished with 14 points on 4-for-9 shooting, and even got in passing lanes to add two steals to the Kings' efforts.
Ben McLemore had one of his worst games in a Kings jersey, even with the importance of Summer League being nothing close to the regular season. He drove to the basket wildly on a number of occasions, losing the ball every time with a bad handle and no sense of court vision or direction. It's clear that for right now, McLemore's only immediate value is as a catch-and-shoot player and an athletic guard who can defend both back court positions. Finishing with eight turnovers and 11 points on an inefficient 2-for-8 shooting, Coach Mike Malone has to begin wondering whether or not McLemore is worthy of keeping his starting spot entering the regular season. He's already expressed that the high turnover count is "not what you want from your starting two guard."
McLemore's Summer League production may decide his standing as a Sacramento Kings starter for the upcoming season.
Williams had an effective game for the Kings, earning trips to the free-throw line consistently throughout the contest with the Spurs to finish with 12 points and five rebounds, as his three years of NBA experience and his second overall pick status reflected his play in the match-up. His 28 minutes of play were the most consistent of any Kings player, as Stauskas had dry spells and McCallum was ineffective for much of the contest.
The team's inability to guard the three-point line and a lack of paint defense opened the door for a Spurs run through the third and fourth quarters. Surprisingly, the Kings' most recent prospect, Sim Bhullar, didn't see any minutes in the game. With a lack of size and rim protection down low, it may have been beneficial for Bhullar to gain some in-game experience and take some of the pressure off the Kings' perimeter defenders, who were forced to do a majority of the heavy lifting defensively.
Stauskas was impressive, McLemore was mediocre and inefficient, and both Acy and Williams had games reflective of their experience in the league. The Spurs ran away with it late in the game, handing the Kings an 85-65 loss. Coach Malone has much to think about when examining the play of his less experienced men moving forward into the regular season.