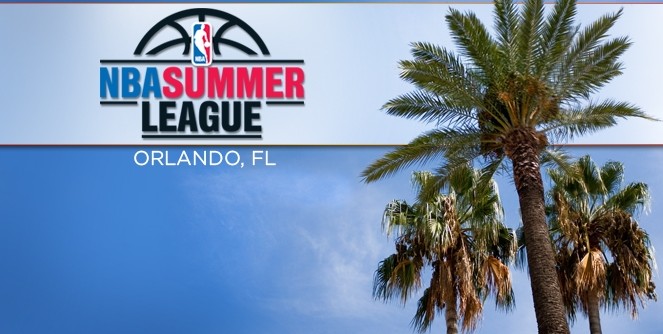 It's been about three days since the Orlando Pro Summer League (OPSL) concluded and the Vegas Summer League (VSL) kicked off. While everyone is enjoying the rookie star-studded spectacles in Vegas, I'll be sharing some thoughts about the Orlando Magic and their rookie players who turned in some mixed bag performances.
Elfrid Payton was worth it
Elfrid Payton—known affectionately by Magic fans as "Elf"—has shown throughout the week that Rob Hennigan made the right decision to trade for the mid-major star point guard out of Louisiana-Lafayette. After initially laying an egg in his first non official game as a pro, Payton would go on to have a really impressive week. Playing with confidence that seem to grow with each game, Payton put his unique and unorthodox skills on display nearly notching two triple-doubles. He did have some shortcomings however, as he struggled with turnovers and wasn't much of a threat from three-point land, only making one of his two attempts. Payton would finish the week off posting averages of 9.2 points, 7.0 assists, and 5.2 rebounds while shooting 59.3% from the floor and 65.0 from the free-throw line. Although the way he was acquired was met with criticism from fans, Payton's play was enough to justify the Magic giving up some assets to get him in the city beautiful. "That's why you have assets; to use them" – Rob Hennigan.
Aaron Gordon will be just fine
Aaron Gordon had a less-than-impressive summer league outing this week. On the offensive end anyway. He only averaged 7.8 points, 5.0 rebounds, and 1.2. assists on 35.0% shooting, missed all 10 of his three-point attempts, and just looked uncomfortable on offense entirely. Luckily, he's only 18, these are things we already knew about Gordon, and it's something that can be fixed. While he may have his shortcomings on offense, it shouldn't overshadow all of his other abilities. It may need some fine-tuning, but Gordon shown he can handle the ball and even act as the handler on pick and rolls on occasion. His athleticism and motor is as advertised, and his defense is where he will make his bread and butter in the NBA. I've mentioned before that whoever the Magic take in the draft won't be taken to come in and be a game changer, but instead as a big piece to the puzzle and that is very well the case with Gordon. To put it in perspective, you have to view Aaron Gordon from a sculptor's standpoint. Right now you have a raw piece of material. Visualize the masterpiece from within, take your time to carve out and sculpt the material and before you know it, you have a masterpiece. In other words, Gordon will have to develop, but he will be just fine.
Devyn Marble can ball
There's really only one way you can describe Devyn Marble: He's a ballplayer. Coming in as a late second-round pick, not many people (me included) even knew who he was. He came into the OPSL with rather low expectations and right off the bat, he opened up some eyes. Against the Philadelphia 76ers on one of the first plays of the game, he drilled a three-pointer with a smooth stroke. A few possessions later, he stole the ball and scored on a breakaway play. That sequence would serve as a bit of foreshadowing, as Marble would go on to have one of the best weeks from anyone on the roster. His play surprised all but Victor Oladipo who was quite familiar with him being that they both played against each other back in their day as college players. Marble also showed he can contribute in a myriad of ways when his shots weren't falling with his rebounding ability, his ball handling skills, and continuing the Magic trend of guys being able to play some solid defense. He may have his work cut out for him in the coming weeks, as there are only but a few roster spots open, but Marble has the potential to be a very reliable "3-and-D' type player for the Magic.