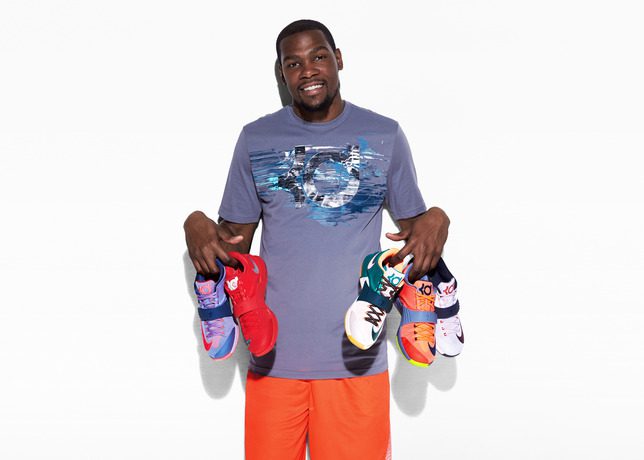 Courtesy of Nike | featuring the Nike KD7
>>>
Kevin Durant's seventh signature shoe fuses performance innovation with a creative narrative across five colorways that are based on the weather.
Nike designer Leo Chang created an innovative shoe for Durant that meets the needs of the reining MVP's quickness, power and unpredictability, just like the forces of nature.
Creatively, Chang brought to life Durant's on- and off-court insights through color-blocking, graphics and textures to tell stories that are both personal and inspired.
As a child, Durant's fascination with meteorology fueled aspirations of becoming a weatherman. Ironically, Durant was drafted by Seattle, and then the team relocated to Oklahoma City – two cities known for unpredictable weather.
 

"With the KD7, we wanted to build strong storytelling," said Durant. "Leo and the team are always technically focused, but we also wanted to have some fun with hidden stories that make me who I am."
The same personal cues are featured on each of the KD7 colorways: a silhouette of his home state of Maryland is embedded on the outsole; and the forefoot strap includes family names: his mother Wanda, his grandmother Barbara, his father Wayne and his brother Tony.
UPCOMING KD7 COLORWAYS:
KD7 July 4th:  Durant's love for Independence Day with its fireworks, or "man-made lightning," inspired this this red, white and blue colorway featuring festive graphics on the tongue lining and Swoosh. Launch: June 26.
KD7 35,000 Degrees: Lightning strikes earth at an average temperature of 35,000 degrees Fahrenheit, and much like Durant's game, it is powerful and unpredictable. This bright mango, grey and volt version of the KD7 is the lead colorway for the new collection. Launch: July 12.
KD7 Global Game: The global game of basketball has given this young man who grew up in a small town outside Washington, D.C., an opportunity to travel extensively throughout the U.S., Asia and Europe. This all-red colorway features a globe graphic on the tongue and a confetti-adorned Swoosh. Durant will lead USA Basketball into a busy summer basketball season that begins with the World Basketball Festival in the Windy City of Chicago this August, and wraps up in Spain at the Basketball World Cup this September. Launch: Aug. 2.
KD7 Calm Before the Storm: The grey and pink colorway of this KD7 is indicative of skies that appear tranquil before the onset of a powerful storm, though Durant typically remains calm even throughout a swirling frenzy on-court. Launch: Aug. 16.
KD7 Easy Money: Inventor and statesman Ben Franklin used a metal key and a kite to prove that lightning was really a stream of electrified air. Franklin's famous stormy kite experiment in June 1752 radically changed general understanding of the power of lightning and electricity. As an ode to Franklin's fascination with weather and his prominence on the U.S. $100 bill, the Easy Money colorway features green hues and graphics from the Benjamin bill – a tribute to KD's nickname, Easy Money.  Launch: Sept. 10.
There will be detailed stories on NikeInc.com with additional insights on each of these KD7 colorways from the athlete himself, starting with a July feature story on the Global Game colorway.
The new KD7 colorways will be available globally in limited quantities at Nike.com and at select retailers.