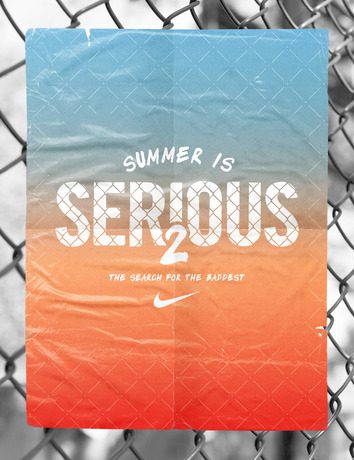 Courtesy of Nike | featuring Nike Summer Is Serious 2
Nike has joined forces with Kevin Durant and notable Nike Basketball athletes to celebrate the baddest of summer basketball.  From Los Angeles to Liverpool and Beijing to Barcelona, the search for the world's baddest basketball players begins today.

Athletes throughout the world are encouraged to submit their baddest moves for the chance to travel to Barcelona for the world's largest pickup game on Sept. 7.

There are three simple steps to enter:

FILM & HASHTAG IT: post a video clip with #summerisserious to Twitter, Instagram, YouTube, Facebook or Vine.

SIGN-UP

:

Register your submission on nike.com/summerisserious. 

OPEN RUNS

: Participate and register live in one of the four open runs across North America or World Basketball Festival:  Vancouver on July 26, New York City on July 27, Toronto on August 9 and Los Angeles on August 9.  In one of six open runs in Europe: Barcelona on July 26, Paris on July 2, London on August 6, Milan on August 26, Amsterdam on August 27 and Stockholm on August 28.

For complete details on the campaign in North America visit nike.com/summerisserious.

For details on the campaign in United Kingdom, France, Germany, Spain, Italy and France visit nike.com/searchforthebaddest.
>>>