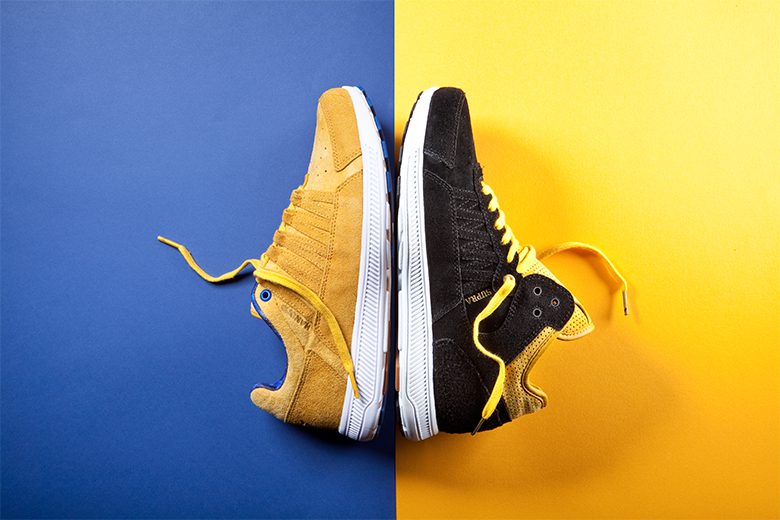 Courtesy of SUPRA | featuring the SUPRA x HANON Owen Black Label & Owen Whisky Gold
This July, SUPRA will collaborate with globally recognized sneaker retailer, HANON, to launch two limited releases of SUPRA's premium lightweight shoes, the Owen Mid and Owen.

Based in Aberdeen in the Northeast of Scotland, HANON pay tribute to their roots by drawing inspiration from an area world famous for its single malt whisky, referencing the scotch barreling and casking process in each design.

Speaking about the collaboration, Ed Toft, co-founder of HANON comments, 'Our store history and passion for sneakers is closely connected to skateboarding, so now to come full circle and be collaborating on a shoe with SUPRA, a brand that has tread a similar path is a big privilege.'

Paying homage to the whisky making legend of the 'Angel's Share'—the 2% of whisky that evaporates during the distilling process—the first shoe from the SUPRA x HANON collaboration, the Black Label Owen Mid, will have a limited run of 50 pairs, each hand numbered by the HANON team.

Featuring a mid-rise upper, the shoe is mostly black, with scotch-inspired malted barley accents including a nod to HANON's Scottish heritage in the form of a full tartan lining and insole, available in a premium blend of suede. The Black Label Owen Mid features SUPRA and HANON logos in 'Special Reserve' themed gold leaf embossed on the upper and the brands' emblems added to the tongue, heels, and foot bed.

With only 500 pairs available globally, the second of the SUPRA x HANON limited edition styles is the Whisky Gold, running-inspired Owen executed in a rich malted barley 'scotch' colourway of premium suede complete with a full tartan print collar lining, foot bed and tongue backer.

The SUPRA x HANON Black Label and Whisky Gold will go on sale from 10am-1pm on Saturday 26th July, exclusively in-store from HANON and online from 2pm at www.hanon-shop.com. The Whisky Gold Owen will be available in-store at select SUPRA boutiques and elite stockists worldwide starting 2nd August.
>>>
BMF Style: The Baller Mind Frame is more than the roundball – it's the lifestyle that surrounds the ball. BMF Style brings you the best styles in sportswear, fashion apparel, and accessories for when you're away from the court, whether you're checking for new gear or for your favorite NBA players' pieces outside of the locker room.