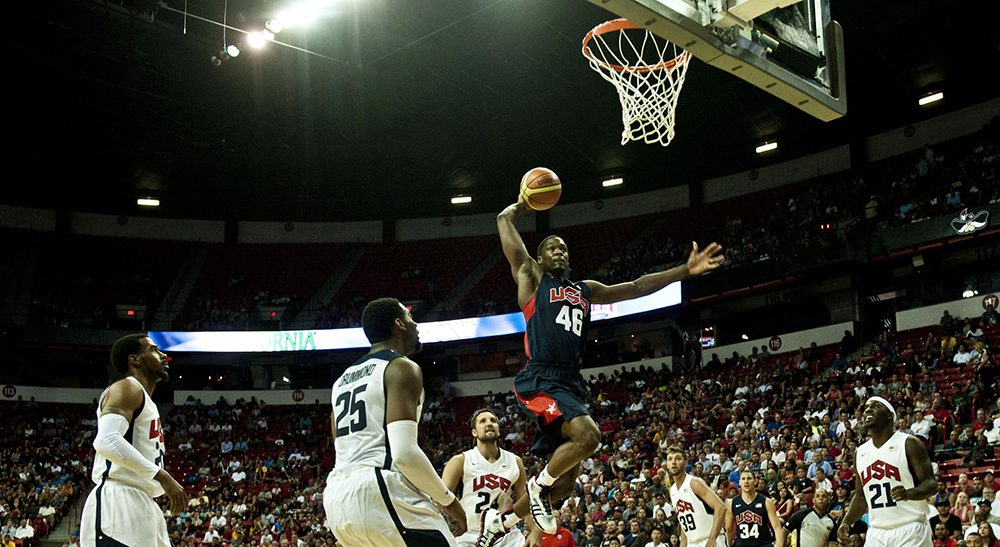 Baller Mind Frame's No Layups brings you the hottest NBA stories mixed with personal opinion from our very own Aaron Lanton. Check it often and absorb the knowledge we're dropping on you!
No one is reading the recap of Team USA's 105-62 blowout victory versus the Dominican Republic to see anything outside of quick stats and highlights. The Dominican Republic was completely overwhelmed in every tangible way before the game even began. Regardless, some interesting tidbits were revealed during the game that worthy of discussion.
Derrick Rose did not play
Rumors are flying about Rose's health which has led to rampant speculation about who decided he shouldn't play, and proclamations that he should not participate in international play. According to ESPN, Rose explained, "I want to be out there, but at the same time, my health is the No. 1 issue right now." Rose needs to make a legitimate choice: participate in international play despite knee soreness or leave Team USA. The knee soreness is not going to disappear once the NBA regular season begins. Rose sat out an entire season for a torn meniscus. A handful of players recently suffered the same injury including Russell Westbrook who was in and out of last season's lineup before exploding back to full strength by the end of last season.
Rose got hurt last season despite only playing in 10 games and skipping back-to-backs. His body can handle the throttle or it can't.
Injuries are going to happen, particularly with a fragile lower body. Rose is creating the controversy himself by flip-flopping so much. If he's on Team USA, he should play and not complain about health, period.
Current utilized lineups
We can't learn much about the lineups because the Dominican Republic was ill-equipped to challenge Team USA, but the losses of Paul George, Kevin Durant, and Kevin Love necessitated some massive changes to the team's makeup. Last night's starting lineup was Kyrie Irving, Stephen Curry, James Harden, Kenneth Faried, and Anthony Davis – that's still a great set of starters but it lacks the defense and length provided by George, Durant, and Love.
Klay Thompson, Rudy Gay, DeMar DeRozan, DeMarcus Cousins, and Damian Lillard made up the players on the court at the end of the first half. Andre Drummond also stood out while paired with Cousins or Davis, but Hayward was clearly the player who performed a notch below the rest. Mason Plumlee, Chandler Parsons and Kyle Korver received DNPs.
Team USA has to cut three players by the end of this weekend. Plumlee, Parsons, and Hayward are the likely cuts. Rudy Gay has the length long enough to play stretch-4, and Korver is one of the best sharpshooters in the world.
Other random thoughts from Madison Square Garden
The Dominican Republic had lots of support in the building thanks to many Dominicans who attended the game. They waved their flags for every made basket and hustle play. They did not expect their team to win, but were proud to see them on the court against the world's best. The Houston Rocket's Francisco Garcia kept things from getting too out of hand in the first quarter, but Team USA broke the game into a laugher by the end of the first half.
Harden was heckled way more than one might expect. Is it because of his his fabricated feud with Chandler Parsons, or because he declared himself the "best all around basketball player" in the world? No clue. Besides, both of those things are false. Parsons and Harden were chatting it up the entire game, and Harden would have to become vintage Michael Jordan on the offensive side of the ball to offset his lackluster defensive efforts.
Martin Dempsey, the United States' 18th and current Chairman of the Joint Chiefs of Staff, presented each player for Team USA with dog tags to remind them to represent the United States well during the 2014 FIBA World Cup. Surely Durant and Love regret leaving the team now.
Sandwiches in Madison Square Garden are $14.50. Eat and drink to your stomach's content before going inside MSG.
The kiss cam guy showed a mother-son couple followed by a brother-sister couple. He has likely been demoted back to monitoring security footage.