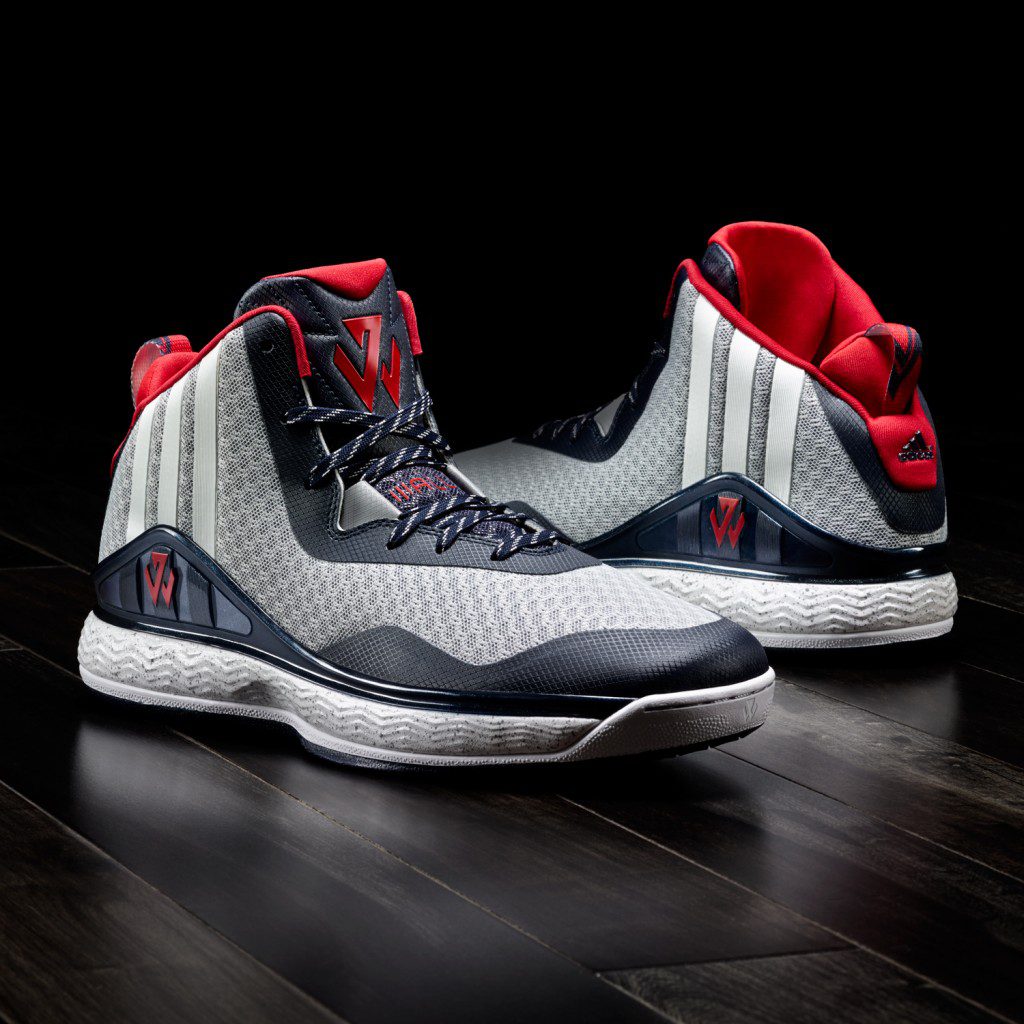 Courtesy of adidas
adidas unveiled the J Wall 1 signature basketball shoe and apparel collection – the first in a line of signature products designed for Washington Wizards NBA All-Star point guard, John Wall. The adidas J Wall 1 features a sleek, bold design inspired by Wall's quick on-court play and fashion forward off-court style.

"Coming off my best season in the NBA and now launching the J Wall 1 that has my own logo is an incredible feeling," said Wall. "I feel really blessed to have my own signature line and I think my fans and basketball players are going to love playing in this shoe. It's also a shoe with great colors and materials that you can dress up off the court which is really important to me."

Each piece of the collection is branded with the new John Wall logo which incorporates Wall's initials, "JW" and is designed with the "J" crossing-over to the "W" as a nod to his quick playing style and ability to cross over defenders. The cross-over element is also representative of Wall's off-court style and how he transitions from a fearless player on the court to a laid back, fashion forward person off the court. In addition, the "JW" within the logo pays homage to Wall's late father, John Wall Sr., who passed away when Wall was nine years old.

"John's had great success on the court but it takes more than just All-Star appearances to get your name on a shoe," said Chris Grancio, GM, adidas Basketball. "John's exciting game combined with his confident, fresh style off the court resonates with fans across the world and is what made us want to collaborate with him on a signature line."

To compliment John's quick, aggressive style of play, the J Wall 1 midsole features full length adiprene+ cushioning for enhanced responsiveness, comfort and superior heel to toe transition. Wall's equipped for all his cross-overs with a full length lateral FITFRAME which allows for a more controlled surface for Wall to plant against during explosive cuts. A unique air mesh textile upper offers supreme comfort and breathability and is finished with rip-stop overlays for enhanced durability.

"We designed and engineered every aspect of this shoe to compliment John's quick style of play on the court," said Robbie Fuller, Global Design Director, adidas Basketball. "Our close collaboration with John allowed us to deliver a shoe that will help him improve performance while telling his unique, personal story through the John Wall logo and details throughout the shoe."

In addition to performance elements, the J Wall 1 features details reflective of his game and style. These details include the John Wall logo featured prominently on the tongue, as well as the logo's cross-over inspiration carried throughout the shoe, including the pattern on the tongue and toe cap. The outsole features a map of the United States with "Wall" written across the left and right shoe, highlighting Washington DC with lines connecting to every NBA city on the map. Details on the map include the Washington Monument, Statue of Liberty, St. Louis Gateway Arch, Golden Gate Bridge and Seattle Space Needle to represent Wall's fans in Washington DC and across the country.

Alongside the J Wall 1 signature shoe, the J Wall signature apparel collection includes T-shirts, shorts and hoodies, all featuring the new John Wall logo.

The J Wall 1 launches at adidas.com and Foot Locker on October 31 for $115 in two different colorways. Additional colorways will launch throughout the NBA season.

The J Wall signature apparel collection is available October 1 and ranges from $25 to $60.
>>>
BMF Hoops: Bringing you the best and latest in basketball footwear, sportswear, and equipment in amateur, NBA, and world pro hoops – only at Baller Mind Frame.