Tuning into the National League Division Series playoff games while sitting inside the comfort of their own homes, baseball fans are treated to a slew of new commercials, some informative (they have something called "Liver Aid"?) some are uplifting (Thanks a lot, Derek Jeter – I'll have that Frank Sinatra song stuck in my head until next Tuesday). However, the newest Geico commercial where terrified teenagers are running through darken cornfield, attempting to escape a deadly force that's chasing them, is pretty damn entertaining. The breathless teens stop running in order to find a suitable place to cower down. Suggestions of "Let's hide in the attic!" and "No, in the basement!" are followed by the meekest one's whimper of "What about that running car?" The teens call her crazy and all end up running to hide in a farmhouse behind a balls-load of chainsaws. Geico then goes on to urge viewers not to make bad decisions (like the idiots in the horror movie spoof) when choosing your car insurance. It's down right hilarious… up until the point where baseball fans start making an odd comparison.
After today's NLDS Game 1 featuring the San Francisco Giants and Washington Nationals, I'm wondering if the application to be a fact checker at Fox Sports looks a tad like this:
Question #1: Did you complete grades one through three?
Question #2: Are you sure?
If you answered "yes" to both questions, please see HR in order to obtain your New Hire Packet.
At the top of the second inning, Fox Sports commentators, the glassy eyed Matt Vasgersian and his broadcasting partner Jon Smoltz, were thriving off the bulletproof energy of the D.C. crowd as they named off Giants' third baseman Pablo Sandoval's many accomplishments as he popped up a fly ball. "Two-time All-Star, former World Series MVP, la, la, la" Vasgersian listed in an upbeat tone (sans the las) as he looked upon the field. Seconds later, a few graphics popped up on the screen siting a couple of the Giants notable postseason accomplishments, including the 28-year-old Sandoval at the end… listing him at 32-years-old. That's a pretty big no-no, considering the fact it can take all of five seconds to Google the man's age. Or three seconds to ask this:
"Siri, how old is Pablo Sandoval?"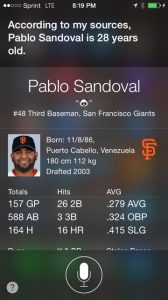 I've gotten on both ESPN and Fox's cases for being less-than enthusiastic when referencing San Francisco, but all in all, it's perfectly fine. Commentators are allowed to have their opinion, and the Giants have always been the underdog when it comes to championships. But that's fine – the organization loves being in a position where they can prove people wrong. It's what they do. Vasgersian and Smoltz were clearly in Washington's corner from the start of the game. And why shouldn't they be? The Nationals are scary good with the best record in the NL (96-66), more than deserving of their munificent praise. The Giants knew that they were going to have to go in strong since they were facing Stephen Strasburg on the bump, a pitcher who had a 1.13 ERA in his last six starts, along with a hazardous offense whose bats were on fire during the month of September.
However, the Giants were not a team to be scoffed at during that fatal final month of regular season baseball either. Despite their rollercoaster ride of a season, the boys in orange and black were irrefragable, and the Nats knew better than to underestimate them. Jake Peavy, a veteran pitcher the Giants obtained a few months earlier from the Boston Red Sox, had a 1.15 ERA in his last six starts, despite going through a rocky start with his new team, and would face these Washington bats the only way he knows how: loudly.
Despite working through a random strike zone, the Giants drew first blood after a play review (the first in postseason history) reversed a call that originally ousted Travis Ishikawa at second base with zero outs at the top of the third. A passed ball then moved runners Ishikawa and Peavy (who had made it to first after Ishikawa was targeted over him) over to third and second, which then allowed rookie Joe Panik a chance to nab his first postseason RBI after his base hit brought in Ishikawa.
Since the Nats' bats were silent during the first four innings, Vasgersian and Smoltz seemed slightly perplexed. After first baseman Brandon Belt knocked in Hunter Pence during the top of the fourth, Vasgersian muttered a sentence that simply makes Giants fans smile:
"There is no explaining the Giants."
Some teams, like the Nationals, are easier to read on paper. But when you look at the statistics of San Francisco, you have to scratch your head. Until you've actually watched them. They're restively patient and calm when in dire situations. It's not that they're lackadaisical – it's that they're sharks in waiting who carefully keep an eye out and pounce on their opponents' mistakes. Giants skipper, Bruce Bochy is known for his irritating coolness and often uses it to his advantage. Not being able to understand this team is the key to their success. A success that held even during Bryce Harper's solo homerun off of rookie bullpen pitcher Hunter Strickland during the bottom of the seventh, or during Asdrubal Cabrera own solo homer, which brought the Nationals within one run. Bochy knew what moves to play, and sent in his best relief pitchers, Sergio Romo and Santiago Casilla to close out the game.
Despite the bad decisions in the Fox broadcasting booth, none were truly made on the field, and one team just bested the other. The best on paper lost Game 1, 3-2 to a team that no one, other than SF fans, can truly explain.
Game 2 will be played at Nationals Park on Saturday. Perhaps Fox Sports will limit their bad decisions and actually look up facts before leaping?
Yes, that was a question mark.