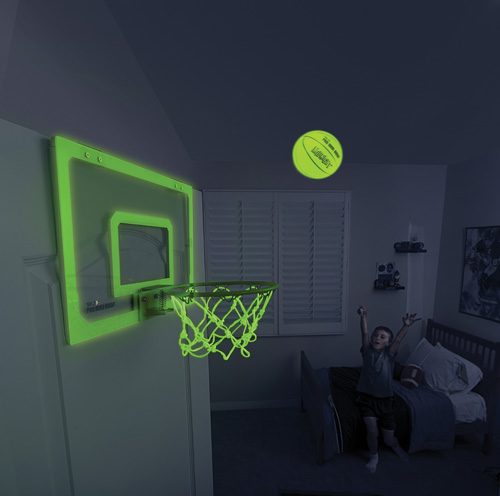 If you love basketball and were a child of the '90s, one of the greatest parts of childhood was the seemingly never-ending games of Nerf Hoops with their foam balls and plastic breakaway hoops. If you were like the author of this piece, you probably shot at those hoops and jumped and leapt for hours without fail; and if you had siblings, especially a brother, you had games last for hours a time.
Sadly, those days are over, and not only are those days over, but they've improved the home hoops — and "they" is actually SKLZ, an athletic performance brand, who are now releasing their line of Pro Mini Hoops.
In brevity and specificity, the greatest thing about the SKLZ Pro Mini Hoop Midnight is its glass backboard — yes, GLASS backboard — which comes paired with an inflatable ball that retains more life and more bounce than a dead foam ball can.
While full-sized adults likely won't have the space to jump around the house with this, or the same amount of fun as a much smaller child who dreams of dunking, they're tailor-made to make the kids of today happy, and it's low-tech! Throwback fun!
And if you or your kid is really ambitious, the set glows in the dark!
See more on the SKLZ Pro Mini Hoop Midnight below:
This is the glow-in-the dark indoor mini-basketball hoop with a spring-loaded rim that provides the feel of a real game—just on a smaller scale. The backboard trim and net appear white in daylight, but have a green glow in the dark—as does the 5″ green ball—enabling night-time tournaments or lights-out shooting drills. This 1/4-scale backboard is constructed from shatterproof polycarbonate with a patented 9″ breakaway hoop that can withstand big time dunks. It will be available for $34.99. Our full Pro Mini Hoop line can be found here: http://shop.sklz.com/collections/pro-mini-hoop/icat/collections-prominihoop
>>>
BMF Hoops: Bringing you the best and latest in basketball footwear, sportswear, and equipment in amateur, NBA, and world pro hoops – only at Baller Mind Frame.