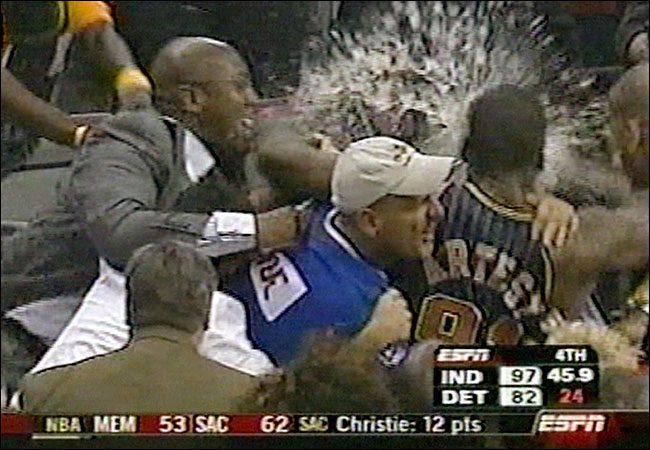 Welcome to an early viewing of my soon-to-be weekly segment, TGIFF: Thank God It's Flashback Friday. Just about every Friday afternoon, starting next Friday, for the remainder of the NBA season you can count on an NBA column that is a blast from the league's past. These columns will be conducted in all sorts of different formats and I'll be evaluating games from multiple decades, so don't get too comfortable; this is bound to be a very exciting journey over the last 50 years of NBA basketball. There are a ton of great moments in NBA history, so we might as well start one that NBA Hall of Famer Bill Walton called "the lowest point for me in 30 years with the NBA."
The Match-Up: 2004-05 Regular Season, Indiana Pacers at Detroit Pistons (A.K.A. The Malice at the Palace)
Today marks the ten-year anniversary of one of the most damaging, controversial, and memorable moments in NBA history. My freakishly efficient memory makes it tough for me to differentiate whether a particular moment in sports, or anywhere else for that matter, is actually memorable because a ton of non-spectacular moments are easy for me to recall with pretty good precision. However, the "Malice at the Palace" is certainly on that list for all sports fans. You remember where you were when you watched the Malice at the Palace. I'm sure of it.
I watched the game with my parents, but abandoned it a little early to play some Madden 2005. The game itself wasn't a classic. In fact, it wasn't even close. The Pacers controlled the game from the start and handily defeated the defending NBA champions on their home court, just six months after being upset by the Pistons in the Eastern Conference Finals.
Not that that had anything to do with this game, but that particular playoff series consisted of six games that were rotting corpse-ugly. In four of the six games, one of the two teams couldn't crack 70 points – Detroit edged out Indiana in an instant classic Game 6 by a final score of 69-65 – and only six players in the entire series shot better than 40 percent from the field. Those six players were Richard Hamilton, Ben Wallace, Darvin Ham, Jermaine O'Neal, Fred Jones, and Jonathan Bender. Hey, speaking of "John Bender" …
Anyway, you likely know how the rest of the story goes. With very little time left in a game that was essentially over, some of the starters remained on the floor. Indiana was up 97-82 with less than one minute left when Ron Artest, clearly not yet in the Metta World Peace or The Pandas Friend phase of his life, dished out a harder-than-normal foul on Ben Wallace as Wallace attacked the basket for a relatively meaningless two points. Wallace, armed with an all-time great afro and stylish bicep bands, wasn't a fan of the foul and shoved Artest as hard as any human being possibly could. This is where things went downhill.
Now, before I go forward with this column, let me say something: I don't normally condone violence, especially not in that sort of environment. There is no good reason why the "Malice at the Palace" should have happened, but it did happen and it's been ten years. So when I say, "Here are my favorite parts of the 'Malice at the Palace,'" I need you to understand that I'm not saying I hope anything like this happens again. I love the NBA and don't want any sort of bad publicity for the league, and this incident was horrible for the league. It was one of the three most damaging NBA-related instances in my lifetime along with the Tim Donaghy gambling scandal – oddly enough, Donaghy was an official for this game – and the recent Donald Sterling controversy. But seriously, if I can't sit here ten years later and break down this chaos in a way that brings light to the situation then I have no problem saying that everyone needs to lighten up a little bit. Nobody died or even got seriously injured. It's just like laughing at the People Falling Down montages on America's Funniest Home Videos … kind of.
So without further ado, here are my favorite parts of the Malice at the Palace, in chronological order:
After the Wallace shove, Artest casually lays down on the scorer's table like it was a bed at a Detroit area Ritz-Carlton. One could argue that Artest was doing a good thing by not going after Wallace after the shove. You could also argue that it was an arrogant move that only aided in the progression of a violent incident. My take: it definitely made the "Malice at the Palace" a realistic possibility. If Artest stayed on the floor and there was a beverage thrown his way, even if he would've tried to get into the stands, there likely would've been too many road blocks on the way and the incident never happens. Once there are no players between Artest and the crowd, everything is in play. However, I don't think we can put the blame on Artest yet. In this moment, he wasn't purposely escalating any of the violent activity…
That distinction goes to Stephen Jackson, who in a 2012 Jonathan Abrams Grantland piece talked about the incident like he wasn't an instigator at all. In that piece, Jackson says, "The biggest thing that upset me — after we were trying to break up Ben and Ron, a lot of [Ben's] teammates were still talking. I'm over trying to help and break it up." Um, what? We can see the video, Stephen. It's on YouTube. For those who haven't already YouTube'd the video as a reference here it is. Just pay attention to what Stephen Jackson is doing from the 35 second mark to the 45 second mark. If you could convince me that Jackson was doing anything other than looking for someone to punch, I'll give you one hundred dollars.
https://www.youtube.com/watch?v=TVvxTQD2PrI
ESPN's Mike Breen, the play-by-play announcer for the game, who was alongside color analyst Bill Walton, praises Rasheed Wallace as a peacemaker early on in the situation. No wonder things got out of control. I'm not saying that Rasheed instigated the altercation in any way. I'm just saying that Rasheed Wallace acting as the peacemaker during a potential brawl would yield the same sort of result as if a man covered in blood jumped into the ocean to save his friends from a pack of sharks. Also, it's kind of terrifying that the NBA's all-time leader in technical fouls displayed the coolest demeanor in this situation.
Things start to fizzle out a bit and it looks like the final 45.9 seconds might actually end up being played out, but then the blue cup comes flying in from the crowd and hits the still-lying-down-just-chillin' Artest in the face. Artest leaps up from the scorer's table and heads into the crowd like a madman. This was right around the time my dad yelled to me from the living room to come back and watch the game/ensuing melee.
Pause the video at 1:57 and check out the look on the dude's face in the crowd who is about to be taken down by Ron Artest. Come on now, that's just funny. He's terrified! It looks like he just saw Michael Myers. For what it's worth, Artest never throws a punch in the crowd. Abrams quotes Mark Montieth, an Indianapolis Star columnist as saying of Artest, "He went into the stands and grabbed the wrong person — the one who he thought threw the beverage — grabbed him and said, 'Did you throw that?' But he didn't hit the guy." Montieth is correct. Artest doesn't throw a punch while he's in the stands. The first player to throw a punch in the stands is, wait for it…
Stephen Jackson! Jackson entered the stands with very little hesitation and swung wildly at one of the spectators who was tangled up with Artest. The Jackson punch was the first part of the melee that I saw live, and I just remember thinking, "Holy shit… this is nuts!" In retrospect, it shouldn't be a surprise that Jackson was the first player to throw a punch. You and I both saw him untuck the jersey and put the dukes up. Jackson was more than ready to knuckle up, and as soon as Artest went into the stands, the metaphorical flood gates opened up.
From there, a few other guys enter the stands. Some act as peacemakers and others are instigating more mayhem. My favorite attempted entry is Richard Hamilton. Rip would've gotten his backside whooped by just about any player or spectator in that mix. He weighs as much as I did in the 7th grade and he didn't even have his protective mask on when he was climbing over the scorer's table.
A forgotten tidbit about the "Malice at the Palace": the most vicious punches of the night were thrown on the floor, not in the stands. There was no control of the situation going on in the crowd, and thus the ballsy spectators found their way to the court. After Ron Artest had been pulled out of the lower bowl, he was encountered by two approaching Pistons fans on the court. Now, there is no way to tell if these two men were going to assault Artest, but it's easy to assume that they were, and that's exactly what Artest did. In this video you can see Artest taking a swing at a man in a Richard Hamilton jersey — thank God it wasn't actually Rip — before another spectator made a lousy attempt to form tackle Artest. Here's where things get good, and by good, I mean violent. As the tackler, we'll call him Lousy Ray Lewis (LRL) for the duration of this column, attempts to get up off the floor, Jermaine O'Neal flies in like a bat out of hell and cocks back for what would've been a face-obliterating punch if he hadn't slipped on some liquid on the floor. Seriously, LRL's face would've shattered Rudy Tomjanovich-style if O'Neal didn't slip. If that's the case, I'm probably not writing this column in such lighthearted fashion.
I must say, Mike Breen and Bill Walton did a fantastic job announcing this incident as it was happening, specifically Breen. It's not like either one of the two could have had any sort of training for something like this. They handled it better than anyone could have expected, and broke down all of the action as best they could. Breen was actually giving play-by-play, or punch-by-punch, of the whole thing and Bill Walton was chipping in with fantastic statements like "Totally uncalled for," "This is a disgrace," "This is a low moment in NBA history," and "Certainly no winners in this circumstance, at all." These don't sound like insightful nuggets when you read them in print, but when they are coming out of Bill Walton's mouth, they are total game-changers.
My favorite Breen statement of the whole incident was, "Ron Artest has a look in his eye that is very scary right now." Every time I re-listen to it I think of this Step Brothers scene:
Wanna see a shot of Austin Croshere standing in the middle of the court looking totally confused? Of course you do! Go to the 3:28 mark of that original video. You won't be disappointed. You can just tell he's standing there thinking, "Oh my God. Am I going to die tonight?"
As if we needed any further confirmation that Stephen Jackson was batshit crazy, just watch him walk out of the arena, arms raised like a wrestling villain, basically asking the pissed off Pistons fans to throw drinks and popcorn at him. I love it. How didn't he end up in the WWE after this? Dennis Rodman was in nWo and Karl Malone teamed with Diamond Dallas Page; how come Stephen Jackson was never an honorary member of Evolution?
You know how Doc Rivers vaulted himself to the top of the This is the coach you want heading your team during a situation where EVERYTHING goes wrong list after the way he handled the Donald Sterling mess? You know who isn't near the top of said list? Former Detroit Pistons coach Larry Brown, who was just as overwhelmed as Austin Croshere was in the midst of all of this. In Abrams' Grantland piece Brown stated, "I just remember standing at halfcourt and being kind of helpless. I did try to get to the microphone [to tell the fans to calm down], but there was so much going on and there were so many things on my mind. I just felt sick to my stomach to see what transpired." Meanwhile, then-Pacers coach Rick Carlisle left the scene of the crime so quickly you would've thought he was going to get cannibalized if he stayed out there. Good choice by Carlisle. Carlisle is probably the only individual involved in the "Malice at the Palace" who came out on the other side looking better than he did prior to it.
Stephen Jackson edged out Ron Artest for the I'm Crazy and I'm Ready to Throw Down Against Everybody In Here championship belt, but Jermaine O'Neal and Jamaal Tinsley were in the mix too. Eventually, all of the players started making their way to the locker room. O'Neal and Tinsley didn't go quietly. O'Neal disappeared into the tunnel and then re-emerged dragging a number of small men behind him. O'Neal was ready to brawl, but unlike his teammate Tinsley, he wasn't armed with a weapon. Tinsley re-emerged from the tunnel wielding a dust pan, an object that wasn't even ever used during the WWF Hardcore Title days. Somehow, Tinsley didn't receive any sort of punishment for his involvement in the "Malice at the Palace" even though he was prepared to turn a household object into a deadly weapon before he was talked out of it.
In total nine players were suspended for their involvement in the event and five players faced legal consequences – Artest, Jackson, O'Neal, Anthony Johnson, and David Harrison. To this day, it baffles me that Artest's suspension (86 games in total) was so much longer than the suspensions of Jackson (30 games) and O'Neal (15 games, though the sentence was originally 25 games before it was reduced on appeal), and Tinsley didn't even get suspended for a single game. Jackson comes off as the craziest ten years later and Jermaine O'Neal threw the best punch. Artest was the first to charge into the stands, but he didn't throw a punch until he was confronted by two spectators on the court. Yes, I'm actually half-heartedly attempting to defend Ron Artest.
David Stern has since acknowledged that the "Malice at the Palace" was the hardest incident he faced. It was a public relations disaster that soured a number of casual observers who got it in their heads that players were thugs. Over the last decade, the NBA has done a fantastic job of reinventing its image and gaining back a lot of those casual fans. And frankly, that's good news for you and I.
Armed with a huge new TV contract and a truckload of young stars, the NBA's future looks the brightest of any of the major American professional sports leagues. The NFL still has a stranglehold on the top spot, but head injuries, PEDs, domestic abuse cover-ups, and a borderline incompetent commissioner can submarine the league's progress pretty quickly. MLB and NHL don't have the recognizable stars that the NBA has and thus, they don't get the viewers that the NBA does.
So, while we should certainly look forward to the future of the league, I encourage you to join me on this flashback journey to the past to see where the league has come from. Trust me, it's gonna be fun.