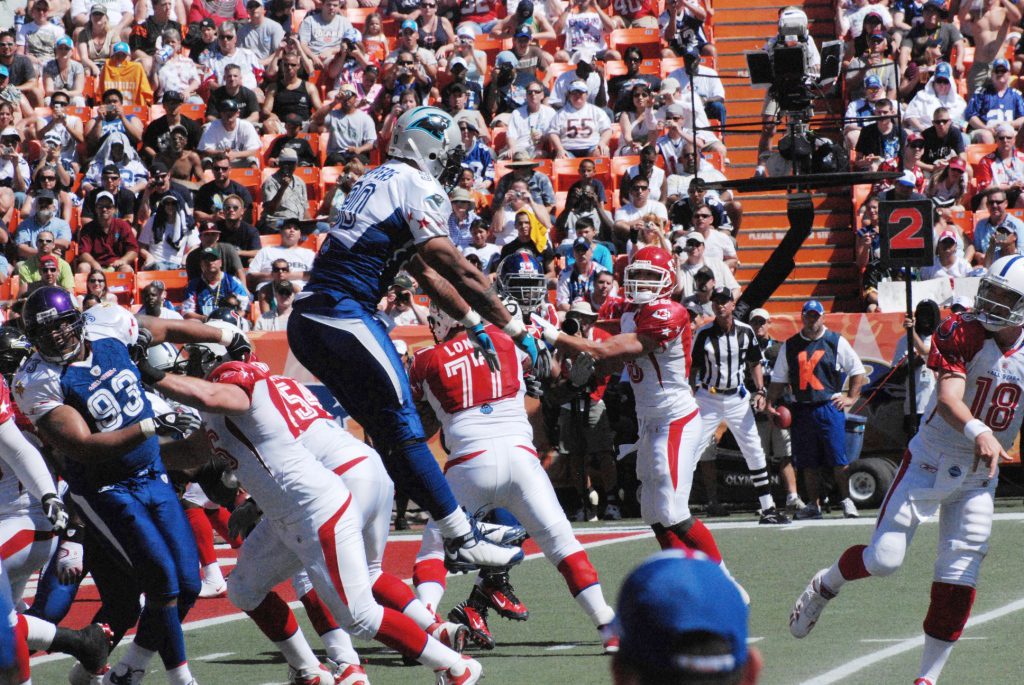 The latest installment of the NFL Pro Bowl draft happened on January 21, with a few adjustments over previous years. Teams were allotted a specific number of roster spots per position, and so players were allocated by default. The innovation did speed things up, but the entire process is certainly more about providing unique content in the dry week leading up to the Pro Bowl, rather than making the game more entertaining or competitive. And yet I still watched. Teams were picked by NFL Hall of Fame wide receivers, Michael Irvin and Cris Carter.
Quarterbacks
Team Irvin: Tony Romo, Dallas Cowboys; Matt Ryan, Atlanta Falcons; Matthew Stafford, Detroit Lions
Team Carter: Andrew Luck, Indianapolis Colts; Drew Brees, New Orleans Saints; Andy Dalton, Cincinnati Bengals
Assessment: Romo finished the year with the best rating of all of these guys, but Brees is the guy with the most experience at the QB position, particularly in the Pro Bowl. I like Luck more than either Ryan or Stafford.
Edge: Carter
Running Backs
Team Irvin: Halfback – C.J. Anderson, Denver Broncos; Mark Ingram, New Orleans Saints; DeMarco Murray, Dallas Cowboys (captain)
Fullback – Marcel Reece, Oakland Raiders
Team Carter: Halfback – Jamaal Charles, Kansas City Chiefs; Justin Forsett, Baltimore Ravens; Alfred Morris, Washington Redskins
Fullback – John Kuhn, Green Bay Packers
Assessment: If you want to talk quickness, Carter's collection has it in spades. Power was the prescription of choice for Mr. Irvin. As far as a collection in a game where guys aren't tackling hard, and everyone seems to have above-average speed, I'll go with the power guys.
Edge: Irvin
Wide Receivers
Team Irvin: Odell Beckham Jr., New York Giants; Golden Tate, Detroit Lions; Emmanuel Sanders, Denver Broncos; Randall Cobb, Green Bay Packers
Team Carter: A.J. Green, Cincinnati Bengals; T.Y. Hilton, Indianapolis Colts; Jordy Nelson, Green Bay Packers; Antonio Brown, Pittsburgh Steelers (captain)
Assessment: It should be pretty obvious. Green and Brown are both large and fast. Irvin doesn't have one player on the roster that I see winning jump balls.
Edge: Carter
Tight Ends
Team Irvin: Jimmy Graham, New Orleans Saints; Jason Witten, Dallas Cowboys
Team Carter: Martellus Bennett, Chicago Bears; Greg Olsen, Carolina Panthers
Assessment: This really isn't even a contest. Graham and Witten are both far superior blockers and pass catchers than Bennett and Olsen. Witten also has a relationship with QB Tony Romo.
Edge: Irvin
Offensive Line
Team Irvin: Tackles: Joe Thomas, Cleveland Browns; Tyron Smith, Dallas Cowboys; Trent Williams, Washington Redskins
Guards: Kyle Long, Chicago Bears; Zack Martin, Dallas Cowboys; Marshal Yanda, Baltimore Ravens
Centers: Travis Frederick, Dallas Cowboys; Nick Mangold, New York Jets
Team Carter: Tackles – Joe Staley, San Francisco 49ers; Duane Brown, Houston Texans; Ryan Clady, Denver Broncos
Guards – Evan Mathis, Philadelphia Eagles; Mike Pouncey, Miami Dolphins; Josh Sitton, Green Bay Packers
Centers – Jason Kelce, Philadelphia Eagles; Maurkice Pouncey, Pittsburgh Steelers
Assessment: I see far more beef and skill across the board for team Irvin. The one fun thing to watch for Team Carter is the union of brothers Mike and Maurkice Pouncey. Outside of that though the Carter side seems a little haphazard.
Edge: Irvin
Defensive Line
Team Irvin: Defensive Ends – Robert Quinn, St. Louis Rams; Cameron Wake, Miami Dolphins; DeMarcus Ware, Denver Broncos
Defensive Tackles – Geno Atkins, Cincinnati Bengals; Aaron Donald, St. Louis Rams; Sheldon Richardson, New York Jets
Team Carter: Defensive Ends – J.J. Watt, Houston Texans (captain); Mario Williams, Buffalo Bills; Calais Campbell, Arizona Cardinals
Defensive Tackles – Marcell Dareus, Buffalo Bills; Dontari Poe, Kansas City Chiefs; Kyle Williams, Buffalo Bills
Assessment: This one isn't even close. Size, power, speed, strength, and continuity all slide to the Carter side of the scale. Perhaps it's the captain influence of J.J. Watt, but I am feeling sorry for the Irvin offense.
Edge: Carter
Linebackers
Team Irvin: Outside Linebackers – Elvis Dumervil, Baltimore Ravens; Clay Matthews, Green Bay Packers; Von Miller, Denver Broncos
Inside Linebackers – Luke Kuechly, Carolina Panthers; D'Qwell Jackson, Indianapolis Colts
Team Carter: Outside Linebackers – Justin Houston, Kansas City Chiefs; Connor Barwin, Philadelphia Eagles; Tamba Hali, Kansas City Chiefs
Inside Linebackers – C.J. Mosley, Baltimore Ravens; Lawrence Timmons, Pittsburgh Steelers
Assessment: Both teams got amazing pass rushers that can also play in space. This one is too close to call, so I won't.
Edge: Tie
Secondary
Team Irvin: Cornerbacks – Vontae Davis, Indianapolis Colts; Brent Grimes, Miami Dolphins; Joe Haden, Cleveland Browns; Chris Harris Jr., Denver Broncos
Safeties – Eric Weddle, San Diego Chargers; Mike Adams, Indianapolis Colts; T.J. Ward, Denver Broncos
Team Carter: Cornerbacks – Patrick Peterson, Arizona Cardinals; Aqib Talib, Denver Broncos; Antonio Cromartie, Arizona Cardinals; Sam Shields, Green Bay Packers
Safeties – Antoine Bethea, San Francisco 49ers; Glover Quin, Detroit Lions; Donte Whitner, Cleveland Browns
Assessment: This one is pretty close, but I do see a few deciding factors here. Grimes and Haden were on the borderline of epic this year. Peterson is in that class, but having two such corners provides an advantage in a game like this.
Edge: Irvin
Special Teams
Team Irvin: Punter – Kevin Huber, Cincinnati Bengals
Placekicker – Adam Vinatieri, Indianapolis Colts
Return Specialist – Darren Sproles, Philadelphia Eagles
Special-teamer – Darrell Stuckey, San Diego Chargers
Long Snapper – Jon Dorenbos, Philadelphia Eagles
Team Carter: Punter – Pat McAfee, Indianapolis Colts
Placekicker – Cody Parkey, Philadelphia Eagles
Return Specialist – Devin Hester, Atlanta Falcons
Special-teamer – Justin Bethel, Arizona Cardinals
Long Snapper – L.P. Ladouceur, Dallas Cowboys
Assessment: In the slightest of margins, a place kicker might make the difference here. Vinatieri is older than Moses but is as consistent as taxes.
Edge: Irvin
Head Coaches
Team Irvin: Jason Garrett, Dallas Cowboys
Team Carter: John Harbaugh, Baltimore Ravens
Assessment: Harbaugh to me is the better coach. He has created a consistent winning culture in Baltimore since he was hired and the team never falters. However these are not his players, this is not his team. Garrett has seven players from his actual team playing for him as Pro Bowlers. Harbaugh has two.
Edge: Irvin
So by my calculations, Carter's team only has an edge in three categories, compared to six for Irvin, with one tie. Yet the three sections for Carter may be the most crucial as often times a quarterback or wide receiver will be the one to take over the Pro Bowl. Certainly, the defensive line for Carter will put added pressure on the average quarterback trio that Irvin has assembled, but with Tom Brady not playing due to playing in the Super Bowl, and Peyton Manning and Aaron Rodgers not playing due to injury, the pickings were pretty slim. I am looking forward to the game, as I always do. Here is hoping for a good contest as we all whet our appetite for the largest single-day sporting event in the world on February 1.