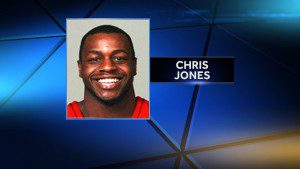 The University of Louisville guard Chris Jones found himself suspended from the team, reinstated, and then finally dismissed.
His dismal came after he allegedly threatened to hit his girlfriend last week, according to a University of Louisville Police Department report obtained by Insider Louisville.
The police report was filed on Feb. 17, the day Jones was initially suspended from the team. The report contains allegations that he threatened to slap his girlfriend over text message.
Per Inside Louisville:
Ms. [REDACTED] reports she and student Chris Jones have been in an intimate off and on relationship the past year. Ms. [REDACTED] states last night around 12am she went to his apartment but he left. She waited for him, but he did not return. At 3am she departed his room after "messing up" his room as she stated. At 2 pm Jones then responded by texting her cell phone, he would "smack TF (the fuck) out of" her.
Ms. [REDACTED] did not want Jones prosecuted, but preferred that someone talk to him about his behavior.
The University confirms that campus police are now conducting an investigation as a separate incident report.
Jones averaged 13 points for the Cardinals. His scoring presence will be missed by the team.