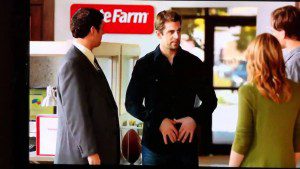 After a horrifying start to the season Green Bay Packers resident Discount Double-check spokesman Aaron Rodgers gave the fan base a verbal prescription during a radio interview. R-E-L-A-X was the message, and it turned out to be a pretty appropriate suggestion as the Packers rebounded well, eventually losing in the NFC championship game due to a muffed onside kick (thank you, Brandon Bostick). Following that mantra, I present to you some five-letter prescriptions for each NFL franchise heading into the new season.
San Francisco 49ers – LEAVE – That's what so many players are doing, right after coach Jim Harbaugh decided he wasn't happy in the Bay area anymore. If Patrick Willis is deciding to retire at 30, perhaps the rest of you should too.
Chicago Bears – WINCE – The team got decidedly worse in just about every category and the Bears needed help to begin with. Take next season with a grain of salt, and maybe a shot of tequila.
Cincinnati Bengals – LUCKY – The Bengals really haven't done anything to make themselves any better, but fortunately the Steelers, Ravens and Browns haven't either. In fact, those other three teams have arguably made themselves worse since the end of last season. Sometimes it's better to be lucky than good.
Buffalo Bills – BULLY – Rex Ryan has gone all in on this bully philosophy, so you'd better embrace it and do what you can with it until the rest of the league stands up to you.
Denver Broncos – YOUTH – The team is getting old faster than Andy Dick gets annoying. The Broncos didn't make a splash on the free agent market yet, and would be well served to try and rebuild a bit through the draft.
Cleveland Browns – JOHNNY (only one cheat!) – Six weeks and no sign of Johnny Manziel out of rehab. No one knows if he is the QB of the future in Cleveland, but you need to figure out if he's even the QB of the immediate future.
Tampa Bay Buccaneers – DRAFT – You have the first overall pick this year, don't screw it up. If you can't manage to draft well then you'd better be willing to drown your fans in draft beer so they don't notice how horrible your play is next season.
Arizona Cardinals – DEPTH – You went to a quarterback that you cut from your roster at one point. I'm not saying you need four guys at your disposal for every position, but it certainly didn't hurt at quarterback.
San Diego Chargers – PAUSE – With no big additions or loses, the Chargers appear poised to do exactly what they did last year. Barring some gems coming out of the draft expect another near playoff miss for the Bolts.
Kansas City Chiefs – BOOST – The addition of the wide receivers that care about getting touchdowns will be a huge boost for this club. If the squad can continue to build enough to fill the gap for the loss of Justin Houston, they may be able to get back into the post-season.
Indianapolis Colts – WHOLE – This is a complete team with the addition of Frank Gore and Andre Johnson. Keep everyone together and happy and smile when you lock up another division title.
Dallas Cowboys – BREAK – The Giants appear incapable of putting anything together, the Redskins are a shamble of a respectable franchise and the Eagles seem hell bent on trading away anyone with talent. Even with some key player losses you should be able to repeat as division winners.
Miami Dolphins – CHEER – The addition of Ndamukong Suh is almost as big emotionally as he is physically. Rejoice in a stellar defense that should give Tom Brady fits next year. Please don't expect to win the division though, but be happy with big advances for your club.
Philadelphia Eagles – PANIC – Chip Kelly is a mad scientist, and we should emphasize the "mad". I've never seen so many moves by one person in one off-season. If the Eagles manage to win the division crown than Chip wins coach of the year. If they don't than I think Chip Kelly is looking for a new job next year.
Atlanta Falcons – MAYBE – The NFC South is more wide open than the Utah Salt Flats. Given some key changes and a few less injuries this team just might have a chance to take the title away. I mean last year 8 – 8 would have won you the division, so that's doable, right?!
New York Giants – FAITH – Without the ability to go and get a big name free agent, the team has to rely on injured players coming back to form and another draft that yields a player like Odell Beckham Jr. This is likely Tom Coughlin's last year either way.
Jacksonville Jaguars – MONEY – The only reason's players come to Jacksonville is money. The team is garbage, the division isn't good, and the town isn't exactly Miami. Fans had better show up this year or else the Jaguars are to likely to make a move to the West Coast.
New York Jets – AGAIN – You managed to re-sign a couple of guys that left you a while ago. The hope has to be that they play like they did when they left. If you get the two best corners in the game again you'll be in the AFC championship again. Oh, and Brandon Marshall helps too.
Detroit Lions – FILLS – There were some key loses, and the team has done a good job of filling the voids. If they can keep it up and add some pieces they will once again be right there with the Packers at the end of the season.
Green Bay Packers – STAND – No huge losses, one big retention in Randall Cobb, so you can stand tall and stand pat that your team is still the elite competition of the division.
Carolina Panthers – SUPER – You need everyone on the roster to find a way to tear off the Clark Kent costumes and become Superman, or else 7-8-1 is the high side of what to expect this season. The division win, and subsequent playoff victory mean you're buried deeper on the draft board than a one-legged place kicker. You need to find some super, each and every one of you.
New England Patriots – RELAX – So you lost your two best defensive players (ok, not so much lost as you elected not to bring them back). You still have Tom Brady, Bill Belichick, that guy who deflated the footballs and an owner who happens to be best friends with the league commissioner. Life is good.
Oakland Raiders – DRINK – This team is not getting better, I don't care who you sign, where they came from, how much swagger they bring with them, this team needs to rebuild from the magma of the earth up. Drink until you black out in the black hole. Next season is just around the corner.
St. Louis Rams – START – Getting rid of the china doll quarterback Sam Bradford for only semi-injured Nick Foles is a start. The team needs to build off of the success they had last year and keep things moving. A couple of big name players that got released may be a good move financially, but the drop in talent may hurt.
Baltimore Ravens – BUILD – You traded away or cut more players that I think I could mention. The team now needs players back. Free agents, draft, bums off the street, I don't know what the plan is, but get cracking.
Washington Redskins – SLACK – Fans need to cut the team, owner, coach, players and even the concession staff some slack. Yes, things don't appear to be getting better, but on the bright side…ummm…I'll get back to you.
New Orleans Saints – WORRY – Jimmy Graham is arguably the best tight end in football. Drew Brees was as shocked with the Graham trade as the rest of us. The team plays in a SUPER weak division, so anything could happen, but I wouldn't feel amazing about the things going into 2015.
Seattle Seahawks – QUICK – The offensive line had some issues before Matt Unger was traded to the Saints. Russel Wilson is mobile, so the team can move him around some, but you had better get used to seeing the ball come out quick. It's a good thing I can't think of an infamous split decision play at a critical point in a major sporting even involving Wilson and the Seahawks that cost them a championship. Otherwise, this trade would look questionable from the Seahawks side of ball too.
Pittsburgh Steelers – COACH – The team needs help, but the saving grace is you have one of the most consistent coaches in the entire NFL. If nothing else the Steelers will make a push because Mike Tomlin is to team management what footings are to a building – a rock hard foundation.
Houston Texans – SWATT – Do you know who your quarterback is? No! Do you know who he's throwing the ball to? No! Do you know how you're going to beat the Colts? No!!!! None of that matters because you have J.J. (S)Watt. Okay, granted, he's one guy, but this one guy can change a game given half a chance.
Tennessee Titans – BOOZE – When Jake Locker comes off his rookie contract and decides to retire rather than have to play another single down of football, even if it is with a team other than the Titans it says something about what playing in Tennessee must be like. May I suggest Jack Daniels for the year and we can talk next April.
Minnesota Vikings – BACKS – Adrian Peterson is an unresolved issue. This team needs to sort out its running back situation, like yesterday. Trading Peterson is an option, as is cutting him. The only thing that seems to be semi-clear is that his current contract needs to be changed before anyone can do anything with him.