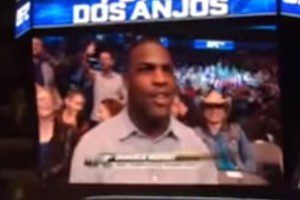 DeMarco Murray is a happy man after signing a new contract with the Philadelphia Eagles.
Murray had a career year last season with the Dallas Cowboys. After leading the league in rushing, Murray's price tag jumped to a level that Jerry Jones and the Dallas Cowboys wouldn't match. So Murray left Dallas and is now suiting up for their division rival, the Philadelphia Eagles.
While DeMarco and the Cowboys can probably chalk it up to "just business," fans can't seem to do the same.
Murray was recently at UFC 185 in Dallas. When the running backs face was shown on the big screen, a round a boos rang out through out the arena. Rumor has it, he personally asked UFC headman Dana White to flash his face on the jumbotron.
DeMarco smirked after his trolling of the Cowboys fans went they he probably expected.
Murray seemed to take it all in stride. I'm also sure that he was mentally planning on how he's going to get revenge on his former team. Just like the fans have the Eagles game circled on their calendars. This will be interesting.