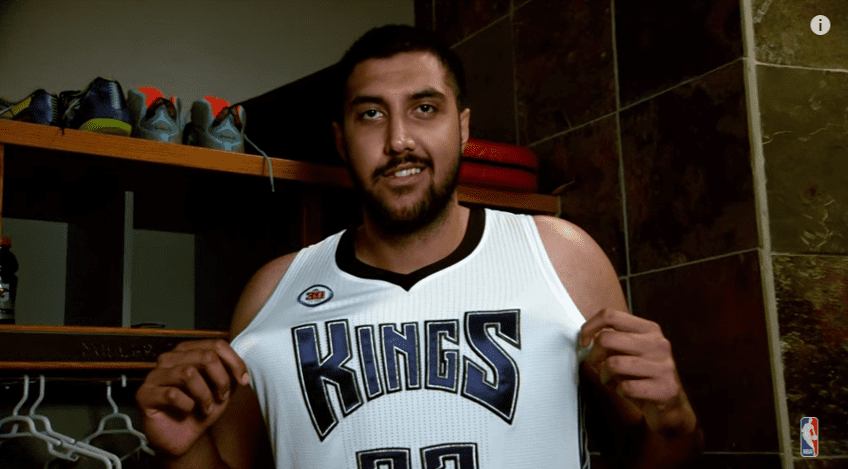 Whether the Sacramento Kings' front office aims to expand Sim Bhullar's role within the franchise or increase its fan base in India has yet to be discovered, but the 7-5 center's recent signing could be historic.
Never-mind the fact that he might become the first Indian-born player to see actual minutes on an NBA team, or that he has the build of an equally-terrifying Shaquille O'Neal, or that he has become famous overnight in his country. Bhullar understands the sudden spotlight, he says, but will continue to focus on proving his worth to the Kings.
"I don't really feel any pressure at all," said Bhullar. "I know there are a lot of people in India who will be watching the game. If I get on the court for a couple minutes, I'm going to be busting my butt getting up and down the floor."
Whether or not the attention being drawn will translate to a long-lasting career in the NBA is yet to be decided. When Bhullar initially worked out for the Kings and other teams over summer though, he was a vastly different player. He had undeveloped skill and the build for a physically-dominant interior presence. His ability to finish at the rim, though, was unpolished and unready for the professional level.
After spending the year with the Reno Bighorns, Sacramento's D-League affiliate and the origin of Bhullar's improvements, he claims to see a vast increase in his offensive ability.
"Every time I got the ball around the rim, I was expected to finish so I shot a high percentage," said Bhullar. "Everything I got I tried dunking or finishing. I'm just going to be that guy to do that role to help the team win."
His field goal percentage was indicative of a center who plays directly under the rim, challenged only with the task of collecting rebounds and finishing off easy plays set up by guards. Still, his 72.7 percent from the floor could translate to a Reggie Evans-type role for the Kings: A massive, lane clogging rebounder who can protect the rim and finish shots set up by guards.
Bhullar's emphasis, in fact, has been on developing a rim-protecting presence.
"The thing I focused in the D-League was being a big guy in the middle who could stop the other [players] from driving easily and getting to the rim. I loved to block shots down there, and I can rebound the ball."
With the massive minutes that DeMarcus Cousins is given each night at the center position, Bhullar's minutes will be initially slim. Cousins is involved in virtually every possession of Sacramento's offense, so Bhullar's integration will likely come on the defensive end, if he ends up seeing any minutes at all. His playing time will come as a result of foul trouble or a blow-out game, but the minutes will be judged as would any other and his rim-protection will be a benchmark for his evaluation. Coach George Karl, Bhullar claims, is open to giving him playing time.
"This was my first time talking to him in practice. He just told me to get ready to get after it and that he's going to try to get me in the game, so we'll see what happens," said Bhullar.
His body is his friend and his enemy: The 7-5 frame, wide shoulders and massive hands are likely the reason he has gained so much attention from the league, but his 360-pound build has been a source of reservation for NBA teams hoping to pursue him. Bhullar's health, though, has seemed better than ever in his numerous workouts with the Kings.
"My body's a lot different. I'm more healthy, and I can run up and down [the floor] more. My conditioning is a lot better and I think I'm ready for the NBA game."
In Bhullar's first game after signing with Sacramento, he saw no minutes and continued to await playing time in which he could prove his worth. His understanding of Karl's offensive schemes and play style have yet to be fully accumulated, but his commitment to running the floor and stopping drives to the paint play into Karl's most innate philosophies.
Bhullar believes that his game is ready for the NBA, and that his performances will earn him a more permanent place within the franchise. He credits much of his recent success to his time in Reno, where he played at a speed better suited for professional basketball. During the Bighorns' regular season, he averaged 10.3 points, 8.8 rebounds and 3.9 blocks.
"A big thing I needed was to go to the D-League and get those reps in. Playing those minutes that I was playing and getting into the game.. I needed that [in order] to develop. I think my game is really at its peak right now. I'm ready to go out there and show what I have."