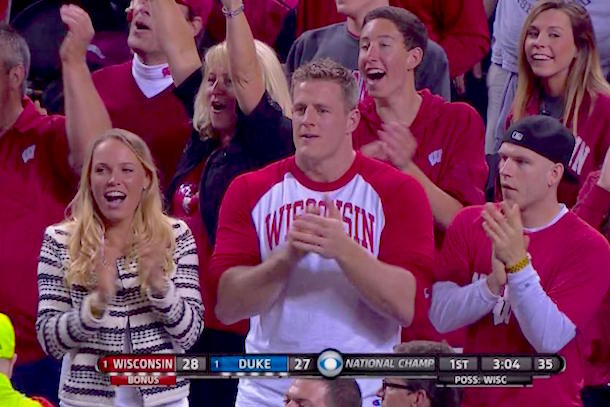 When your name is Caroline Wozniacki your life is pretty good.
You're constantly ranked as one of the top female tennis players in the world. You make millions of dollars a year from tournament and sponsorship money, and you're seemingly able to change high profile athlete boyfriends like you would tennis socks.
When "The Woz" split with golf sensation Rory McIlroy it was to the joyful glee of all those young ladies who wanted a piece of the somewhat diminutive Irishman.
I'm sure most of them would want them to reconnect after Caroline was spotted at the NCAA men's basketball final between the Duke Blue Devils and the Wisconsin Badgers with J.J. Watt.
Watt is an alumnus of Wisconsin, and was in full gear. While there were no PDA's caught on camera the rumour mill is swirling. If Rory is the jealous type than he might want to keep his distance. Pretty sure Watt wins that fight, but if someone could make that match happen I'd be dying to watch it.