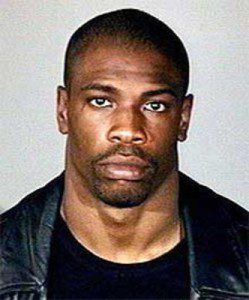 When he was drafted out of Nebraska by the St. Louis Rams, running back Lawrence Phillips was supposed to be the heir apparent to some of the great backs of the past, but off the field problems derailed his career.
Alcohol abuse and domestic violence issues that followed him from college caught up to him while he was a pro. Phillips would find himself behind bars at Kern Valley State Prison, sentenced to 30-years for his part in a vehicular homicide that killed two people.
Phillips' became a headliner again over the weekend when news broke that he is being investigated for the murder of his prison cellmate.
He is suspected of killing Damion Soward, a 37-year-old inmate from San Bernardino County serving 82-years to life for a first-degree murder conviction.
Phillips' cellmate at Kern Valley State Prison was found lifeless early Saturday and later pronounced dead, prison spokesman Lt. Marshall Denning said in a statement.
A second killing was also reported that day from the prison. No word on if the two killings were related.
Phillips, 39, played for the St. Louis Rams, until being released in 1997 for insubordination. He also played for the Miami Dolphins and San Francisco 49ers.