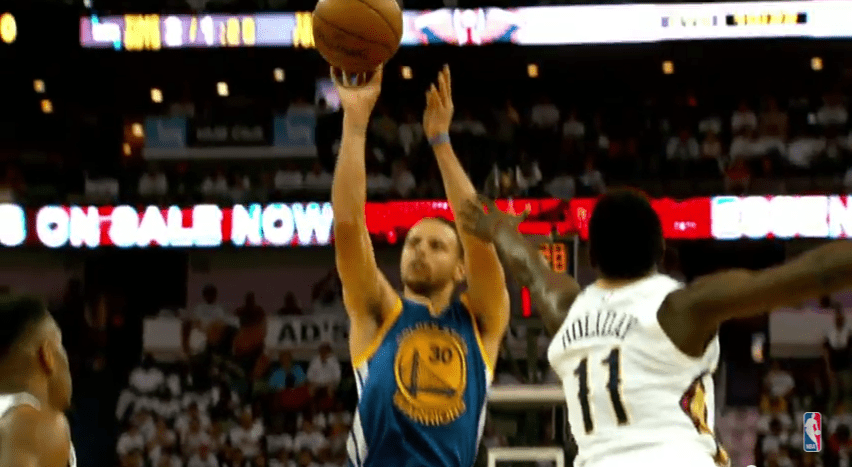 The Golden State Warriors defeated the New Orleans Pelicans by a 109-98 score to complete the series sweep. Even with Anthony Davis scoring 36 points and Eric Gordon dropping 29, New Orleans was outmatched at home to a superior opponent. Stephen Curry's mercilessly efficient 39 points featured a 6-8 shooting display from three-point land. Additionally, Golden State benefited from Klay Thompson's 25 points in a zero turnover performance. Draymond Green posted 22 points, 10 rebounds in a double-double effort. These contributors allowed the Warriors to win its first playoff series of the Steve Kerr era.
At halftime, Golden State was in full control with a 67-54 lead. This was far and above the Western number one-seed's best run of action during the series. The Splash Brothers and Green combined for 55 points in the first half, plenty to instill a certain sense of uneasiness within the home crowd. New Orleans featured a loud audience once again, no doubt a testament to the excitement the Pelicans have created in the city, but Game 3's meltdown seemed to turn Game 4 into more of a formality than a nail-biter. Nothing was going to prevent a Golden State team who shot 13-24 on threes from advancing in the series.
Aside from the three fixtures mentioned above: Curry, Thompson, and Green, the Warriors received little production. Andrew Bogut totaled just two points, Harrison Barnes only managed to score six, and Andre Iguodala was the highest bench producer with his input of eight. Golden State didn't need a tremendous bench to sweep an up-and-coming Pelicans squad, but a Memphis Grizzlies or San Antonio Spurs opponent down the road will require greater contributions from backup players. This will be particularly true if Curry and Thompson become cold from the floor.
New Orleans will enter its offseason with a great deal to digest. Making the playoffs in an unforgiving Western Conference stands as an unexpected accomplishment. Davis, the team's franchise cornerstone, has grown into a clear top-five player with MVP hardware in his near future. These positives should provide the New Orleans following with optimism for the future, although the Game 3 collapse will dampen part of that positivity. This also wasn't the traditional sweep as every game was competitive. New Orleans could easily be tied 2-2 if better late-game execution presented itself.
Moving forward to the Warriors' outlook, they now await the winner in the Grizzlies/Portland Trail Blazers matchup. Memphis would present an interesting challenge should they advance. Marc Gasol and Zach Randolph are interior monsters, talented enough on both sides of the ball to give Green and Bogut issues. Where Golden State would have a distinct advantage would be in the backcourt. Curry and Thompson will be a superior duo to any potential backcourt foe. If Portland were to pull off a series comeback over Memphis, I doubt many would like the team's chances over Golden State. They had the sixth-best record in the West, and lost every game when facing the Warriors.
Lastly, it's worth praising Kerr and his coaching staff for avoiding a letdown in this series after a historically memorable regular season. With a first-year man running the show, doubt always emerges concerning how that individual's team will perform come playoff time. With Alvin Gentry and Ron Adams as two of his elite assistants, Kerr and the Warriors silenced any doubt. The Warriors' brilliant move to replace Mark Jackson and his staff has paid giant dividends for Golden State. The NBA's best team now has an entire week to rest prior to squaring off against Memphis or Portland.