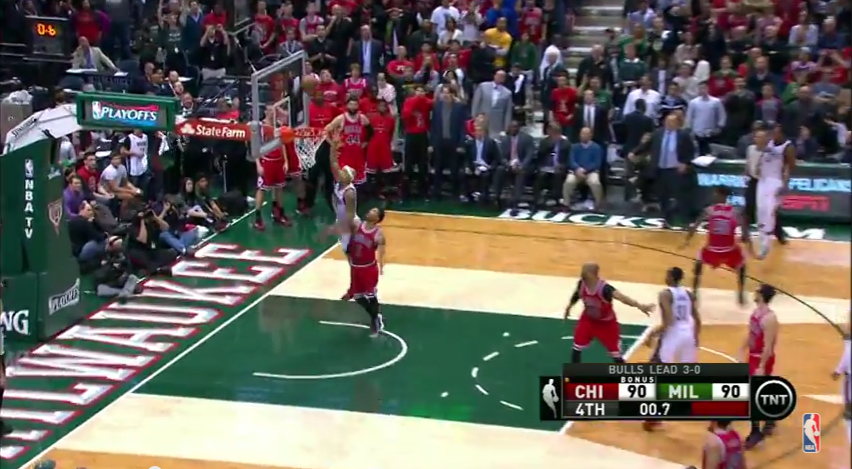 The Milwaukee Bucks edged out the Chicago Bulls in Game 4, avoiding a sweep and forcing Game 5 with a 92-90 victory. It came down to the very last shot in Milwaukee with 1.3 seconds left in regulation with the score tied at 90. Jerryd Bayless was set up for the easy lay-in, as Derrick Rose was caught falling asleep on the play.
The Bucks forced the Bulls to commit 28 turnovers in the game, a season-high for Tom Thibodeau's squad, which led to 39 points for the Bucks. Despite out-rebounding the Bucks, and sharing the ball well with 23 assists leading to 33 made field-goals, in addition to shooting 55.6 percent from beyond the arc, the Bulls fell short because they just didn't take care of the ball. The Bucks capitalized on the sloppy play of the Bulls with sound defense.
"I'm not going to put it on that last play. There were a lot of other plays throughout the course of the game," Thibodeau said. "When you turn the ball over like that you're not going to have success."
Rose had eight of the 28 turnovers, with Pau Gasol coughing it up five times and Jimmy Butler losing it four times. Now they need to focus on putting the Bucks away at the United Center instead of enjoying a week of recovery that they need. Butler continued his stellar play in the playoffs with 33 points and 7 rebounds, shooting 12-of-17 from the field.
The Bucks bench was clicking on all cylinders for the game, as their reserves outscored the Bulls 47-13 in the contest. O.J. Mayo came off the bench, contributing 18 points, 4 assists, and 4 steals in the game. Jared Dudley also gave the team a boost with 13 points and 5 assists playing with the second unit. The veterans on the Bucks kept their team alive and well throughout the game, greatly helping in keeping the brooms at bay.
The series is now at 3-1, but the Bucks are still fighting an uphill battle. The Bulls are looking to regroup and focus on ending the series in Game 5 at home on Monday, while the Bucks are looking to take one more step towards making history.
[youtube]https://www.youtube.com/watch?v=iGMolGZBx0M[/youtube]