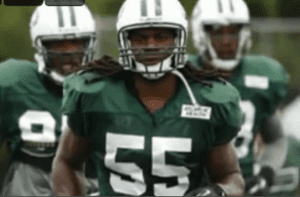 Former New York Jets linebacker Jermaine Cunningham is appearing in court to face charges related to "revenge porn" in a New Jersey courtroom on May 6th.
The charges are actually criminal mischief, invasion of privacy, and unlawful weapons transport. The charges were brought against the free agent in January. All charges stem from a domestic violence incident where police say a loaded handgun was found in Cunningham's car.
This case is on a national stage because it is the first of it's kind in the United States as there is a push to punish jilted lovers who distribute racy material without the consent of their former partner. Detractors of the suit argue that there might be an impingement of a person's First Amendment expression.