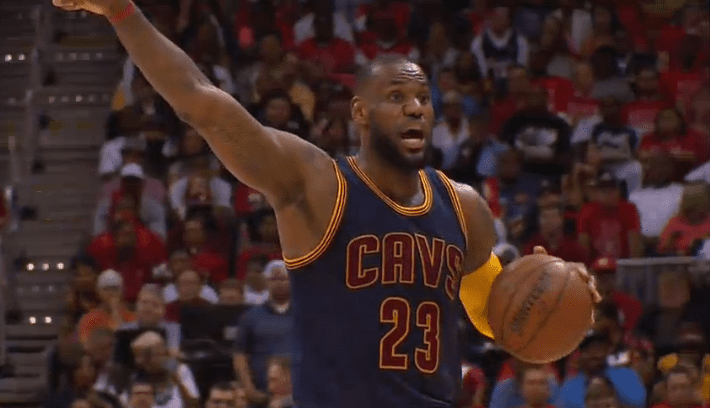 As disappointing as Game 1 was for the Atlanta Hawks, Game 2 proved to be even worse as they lost to the Cleveland Cavaliers by a score of 94-82. Their chances of coming back to win doesn't look so good, either.
Before Game 2 began, the momentum seemed to be teetering back towards the home team Hawks. They thought they might have lost DeMarre Carroll for the rest of the NBA Playoffs due to a left knee injury, but their fears were quelled with news that the injury was not as bad as initially anticipated. He was good to go for Game 2.
On the flip side of things, Cavaliers guard Kyrie Irving missed shootaround, and eventually Game 2. Things were looking slightly optimistic for the Hawks who had just given up their home court advantage with a Game 1 loss.
The game featured five early lead changes, and then the Cavaliers ran with the lead. Despite missing two of their three superstars in Kevin Love and Kyrie Irving, the Cavs took dominated the game with the help of LeBron James. Though he was able to shoot at will in typical LeBron playoff fashion, what stood out most was his meticulous facilitation of the ball especially when taking into consideration the array of three-pointers shot by Cleveland.
Thanks to LeBron's dishes, players like James Jones and Iman Shumpert were given wide-open threes. They ended their night shooting 3-5 and 4-6 from behind the arc, respectively. LeBron himself had an astounding stat line in the fist half alone with 17 points. He finished with 30 points, 11 assists, and 9 rebounds—one board shy of a triple-double.
That is what's great about Cleveland; despite a poor individual performance, one player or another can easily take over. It's a group of well-organized superstars working with another, particularly in iso situations. The same can't be said about Atlanta, however. As one piece of the offense goes, so do the rest of the four players on the court. Jeff Teague and Kyle Korver were able to produce early on, but the team's offensive reluctance in conjunction with their seemingly unnatural iso play only exacerbated things for the best Eastern conference team of the regular season.
As if things couldn't get worse for Atlanta, a litany of injuries began to plague the already downtrodden Hawks. Kyle Korver went out with an ankle sprain. Al Horford had to sit out the rest of the game due to his knees. And on top of all that, Carroll still wasn't feeling himself, as evident by his six-point, three-rebound Game 2.
Carroll, a starter who is opposite of LeBron James, is expected to produce so much more. He didn't get much help to offensively counter King James' production from fellow big man Paul Millsap either. Millsap, who averaged 16.7 points in the regular season, only managed to 2-8 with 4 points in this game. Despite the offensive troubles, both teams seemed evenly matched when it came to rebounds. Simply put: LeBron took over.
Now the Atlanta Hawks are down 0-2 in this best of seven series. Given the trouble Atlanta has had with Cleveland, it might not even make it to five. All throughout Game 2, fans seemed genuinely concerned. Is this the end of the super-efficient transition Atlanta Hawks that we have been accustomed to cheering for this past season?  If LeBron James and his focus on the prize have anything to do with it, Atlanta has two games until the end.
Game 3 will be played in Cleveland on Sunday at 5:30p.m. PDT/8:30p.m. PDT.