There was a brief moment of ecstasy for the Texas Rangers in the seventh inning of Sunday's game against the Kansas City Royals. After trailing KC 3-0, first baseman Mitch Moreland, who had been the Rangers only saving grace with his double off the wall in left field with two outs at the top of the fourth, hit another in the opposite field again and took his place on base.
Up comes Joey Gallo, who singled to center field, advancing Moreland as the Rangers looked to be in the midst of completing a well-composed comeback. KC's RHP Jeremy Guthrie was then pulled in favor of Kelvin Herrera, who had the daunting task of facing Elvis Andrus with two on and one out. In a moment of flowing afflatus, Andrus singled on the right side and loaded the bases.
Leonys Martin then stepped up, void of any sort of ostentatious demeanor due to his team's odd sense of modesty, even throughout his team's journey to overthrow the Houston Astros (a team who lost in a walk-off dramatic fashion against the Toronto Blue Jays on Sunday), who lead in the AL West.
By way of a 1-2 pitch, Martin singled, silencing the home crowd as he scores two, succeeding in both giving his Rangers an iridescent ray of hope, and scaring the baseball's seams off of the Royals. Without warning, a brand new game was born via Martin, Moreland, and Gallo, making Texas feel, well, probably like this: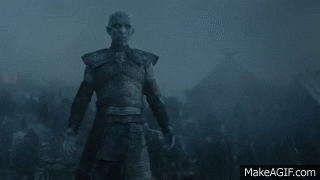 Robinson Chirinos ended up grounding out to short, tying the game, before the top of the seventh came to a close.
Despite the wonder that served as a painkiller during the seventh, the Rangers weren't able to lock down the sweep, and fell to the Royals 4-3, their fate sealed in the eighth after Texas reliever Keone Kela gave up a 97-mph fastball that resulted in a solo homer to Salvador Perez.
Texas goes on to face their now lower ranking division rivals, the Oakland A's, on Tuesday evening.