I recently started working on BMF Sport's Fantasy Basketball Draft Guide for the upcoming 2015-16 season. Like any big project, I outlined what I wanted to write about, focusing on what readers would need/want to get ready for draft day. While in the midst of my preparations, I decided to chronicle the process of getting ready and putting it all together.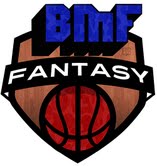 The first step in preparing the draft guide was to come up with player rankings, something I'm currently in the middle of tweaking and adjusting at the moment. When I first sat down to get started on the rankings, I was mildly amused and intrigued that it took me longer than I expected to decide on which player's name to write at number one. Basically the decision boiled down to a choice between two players; the reigning MVP, Stephen Curry and Pelicans' phenom, Anthony Davis.
Historically speaking, there have been NBA seasons where the fantasy basketball first pick was a debatable topic. For example, heading into 2012-13 it was a tough call who to pick first overall, LeBron James or Kevin Durant. Heading into 2005-06, the argument over Shawn Marion or Kevin Garnett was a thing.
This season, there are valid reasons to go with either Curry or Davis if you have the first pick in you fantasy draft. Anthony Davis finished first on BMF Sport's Player Rater on average "wins per week" with a WARP score of 1.28. Stephen Curry came in second with a 1.2 rating. James Harden placed third with 1.18. Unfortunately for Davis owners, he only managed to play 67 games. Curry played 10 more games than Davis and because of this ended up with a higher cumulative WARP score for the season with 27.26. Harden and his 78 played games came in second with 27.09. Davis came in third with a distant 25.29. What does this mean? Theoretically speaking, if Anthony Davis plays more games than Steph Curry this season, he should prove to be the more valuable player. Unfortunately for "The Brow," has had a knack for being unable to stay healthy. He's failed to crack the 70-games played mark in his three seasons in the NBA. To his credit, his number of games played has steadily been increasing with each passing year. Curry had his own fair share of injuries in the early part of his career. He had numerous issues with his ankles from 2010 to 2012. When Curry finally was able to stay healthy, he developed into the MVP-winning form we know today.
For reference, here are what our candidates averaged last season, based on Yahoo's standard 9-cat format.
Stephen Curry – Games: 77; 23.9 PPG, 4.3 RPG, 7.8 APG, 2 SPG, 0.2 BPG, 3.6 3PM, 48.6 FG%, 91.1 FT%, 3.1 TO
Anthony Davis – Games: 67, 24.3 PPG, 10.2 RPG, 2.2 APG, 1.5 SPG, 2.9 BPG, 0.2 3PM, 53.7 FG%, 80.5 FT%, 1.3 TO
Another factor to consider is the position the players play. As far as single position eligibility is concerned, Curry is a PG and Davis is a PF. Both guys are the best in their respective positions. Curry is fantastic point guard who has an insane effective field goal percentage (eFG) of 59.4. Davis delivers all the big man stats you want, but can still make his shots at the line with his excellent 80.5 FT% as well as his fantastic 1.3 TOV. 
In Yahoo, both players give owners some flexibility with their dual eligibility, with Stephen being a PG/SG and Anthony a PF/C. The power forward and center positions are much thinner in fantasy basketball than point guards. If you say, passed up on Curry in the first round, there is a good possibility you can grab a reasonably high-tier caliber PG in the second or third round. Big men come at a premium and the value of talented bigs drop off considerably after the first two to three rounds.
At the end of the day, I decided to rank Curry as BMF Sport's No. 1 overall player in fantasy for 2015-16. He's the "safer" choice, based on his games played over the last three seasons. That said, I wouldn't fault anyone who would pick "Brow" ahead of Curry for his sheer upside and uncharted ceiling.
Stay tuned for more fantasy basketball articles that I'll be coming up with over the next few days as I refine BMF Sport's player rankings for 2015-16!