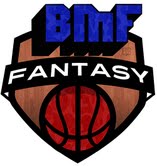 I don't normally target rookies in my fantasy drafts, but when I do, I tend to curb my enthusiasm.
Before every season starts, you hear words like "upside", "high ceiling", and "potential" thrown around when it comes to talk about rookies. People are excited to see young players make an impact, sometimes a bit too excited if you ask me. From a fantasy basketball perspective, the words I'm looking out for are "has opportunities to produce." Just because a rookie is talented and flashed a fantastic game in college, it doesn't necessarily mean he was drafted by a team that will allow him to showcase his talent and skill.
Here are the rookies I deem worthy of consideration in fantasy basketball drafts this season. I assessed them under a filter of the standard nine categories of PTS, REB, AST, STL, BLK, 3PM, FG%, FT%, and TO.  
*Beside their names and position are their Yahoo rankings as of the date of this article's publication. These rankings could still change, especially when training camps open.
1.Emmanuel Mudiay, PG (Y-Rank 93) – I'm high on Mudiay this season. Not only has he been impressive in the Summer League, the timing is right for Denver to give this rookie a baptism by fire and hand him the reigns to their backcourt right away. Their decision to trade Ty Lawson during the off-season is a good sign that this is the direction they want to go. While Emmanuel is currently not listed as the team's starter, he is playing behind Jameer Nelson. Jameer Nelson! I forgot that he was even still playing in the NBA. Seriously though, I wouldn't be surprised to see Mudiay grab that starting PG gig sooner rather than later. Watch out for turnovers though, something that plagues most rookie point guards.
 2. Jahlil Okafor, C (Y-Rank 77) – Not only did Okafor look sharp in the NBA Summer league, he is also penciled in as the starting center for the Philadelphia 76ers. News regarding Joel Embiid experiencing setbacks in his rehabilitation only serves to bolster expectations for Okafor to get a load of minutes from the get-go. The Sixers don't have any go-to scorers in their lineup and Jahlil's ability to score in the post will be a well they may have to dip into quite often. He should be able to deliver points, rebounds, and be a good source of field goal percentage. Don't expect too many blocks though, if at all. Nerlens Noel will be taking care of the rim protection and Jahlil will have his hands full posting up veteran guys. Okafor should be a serviceable second C, IF you already have a PF brings solid big-man numbers to the table.
3. Karl-Anthony Towns, C (Y-Rank 71) – I'm not going to argue long-term here. I concede that Towns does bring a more diverse stat line to the table compared to Okafor and will, odds are, end up with better fantasy value over the course the next three seasons. For all we know, we'll end up calling him "9-KAT" (yeah, you heard here first) in fantasy. My concern with Karl-Anthony is that it may take him a season or two (or more) to deliver on his potential. I have serious doubts he will explode out of the gates. I see him finding his game somewhere in the post-All-star break portion of the season. Towns is currently listed as the Timberwolves' starting center, but expect him to spend time at power forward playing alongside Gorgui Dieng or Nikola Pekovic (when healthy). Karl should be able to contribute points, boards, and even the occasional trey. His main issue will most likely be consistency. Managers drafting him in re-draft leagues for his upside should be ready to be patient. For keeper leagues, Towns should definitely be the top rookie to grab.
4. D'Angelo Russell, PG (Y-Rank 94) – Compared to Mudiay, Russell is the better passer and arguably the better all-around point guard. If he was drafted by a different team, he'd probably get a higher priority over Emmanuel, but he's with the Lakers. Unlike Mudiay, the Lakers already have a young PG in Jordan Clarkson, who may or may not be sharing the backcourt with Russell when the season starts. Even IF, that were the case, both guards are playing with Kobe Bryant and we all know that the offense will flow through him. Period. It might be a situation of "Thanks for bringing down the ball, rook. Now, go over there to the corner and stand by in case I decide to kick out the ball when I drive." Despite his talent and skill, Russell doesn't as carte blanche a set-up as Mudiay. All that said, Russell should get his fair share of playing time and have lots of opportunities to produce stats. He should be an interesting third or back-up point guard for your fantasy teams.
5. Willie Cauley-Stein, C (Y-Rank 156) – The Sacramento Kings traded most of their frontcourt this off-season in order to accommodate that Rajon Rondo signing of theirs. Cauley-Stein should be starting alongside DeMarcus Cousins. Aside from those two bigs, the Kings are paper thin up front. This will translate in Willie being handed all the minutes he can handle. The catch? Firstly, he's playing alongside the top center in fantasy in Cousins. It will be rare to see both guys deliver 10-plus rebounds per game, night in and night out. Willie is blue collar kind of big man, so don't expect him to be source of points. What he does bring to the table are rebounds, blocks and solid field-goal percentage, albeit from a low volume of shots. He is worth a pick as your team's third big man to help shore up your boards and blocks departments.
6. Frank Kaminsky, C (Y-Rank 135) – There are very specific reasons why the Charlotte Hornets traded for Nicolas Batum in the off-season and drafted Kaminsky with the ninth overall pick. The 2014-15 season highlighted the team's desperate need for three-point shooting. While Frank isn't a pure shooter. He is a mature, arguably NBA-ready stretch four, something that should fit right in with what Charlotte has going on. Cody Zeller is currently listed as their starting PF, but he's proven to be quite inconsistent. Kaminsky, on the other hand, gives them the option to spread out opposing defenses which should in turn free up Kemba and "Big Al" to get to do what they need to do. Kaminsky will get minutes, but it's still a question mark at this point as to how well he can translate his playing time into viable fantasy value. Feel free to take him as a flier pick in the last rounds.
7. Myles Turner, C (Y-Rank 170) – The Pacers lost both Roy Hibbert and David West over the summer. Their best move to plug the holes was signing Jordan Hill, which was actually kind of "meh." They currently have Ian Mahinmi playing ahead of Turner on their depth chart, a situation which is not likely to hold throughout 2015-16. Even if Turner should continue to come off their bench, he should eventually earn starter's minutes moving forward. The operative word there though is "eventually." When it does though Turner should be a decent source of boards and blocks. He's worth a flier pick, but should be selected with a grain of patience.
8. Mario Hezonja, SG (Y-Rank 173) – He sizzled in the NBA Summer League, but Mario is playing behind Victor Oladipo, a guy whom you should expect to take the lion's share of the minutes at shooting guard. One thing Hezonja does have going for him is that he is probably Orlando's best outside shooter, who just happens to exude confidence. He's not a true rookie in the sense that he has played pro ball Europe, so his potential should be easier to distill.
Rounding out the Top 10 (11) rookies are players who I don't consider worthy of drafting right away, but should be on watch lists.
Stanley Johnson, SF (Y-Rank 159) – Johnson is an intriguing player who has a lot of future potential, it's just that he might not pay off dividends right away.
Kristaps Porzingis, PF (Y-Rank 152) – The bulk of his rookie season value hinges on whether or not the rumours of the Knicks trading Carmelo Anthony come to fruition. He's very raw and could need a season (or two) to be a fantasy contributor.
Justise Winslow, SF (Y-Rank 151) – You'll need Luol Deng and/or Dwyane Wade to go down with an injury before Winslow can really take off this season. Considering both of those aforementioned players are injury prone, there could be a window where Winslow gets to make a splash.