Last Year's Record: 49 – 33
Key Losses: Tyler Hansbrough, Chuck Hayes, Amir Johnson, Greivis Vasquez, Lou Williams
Key Additions: Anthony Bennett, Bismack Biyombo, DeMarre Carroll, Cory Joseph, Luis Scola, Delon Wright
1. What significant moves were made during the offseason?
The inability to re-sign Lou Williams (reigning Sixth Man of the Year) is going to hurt the team's offensive output.  Lou provided great points off the bench, but offered little in the way of defensive support.  Scola and the rookies in the back court were brought in to help mitigate that damage as they all play a better two-way game and provide some scoring pop.  Scola is a big man that has good shooting range and motion, as well as being able to play acceptable defense in the post and on the wings.  Both Joseph and Wright appear to have scoring potential, and will have to show their skills off the bench, something neither of them are used to.  Terrence Ross is still in the mix, but he is streaky at best.  The team needs reliable secondary scoring.  There is still debate about whether it will be Scola or Patrick Patterson starting, and  James Johnson is even in the mix.  Johnson offers less offensive presence, while being a better defender, particularly in the low post.
Where the team seems to have suffered the most this offseason is in terms of toughness.  Amir Johnson did not put huge numbers, but did the dirty work and played tough in the post.  I have yet to see a single player that is going to bring that same kind of fight.  DeMarre Carroll is a nice effort in this regard, but he plays a little far out from the basket.  Carroll is best suited to guard larger players with range.  Carroll shines as a defender, but has some offensive potential.  He was often matched up against the teams best offensive weapon, playing against guys like LeBron James on a regular basis.  With all this said, Carroll is just one guy. Don't overlook the loss of Tyler Hansbrough.  Hansbrough brought that same kind of feel as Amir on the court..
The team seems to be a better fit in terms of players working with one another than it did last year, but I'm not sure the result will be better.  Last season the Raptors had players like Williams and Vasquez who could come out and steal a game with amazing individual play.  Even Amir Johnson had a game or two where he took over and willed the Raptors to victory.  Not that the current group of dinos doesn't have a guy or two that can and will do this, I just don't see the high ceiling from last season.  Still it helps playing in the lowly Eastern conference in terms of playoff hopes.
2. What are the team's biggest strengths?
Kyle Lowry.  I really shouldn't have to say anything else.  DeMar DeRozan has shown impressive outputs from game-to-game, and resident big man Jonas Valanciunas has even surprised people with his output.  But both those guys are streaky, and Valanciunis is really more role player than a franchise changing player.  Lowry is the guy that makes everything go.  He is the player other teams focus on trying to stop, and Lowry has a knack for exploiting it and getting the ball to players for open shots and drives to basket  DeRozan is the person that's benefited most from Lowry's stellar play.  Lowry is coming into this season in the best shape of his life, and if he can take a step forward this team could do the same.  But if he regresses, or gets hurt, this team is trouble.
With all that said, the moves made this offseason have provided the Raptors with a degree of depth they haven't had in years past.  The Raptors currently have a debate about who is going to start at power forward.  While the race is mainly between Patrick Patterson and  Luis Scola, James Johnson and even Anthony Bennett may see time at the 4 spot this season. That type of depth is a luxury this team hasn't had.  Amir Johnson wasn't a starter because he was great, he was a starter because he was the best player we had at the power forward spot.  The addition of Carroll means the team has even more depth through the small forward position as well.
3. What are the team's biggest weaknesses?
This team is softer than a warm doughnut floating in whipping cream on a hot summer day.  Above you'll note me stating that "Amir Johnson wasn't a starter because he was great", and I stand by that statement.  But what guys like Johnson and Hansbrough brought to the Raptors was a blue collar, rough and tumble, style of play that got results.  Not results you'd find on a stat line or anything of that nature, but it meant that teams knew they were going to get beaten up if they went inside.  Amir was never one to shy away from a hard foul.  I can't find one guy on the entire roster that strikes me with the same grit.  Certainly there are players capable of playing this way, but none of them will.  The closest the Raptors have is Carroll, and he doesn't play down at the hoop all that often.  With the league going small on the whole this may not be the worst thing in the world, but I know there will be teams this year that straight up out muscle the Raptors, and it's hard to coach around that.
4. What are the goals for this team?
Coming off a sweep in the first round of the playoffs to the "unmagical" Washington Wizards the Raptors need to show improvement.  Goal one is getting back into the playoffs.  Goal two is getting past the first round.  The first part of this should be easy enough, but it's the second part that is going to totally depend on who they face.  The team seems better equipped to deal with teams like the Wizards, Brooklyn Nets, Milwaukee Bucks and Boston Celtics.  However, the team still seems totally unequipped to handle teams like the Cavaliers, Hawks and Bulls.  Finishing fourth or higher so they get a favorable matchup is going to be a big key to the secondary goal this season.
5. Is this the year the Raptors finally embrace Drake as their official mascot?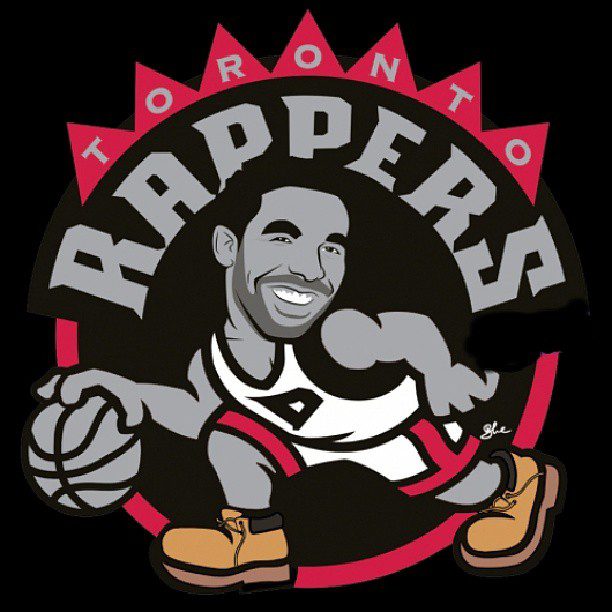 One can only hope…