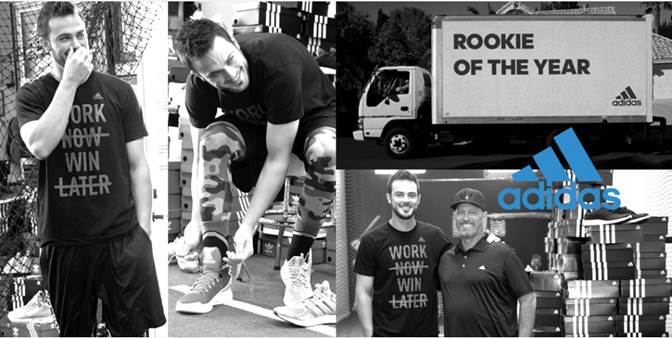 Chicago Cubs rising star Kris Bryant was named as the Rookie of the Year for the MLB National League, and it wasn't unseen or unvalued. Adidas, Bryant's sportswear partner gave him a truckload of the James Harden treatment by showing up to his house with a gang of new product to help him train in the offseason.
See Bryant's surprise in the short video here, courtesy of our friends at adidas.
After his big league call-up in April, his first All-Star selection in July and a postseason run in October, Chicago Cubs third baseman Kris Bryant finishes the 2015 season as MLB's National League Rookie of the Year.

Tipping its cap to Bryant, adidas today surprised Kris with a truckload of shoes delivered to his home and childhood batting cage in Las Vegas to help him prepare for next season.

Kris is teaming with adidas to give thanks to the city that welcomed and supported him in his first season and he will be surprising a high school in Chicago, IL with a truckload of shoes and equipment in the coming months.

Join and follow the conversation via @adidasbaseball on Twitter and Instagram and facebook.com/adidasbaseball #teamadidas.
— adidas Baseball (@adidasBaseball) November 17, 2015