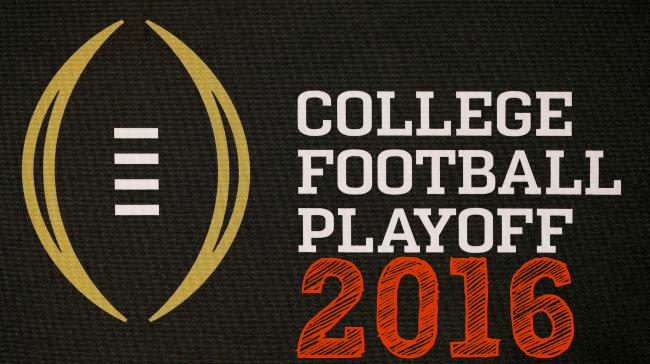 Kind of.
Nothing says "hot take" like "kind of," am I right? I apologize if that sounds like a cop-out answer, but you have to remember that this isn't a black and white world that we're living in. Not all things are as cut and dried as they sometimes appear, and the "success" of the College Football postseason is a terrific example of that. In some measures of "success" the College Football postseason is thriving, while in others it's floundering. Allow me to explain:
Much has been made of the poor television ratings that the College Football Playoff semi-final games produced on New Year's Eve. Detractors of the Playoff have been able to point to these disappointing numbers and say simply, "The College Football Playoff doesn't work." The only problem with that statement is that nine words are left out. The conclusion everyone should be making is "The College Football Playoff doesn't work when the games are played on New Year's Eve," because, if we're judging based on television ratings, last season's College Football Playoff was extremely successful.
The two 2015 CFP Semi-Final games (both of which were played on New Year's Day) garnered impressive Nielsen Ratings. In fact, the lower rated of those two Semi-Final games, a Rose Bowl matchup between Florida State and Oregon, posted better numbers than four National Championship Games in the BCS era did. The CFP Championship Game was even more successful. The only college football game in the 2000's that drew a higher Nielsen Rating than the inaugural CFP Championship was the 2006 Rose Bowl, a Championship Game for the ages between the USC Trojans and Texas Longhorns.
Then again, CFP Executive Director Bill Hancock has voiced his displeasure with using television numbers to measure success. Hancock told the New York Times, "We don't make decisions based on television numbers. I don't have a TV number that influences my measurable for success." Fair enough, Bill. I think it's silly that the CFP committee remains so adamant that they won't move future CFP Semi-Final Games from New Year's Eve to New Year's Day, but truth be told, I'd actually agree that television numbers don't tell the whole story of "success." Many of ESPN's sponsors might not agree with that conclusion, but if you don't want to use TV numbers, I can move elsewhere. I'm actually more concerned with the philosophical issues that the College Football postseason presents than any others.
We need to address the fact that 80 of the 128 FBS football programs get invited to a Bowl Game and casual fans couldn't care less about half of those teams. The problem with Bowl Season is that too many games don't have high enough stakes, nor do they feature teams that fans care about watching. The easiest fix would to simply get rid of five to ten bottom-tier bowl games. Are there any college football fans who would have been heartbroken if lackluster matchups like Akron/Utah State, Arkansas State/Louisiana Tech, Minnesota/Central Michigan and Western Kentucky/South Florida were non-existent this year? Not only did television numbers for those games suck (they combined for barely 5 million total viewers), but so did the attendance numbers, and the games themselves.
The best fix is to add four more teams to Playoffs. I know the idea of adding more teams to the Playoffs is scary for some people, but it makes since if you aren't wearing blinders. There's no reason why more than 64 of the 128 FBS Football programs should be playing a postseason game. Assuming we wanted to sit right at that 64 team mark, an ideal Bowl Season would leave us with eight teams occupying seven bowl games in Playoff match-ups, and then 56 teams playing in 28 more bowl games, bringing us to a grand total of 64 teams playing in 35 Bowl Games over a three and a half week stretch of time.
As long as you're not a hardened traditionalist who is opposed to any and all ideas of expanding a College Football Playoff, this is a terrific new set-up for the postseason. The most common critique made by Playoff detractors is that an expanded Playoff would make the regular season meaningless. The popular phrase used by people who are opposed to a Playoff is, "The regular season is already a Playoff." No, the regular season is the regular season, and the postseason is the postseason, and there is a drastic difference between the two. I don't see how you people get confused about this concept. And if you want to talk about meaningless, then let's talk about how if a powerhouse loses one game then they're Playoff hopes almost certainly extinguished, making the rest of their regular season, for lack of a better word, meaningless. This year the defending National Champion Ohio State Buckeyes were reduced to playing in the Fiesta Bowl because they lost one game to the eventual Big Ten Champion Michigan State Spartans.
The selection process for my expanded College Football Playoff proposal is rather simple … you take the winners of the five power conferences (leaving conference play and Conference Championship Games just as important as they already are, if not more important) and then a selection committee, the same kind used for the current CFP, would select three more at-large bids based on a full seasons body of work and then they would seed those eight teams. As for the schedule, it's equally as simple as the selection process is:
On the opening day of Bowl Season, typically a Saturday, four Quarter-Final Playoff Games would be played instead of four bowl games that feature also-rans from the MAC and Sun Belt Conferences. On New Year's Day (never, ever New Year's Eve) two Semi-Final games would be played (rotating between the Rose Bowl, Orange Bowl, Sugar Bowl and Fiesta Bowl), and a week or so after the Semi-Finals, you play the Championship Game on it's usual Monday Night timeslot. Wait, what's that? You're complaining about teams playing too many games now? Well how about we agree that every power conference team stops scheduling a game or two each year against FCS schools and bottom-feeding mid-majors, because nothing says meaningless like the Clemson Tigers outscoring Wofford and Appalachian State 90-20 in the first two weeks of the regular season.
If my proposed plan has offended you in any way, there is no need to fret. No changes to the college football postseason are imminent and even when the time comes where changes could theoretically occur, my idea of a perfect postseason is nowhere near what the powers that be would settle on. My postseason proposal creates a greater number of high stakes games in both the regular season and postseason while also preserving the traditional appeal of Bowl Season, all while putting more money in the pockets of the network execs, the advertisers and the committee members. The only problem is it's a grey area approach to fixing a system that nobody wants to admit has a growing problem, and most of the people who either deal with issues in this field or care about the issues at hand are only thinking in a black and white manner.