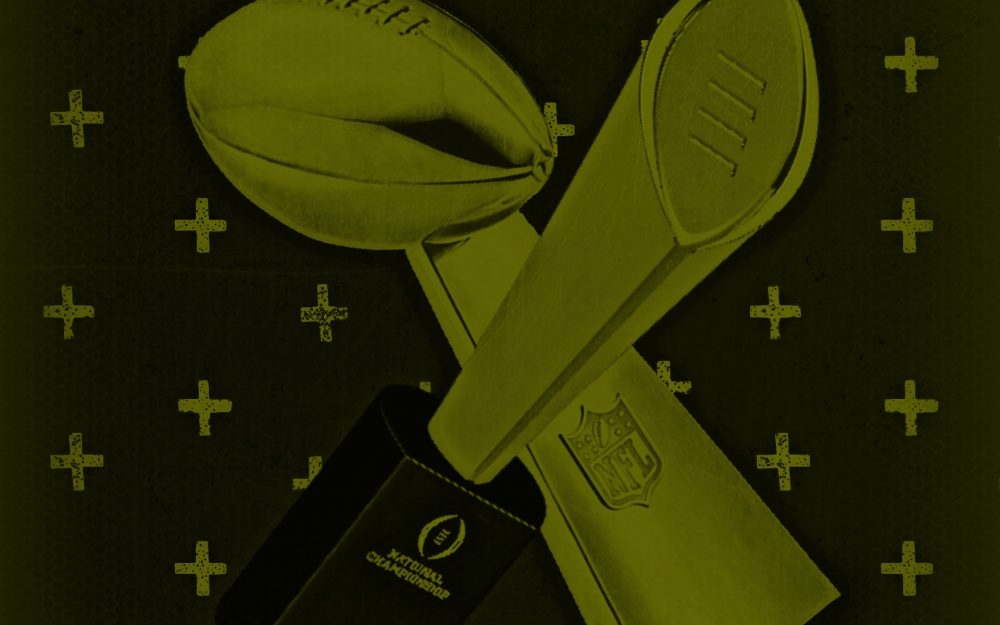 Author's Note: These rankings each week will reflect my personal feelings and opinion, both in terms of the quality of the teams, and also in regards to their realistic chances to make the Playoffs and compete for a Championship. Six teams from each Conference will be included in the NFL section. For College Football, I've written about the four teams most likely to make the College Football Playoff, plus a brief "Four on the Cusp" section to investigate which teams could climb into the Playoff picture.
Betting odds are courtesy of www.sportsbook.ag
NCAA
4. Oklahoma Sooners
Record: 2-0
Last Week: 49-21 win versus UCLA
Up Next: 17 point favorite at Iowa State
Championship Odds: +1500
Notes: Oklahoma was dealt a major blow last week in a win against UCLA when red-shirt Junior Running Back Rodney Anderson left the game with knee injury that will keep him out for the entire season. This will be the third injury that ends Anderson's year prematurely. In 2017, Anderson's only healthy season, he rushed for 1,161 yards and recorded 18 total touchdowns.
Even still, Oklahoma is in the driver's seat to secure a bid for the College Football Playoff. Among the five major Conferences in College Football, the Big 12 is arguably the weakest. The Sooners two most difficult games (versus TCU on October 20th and versus West Virginia on November 23rd) are both on the road. If they can avoid any unforeseen hiccups along the way, including this week at Iowa State — who handed Oklahoma their only regular season loss last year — they should be Playoff bound so long as they can win the Big 12 Championship Game for the second consecutive year.
3. Clemson Tigers 
Record: 2-0
Last Week: 28-26 win at Texas A&M
Up Next: 33 point favorite versus Georgia Southern
Championship Odds: +450
Notes: Despite a defensive line that starts four likely future 1st Round NFL Draft picks, Clemson was torched for 430 yards passing last week in College Station, and they nearly blew a 15 point 4th quarter lead in the process. The Tigers defense probably won't get torched like that again; they only gave up 300 yards or more passing only three times combined in the 2016 and 2017 seasons.
Clemson's regular season schedule is cake; by far the easiest for any legitimate title contender. There isn't an in-conference foe on their schedule that is currently ranked in the AP Poll, and in-state rival South Carolina (their final opponent of the regular season) was bumped from the Top 25 after a rout at the hands of Georgia last week.

2. Georgia Bulldogs 
Record: 2-0
Last Week: 41-17 win at South Carolina
Up Next: 32.5 point favorite versus Middle Tennessee State
Championship Odds: +800
Notes: Even after losing two one-thousand yard Running Backs and the 2017 SEC Defensive Player of the Year, Georgia certainly resembled a championship-caliber team when they dominated the Gamecocks in South Carolina. If you aren't ready to trust Georgia yet, a four-week stretch from October 13th through November 3rd (at LSU, a neutral site game versus Florida, at Kentucky and home for Auburn) will determine whether the Bulldogs are Playoff bound for the second consecutive season or in line for a year of slight regression after winning the SEC and playing in the National Championship game last year.
1. Alabama Crimson Tide 
Record: 2-0
Last Week: 57-7 win versus Arkansas State
Up Next: 21 point favorite at Ole Miss
Championship Odds: +170
Notes: Alabama is ranked 1st overall in the AP Poll for a record 106th time in the Poll's history, and even more impressive, they are the first team to sit atop the Weekly Football Playoff Power Poll right here on Hardwood and Hollywood. Congrats to Nick Saban and the Tide.
Four on the Cusp 
Ohio State Buckeyes (+650), Wisconsin Badgers (+1200), Auburn Tigers (+1200), UCF Golden Knights (+10000)
It's early, but Ohio State and Wisconsin seem to be on a collision course to compete for the Big Ten Championship on December 1st. History says at least one of the two will stumble at least once on the way there; either way, depending on how things break for various teams across the country, that could end up being a play-in game for the four team Playoff. Auburn looks like the third best team in the SEC, but their neutral field win over Washington in Week 1 will be the best non-conference win any SEC team will be able to boast about come December.
The defending undefeated National Champions deserve a mention on the cusp at the very least, even if their Championship odds are steep. I'll continue to make this joke until either UCF isn't undefeated or until the four-team Playoff is expanded to eight. It baffles me that the money-hungry NCAA can't see that they are missing out on millions and millions of dollars by limiting themselves to three Playoff games when there could be seven, AND that an eight-team Playoff — one that includes the five major conference champions (ACC, Big Ten, Big 12, Pac-12, SEC), the highest ranked non-Power 5 Conference team (it would've been UCF last year), and the two highest ranked remaining teams in the polls — makes more sense than any other possible postseason format.
NFL
12. Houston Texans 
Record: 0-1
Last Week: 27-20 loss at New England
Up Next: 2 point favorite at Tennessee
Division Odds: +200
Championship Odds: +3000
Notes: The sixth and final AFC playoff spot feels like it is going to be up for grabs all season long. The Jets/Dolphins winner will be a surprising 2-0, Denver could be unbeaten through two weeks with a home win versus Oakland, and Cincinnati moved to 2-0 last night. I'm not sure any of those teams have the ceiling that the Texans do … if healthy.
Houston is perennially banged up and Deshaun Watson looked like he was playing some of the rust off last week in New England. But the Texans defense performed well in the 2nd half against the Patriots, and as long as Watson can stay healthy for 16 games, the Texans offense should eventually at least come close to resembling the unit that exploded for nearly 35 points per game in Watson's starts last year.

11. Los Angeles Chargers 
Record: 0-1
Last Week: 38-28 loss versus Kansas City
Up Next: 7 point favorite at Buffalo
Division Odds: +180
Championship Odds: +2000
Notes: Despite a home loss to the Kansas City Chiefs in Week 1, Vegas hasn't soured on the Chargers of Los Angeles (not San Diego … get it together Pauley!). The Chiefs are only slight favorites to win the AFC West and have further odds to hoist the Lombardi Trophy than the Chargers do. There's a reasonable case to make for remaining optimistic about Los Angeles: they were without a game-wrecking edge rusher in Joey Bosa last week, they stumbled out of the gate to an 0-4 record last year before winning nine of their final twelve games, and their Wide Receivers dropped more than a handful of balls that could've swung the entire game in their favor.
So long as the Chargers avoid a major upset in Buffalo, it's not time to panic just yet.
10. Carolina Panthers 
Record: 1-0
Last Week: 16-8 win versus Dallas
Up Next: 5.5 point underdog at Atlanta
Division Odds: +250
Championship Odds: +3500
Notes: For now, Carolina edges out the Saints and Falcons for the final NFC spot, though Vegas disagrees. New Orleans and Atlanta remain co-NFC South favorites with +200 odds, and both teams have more favorable Super Bowl odds. This isn't to say there isn't plenty to like about the Saints or Falcons, but what I really like about Carolina was evident in their Week 1 win over Dallas: the Panthers know exactly what kind of football team they are. They know where their bread is buttered, so to speak. Carolina is going to play really solid defense and dictate the tempo of the game with an mix of run and pass that isn't very sexy, but is very effective.

9. Washington Redskins 
Record: 1-0
Last Week: 24-6 win at Arizona
Up Next: 5.5 point favorite versus Indianapolis
Division Odds: +600
Championship Odds: +6000
Notes: Each year there is a team that goes from 6 wins to a Playoff team and around Week 10 everyone notices that it's about to happen and we all collectively shrug and go "Huh, I guess they are pretty good." Last year was the best possible version of this phenomena, with Philadelphia upping the stakes and winning Super Bowl LII. Washington isn't ready to make the sort of leap that the Eagles made last year, but prepare yourselves for the Redskins to be 6-3 after Week 10. Like Carolina, they have an offensive identity and a terrific defense, only nobody knows it yet.
If you're concerned about Carson Wentz's injury prognosis and Nick Foles's ability to lead the Eagles in the interim, consider jumping on the Redskins at +600 to win the NFC East before things change too much.
8. Pittsburgh Steelers  
Record: 0-0-1
Last Week: 21-21 tie at Cleveland
Up Next: 5.5 point favorite versus Kansas City
Division Odds: -110
Championship Odds: +1500
Notes: Pittsburgh was exceedingly sloppy in a tie on the road with the Cleveland Browns, but there isn't reason to worry about those "Pittsburgh to win the AFC North" bets that looked like a sure-thing one month ago just yet. Despite a 2-0 record, I'm not sold on Cincinnati, and if the Steelers right the ship at home this week against the Chiefs — and I'm on record saying that I'm skeptical that they will do so — there is still plenty of season left to make that opener feel obsolete.
Even if Mahomes Mania rolls on into Week 3, what's most important moving forward for Pittsburgh is that the Steelers are able to play mistake free football on their home field against a subpar Kansas City defense. Even without All-Pro Running Back Le'Veon Bell in the picture, Pittsburgh moved the ball with relative ease in Week 1. Six turnovers changed the entire dynamic of the game.

7. Green Bay Packers
Record: 1-0
Last Week: 24-23 win versus Chicago
Up Next: 1 point favorite versus Minnesota
Division Odds: +180
Championship Odds: +1500
Notes: As long as Aaron Rodgers is walking this earth and wearing a Green Bay Packers jersey on Sunday's, I'll be utterly terrified of the man and remain convinced that any team he is leading is capable of winning a Super Bowl regardless of if he's playing with a jammed finger, a fractured collarbone, a broken leg, or typhoid fever. He's one of the handful of professional athletes I've had the pleasure of watching who actually belongs in any GOAT conversation.
6. Kansas City Chiefs 
Record: 1-0
Last Week: 38-28 win at LA Chargers  
Up Next: 5.5 point underdog at Pittsburgh
Division Odds: +160
Championship Odds: +2200
Notes: There are quite a few intriguing match-ups on the Week 2 NFL slate, but there might not be a game I'm looking forward to more than Kansas City and Pittsburgh, and here's why: With no due respect to that 30,000 seat stadium in Los Angeles that frequently hosts at least 15,000 individuals cheering for the away team, this will be Patrick Mahomes first true road test in the NFL.
If Mahomes and Tyreek Hill and the rest of that high-octane Chiefs offense can go to Pittsburgh and light up the Steelers — a result that we haven't seen during the Andy Reid era in Kansas City — we'll know that the Chiefs are for real, and not for real in the way that some smart football people thought they were in mid-October last year.
5. Jacksonville Jaguars 
Record: 1-0
Last Week: 20-15 win at NY Giants
Up Next: 2 point underdog versus New England
Division Odds: +105
Championship Odds: +2000
Notes: There wasn't anything too surprising or new that we learned from Jacksonville's season-opener on the road against the New York Giants. The Giants have no shortage of play-makers on offense, so even though Saquon Barkley and Odell Beckham both made their fantasy owners happy, the Jags defense only gave up 15 points. That's a slightly better mark than their season average from last year.
Jacksonville's offense remained ultra conservative, and that's just fine. There is a time and a place when Bortles will need to make plays; he doesn't need to throw for 300 yards and three touchdowns every game. But as we saw in the AFC Championship Game last year, against other great teams the Jaguars may need Bortles to be able to make one or two throws to clinch games for them. With New England coming in on Sunday, we might get the chance to see if Bortles has grown in that area since January.
4. Minnesota Vikings
Record: 1-0
Last Week: 24-16 win versus San Francisco
Up Next: 1 point underdog at Green Bay
Division Odds: +110
Championship Odds: +1000
Notes: Minnesota has the most talented roster in the NFC North and maybe the NFC as a whole, but with respect to the defending Super Bowl Champions and my Super Bowl LIII selection, the Vikings are 4th overall and 3rd among NFC teams in my Playoff Power Poll for now.
3. Philadelphia Eagles 
Record: 1-0
Last Week: 18-12 win versus Atlanta
Up Next: 3 point favorite at Tampa Bay
Division Odds: -225
Championship Odds: +1000
Notes: I'm going to withhold too much judgment on the Eagles until Carson Wentz returns from a torn ACL, hopefully for Week 3. I will say this: Everybody overrated Nick Foles and the Eagles offense heading into the season, while also underrating how great Philadelphia's defense is. Fletcher Cox is a goddamn man on the interior of the Eagles defensive line, and there are countless stars on that defensive unit. Until Wentz returns and finds his form, Philly's defense should be able to keep them afloat.
2. New England Patriots 
Record: 1-0
Last Week: 27-20 win versus Houston
Up Next: 2 point favorite at Jacksonville
Division Odds: -800
Championship Odds: +600
Notes: Even though Jacksonville was my pre-season pick to represent the AFC in the Super Bowl, and even though I like Jacksonville to defeat New England this Sunday, it was the Nature Boy Ric Flair who said "To be the man … Woo! … You gotta beat the man!" In the AFC, New England is The Man. Before Jacksonville gets a major bump in the Weekly Football Playoff Power Poll, they need to beat New England.
1. Los Angeles Rams 
Record: 1-0
Last Week: 33-13 win at Oakland
Up Next: 13 point favorite versus Arizona
Division Odds: -400
Championship Odds: +800
Notes: Last Sunday night at halftime of the game between the Green Bay Packers and the Chicago Bears (my favorite team), my Uncle Rock left the following message on a column that I wrote in which I predicted that the Los Angeles Rams (his favorite team) would win the Super Bowl.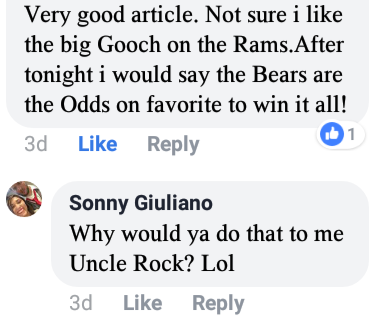 Of course, my Bears would go on to blow a 20 points 2nd half lead to Michael Fucking Myers Aaron Rodgers, and while the majority of the blame for this happening should rightfully be put on Rodgers shoulders (and some shit play-calling down the stretch by Matt Nagy), I can't say that I don't believe in jinxes just a little bit.
So with that said, give me the Rams to cover the spread against Arizona this week, to win the NFC West, and to win Super Bowl LIII. I'm certain of it.