Dallas Mavericks head coach Rick Carlisle was slightly tardy getting to the post presser following a captivating game at the American Airlines Center – it had been an excruciatingly long night and Carlisle and his team had to catch a plane on Oklahoma City at 11:30 p.m., a time that would have been reasonable had Cleveland Cavaliers' LeBron James not curled off a double screen and swooped in for a two-handed slam to tie the game with 20.9 seconds remaining in the fourth quarter.
"He's a force," Carlisle expressed to the press upon arriving to the interview room, his emotion and awe for the legendary center not lost in translation. However, his tone might have been more upbeat had James, Kyrie Irving, and Kevin Love not just managed to bitch-slap his Mavericks in overtime, the Cavs winning 110-107.
"When he's coming at you like a freight train, it's a mismatch – even if it's a freight train trying to guard him because of his speed and all that," Coach expressed of LeBron, who scored a game-high 27 points, 10 rebounds, and seven assists. "But you got to find away."
Finding a way was something they fell short of in OT. Dallas just couldn't keep up with the Cavs, an opponent they were dominating a majority of the night, and were outshot 15-12. The Mavs were looking for their 10th straight OT win, but couldn't hold on.
And what game is without its controversy? However subtle. During the extra minutes, Deron Williams went up for a layup while up one point, when James, in an attempt to block the shot, went up and smacked the backboard. In the official NBA rule book under the goal tending section, it reads that a player should not:
"Vibrate the rim, net or backboard so as to cause the ball to make an unnatural bounce, or bend or move the rim to an off-center position when the ball is touching the ring or passing through."
Due to the possible vibration of the glass, the ball bounced awkwardly off the rim and failed to fall. Of course, this wasn't lost on Mavericks owner Mark Cuban, who, in a very Cubes-like fashion, very subtlety expressed his frustration over twitter: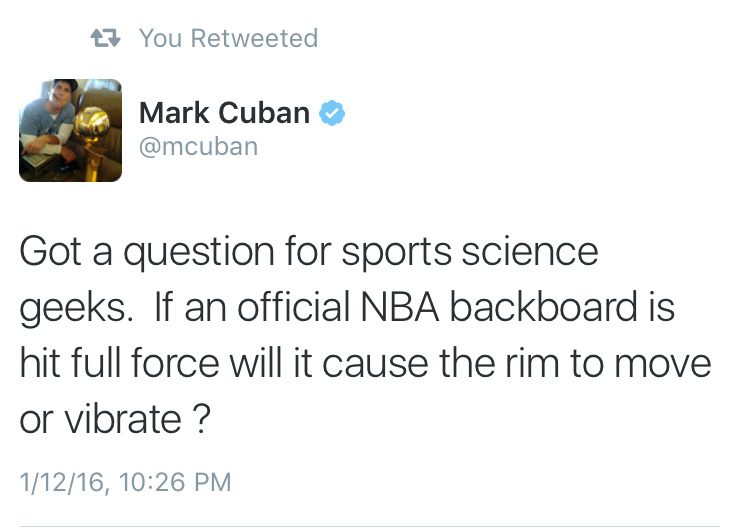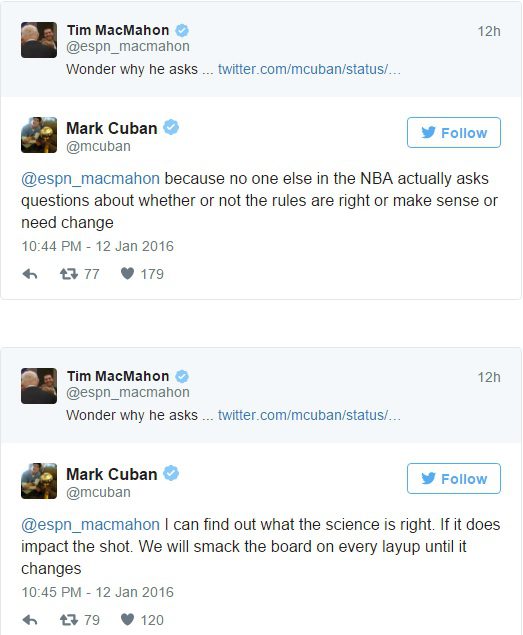 Even if the call was made, chances are it still wouldn't have resulted in a win.
Despite the loss, Chandler Parsons put up a season-high 25 points on 10-of-14 shooting while Williams topped with a season-high 10 assists. Wesley Matthews, who was lackluster during the first three quarters, exploded in the fourth and ended the game with 11 points and seven rebounds and helped send his team into OT.
The Mavericks start a long road trip this week and face the Oklahoma City Thunder on Wednesday night.
Cavaliers 110
(27-9, 12-8 away)
Mavericks 107
(22-17, 11-7 home)
Coverage: FSSW
8:30 PM ET, January 12, 2016
American Airlines Center, Dallas, TX
| | | | | | | |
| --- | --- | --- | --- | --- | --- | --- |
| | 1 | 2 | 3 | 4 | OT | T |
| CLE | 22 | 25 | 20 | 28 | 15 | 110 |
| DAL | 25 | 27 | 20 | 23 | 12 | 107 |
Top Performers
Cle: L. James 27 Pts, 10 Reb, 7 Ast, 2 Stl
Dal: C. Parsons 25 Pts, 8 Reb, 1 Ast, 2 Stl