Ah, the big question hanging over everybody's head – who is up high on the NBA MVP ladder? I'll be looking at individual performances, but heavily favoring team accomplishments as well. So, sorry James Harden and Anthony Davis, you'll be nowhere to be found, for now.
4. LeBron James, SF, Cleveland Cavaliers
Stats: 25.0 PPG, 3.3 TOPG, 0.7 BPG, 1.4 SPG, 2.4 DEF+/-, 6.0 OFF+/-, 26.4 PER
What a turnaround from the past few seasons. Remember when Kevin Durant and LeBron were the only two true candidates for MVP? Well, it's not like Lebron has completely fallen off, but he hasn't improved either. He is averaging 25.0 points, which is his lowest since his rookie season. That's still an impressive number, however, since he's currently the fifth best scorer so far in the league. He is also currently playing with a 26.4 PER rating, 11.4 above standard average. However, comparing him to other MVP candidates, nothing stands out. The Cleveland Cavaliers on the other hand, is the biggest powerhouse in the East, so I had to include The King.
3. Russell Westbrook, PG, Oklahoma City Thunder
Stats: 23.9 PPG, 4.2 TOPG, 0.3 BPG, 2.5 SPG, 2.7 DEF+/-, 7.9 OFF+/-, 29.0 PER
Looking at my stat sheet shows some impressive numbers for this young fella. He's averaging nearly double the steals and owns the second highest OFF+/- among the MVP candidates. Last season, Russ got the break he needed to show his game. He has always been the wingman for Kevin Durant until recently. Some even argue he is the best point guard in the league, even over Stephen Curry! While that's a bit of a stretch, it's certainly not impossible. He is tied for second in the league with five triple doubles this season. That's four more than Durant. Well maybe, "He had a good game." No, he has 28 double-doubles, again second in the league! So, it stands to reason, he'll always have a shot for a triple-double. However, on the flip side, he leads the candidates with 191 total turnovers, averaging a whopping 4.2 per game. The Thunder are sitting at an impressive 33-12, 3rd in the stacked West, so Westbrook is a strong candidate for NBA MVP.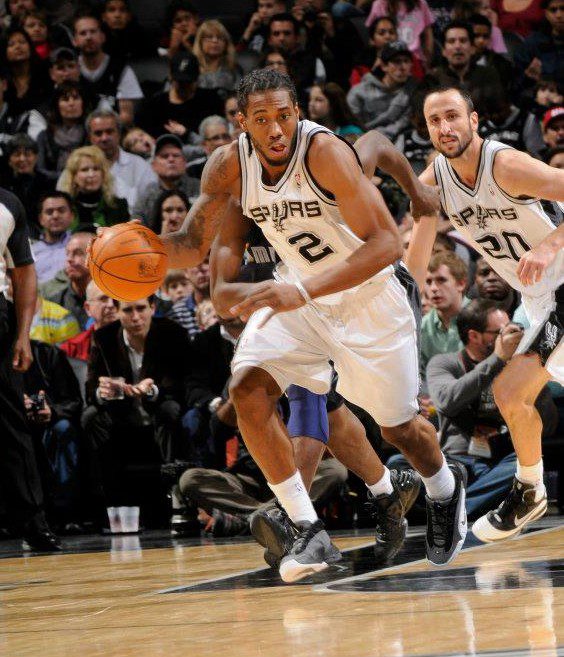 2. Kawhi Leonard, SF, San Antonio Spurs
Stats: 20.0 PPG, 1.3 TOPG, 1.0 BPG, 1.9 SPG, 3.3 DEF+/-, 5.4 OFF+/-, 25.9 PER
Good old (well, young on his veteran Spurs team) Kawhi Leonard. He is, in my opinion, the best basketball player in the world. Get this, he leads the non-winning (according to this post) candidates in: eFG% (56.5), 3PT% (47.0), FT% (88.0), and both total blocks and blocks on average per game. He is averaging a solid 20 points as well, to go along with a stable 25.9 PER. Okay forget numbers right now, he's straight-up balling! Okay I lied, look at his stats and keep in mind he played 1377 minutes (32.8 MPG), the least of all the candidates. The Spurs are second in the West at 38-6. Kawhi has been able to do just about everything, and shows no sign of stopping.
1. Stephen Curry, PG, we all know who the hell he is and who he plays for!
Stats: 30.1 PPG, 3.4 TOPG, 0.1 BPG, 2.1 SPG, 0.0 DEF+/-, 12.80 OFF+/-, 32.6 PER
Is there really any doubt at this point? Reigning MVP Stephen Curry is the Magic Man of the NBA right now. He is averaging a league-leading 30.1 points per game. He's also on pace to shatter his own total threes made for a season record. He reminds me of Magic Johnson, except smaller, with much MUCH better range. All bandwagons are hitching a ride with him, and leaving LeBron's in the dust. The Golden State Warriors have been untouchable this season at 40-4. They even have a shot at beating Jordan's 1995-96 72-10 record. They murdered the Cavs and Chicago Bulls recently, showing they have no problem with the East. However, can the "Silent Assassin" Kawhi Leonard sneak up on him? Well, I guess we'll have to find out. But for now, let Chef Curry enjoy his endless spotlight.
Honorable Mentions:
Draymond Green, PF, Golden State Warriors
DeMarcus Cousins, C, Sacramento Kings
Chris Paul, PG, Los Angeles Clippers
Kyle Lowry, PG, Toronto Raptors
Jimmy Butler, SG, Chicago Bulls
*Stats as of 1/22/16