The early nineties were a dark era for the Philadelphia 76ers.  Wins were few, losses were plentiful and seats were empty.  The front office was in disarray and coaches were tossed to the curb like dying Christmas trees.  The team had young talent, although, you could take the "talent" part out.  Passing up on future all-star's Penny Hardaway, Jamal Mashburn, Vin Baker and Allan Houston in the 93' draft; management, instead, drafted the 7'6 Shawn Bradley second overall despite having spent the previous two years secluded from basketball as a Mormon missionary in Australia.  A year later they pulled the plug on Sharone Wright with the sixth pick.  He was decent, but looking back, Brian Grant, Eddie Jones or Jalen Rose would have fared out so much better.   On a positive note, the Sixers did, in fact, have some ridiculously cool jerseys; the only problem is that their shorts were so damn short and so damn tight that if you starred for too long, your eyes would disintegrate into ash.  But whatever happens in darkness always comes to light.  Surely, their twenty-six wins in 93', twenty-five wins in 94', twenty-four wins in 95', and eighteen in 96' didn't give fans a reason to rush home after a long day at work to a cold beer and a Sixers game at 7, but there was one player who did.
Nicknamed "Baby Barkley" for his uncanny resemblance to former NBA legend, Charles Barkley, Clarence Weatherspoon was dog out there on the court; a blood thirsty hound who would dunk in your face at 5, then treat your wife to Red Lobster at 8.  He was undersized, but powerful.  A slight bit overweight, but athletically gifted nonetheless.  "I've been coaching 27 years and he's the hardest worker I've ever been around," said M.K. Turk, his coach at Southern Mississippi.  "His work ethic is second to none.  He's an intense young man and always sets very high goals and worked hard to achieve them."
Selected ninth overall in an impressive 92' draft class – that featured Shaquille O'Neal and Alonzo Mourning, as well as, Christian Laettner, the head cheerleader on the immortalized U.S. Olympic "Dream Team" – Weatherspoon was a glistening ray of sunshine in an otherwise gloomy, depressing time period for a once star studded Sixers franchise.  As a rookie, Clarence wasted no time proving his worth.  While Shaq was breaking backboards in Orlando and stealing all of the national limelight, in Philadelphia, "Spoon" quietly posted 15.6 points and 7.2 rebounds per game averages as the team's only formidable low post presence.  Within that season, he placed second in the Slam Dunk Contest to Harold "Baby Jordan" Miner, shattered Lee Shaffer's 31-year-old record for most points in a season by a Sixers rookie (since broken by Jerry Stackhouse and Allen Iverson) and was an All-Rookie Second Team selectee. Not bad for a guy whom many believed was "too small" to make an impact at the NBA level.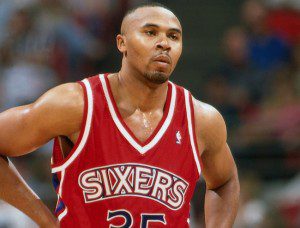 From then on, things would go from really good to really bad – really fast.  After posting career highs in points (18.4), rebounds (10.1) and blocks (1.4) during his sophomore season – including 46 double-doubles, a triple-double, and joining Hakeem Olajuwon, David Robinson, Clifford Robinson and Shawn Kemp as one of only five NBA players to record 100 in the five major statistical categories (points, rebounds, assists, blocks steals) – the Sixers fired head coach Fred Carter, whom Spoon had thrived under, and hired John Lucas who moved Clarence away from the paint to the small forward position; an awkward adjustment for the 6'6 bruiser whose game was predicated on bullying his way around the rim.  Lucas, though, was fired in 96' after posting a 42-122 record (25.6%) in two seasons, in exchange for Johnny Dawkins who, subsequently, was fired after one season in favor of Larry Brown.  As a result of the coaching changes, switching positions and the 76ers fluctuation of frontcourt talent (Bradley, Wright, Derrick Coleman), Spoon's numbers dropped, and dropped, and dropped.  The man who had once been on the cusp of an all-star consideration was now on the brink of mediocrity.
In the summer of 97', hard feelings between he and the Sixers front office would only worsen after a trade that would have sent Spoon to the Boston Celtics was voided after Croatian legend Dino Radja failed his physical.  The self described "quiet" and "non-controversial" Weatherspoon felt disrespected; not by the trade itself, but because of what ensued after the trade fell through.  "I wasn't asking for an apology because that's part of the business.  But I don't even get a courtesy call. I don't even get a welcome back call," he said.  "The truth is I haven't gotten any respect for what I've done for five years.  That's the flat out truth.  Some nights I might be isolated and not even see the ball, but did I say anything?  I just stay solid."  Despite constant trade rumors and a transparent discontent between the two sides, Clarence remained a Sixer to start the 97-98 season.  Playing alongside Derrick Coleman and Theo Ratliff, he bounced in and out of the starting lineup.  He struggled with consistency.  He was averaging career lows in minutes (26.9) and in points (8.4).  Allen Iverson was the new head honcho in town; Weatherspoon was merely an afterthought.  And so finally on February 18, 1998, after months of patiently waiting to get the hell out of town, Spoon was traded with Jim Jackson to the Golden State Warriors in exchange for Joe Smith, the No. 1 overall pick in 95', and swingman Brian Shaw, who ended up winning three consecutive championships as a Lakers a few years later.  From then on, he bounced around from city to city becoming somewhat of a journeyman.  He became a starter again in Cleveland, and got some shine in New York, but regained that swagger that started the "Baby Barkley" phenomenon.
At the age of 34, Clarence said goodbye.  Goodbye to the NBA.  Goodbye to the drama and goodbye to all the scumbag executives who drained him of his talent and fed him to the wolves.  Since hanging it up, Weatherspoon has seemingly kept a low profile.  Away from the league itself, but probably somewhere close by.  Gone is his thunderous dunking ability.  Gone are the million dollar contracts and gone are the comparisons.  What is everlasting, though, are the memories he brought to Philadelphia during an era of unmitigated dysfunction and disappointment.  So for that, thank you Mr. Weatherspoon.  I always liked you better than Charles Barkley anyways.