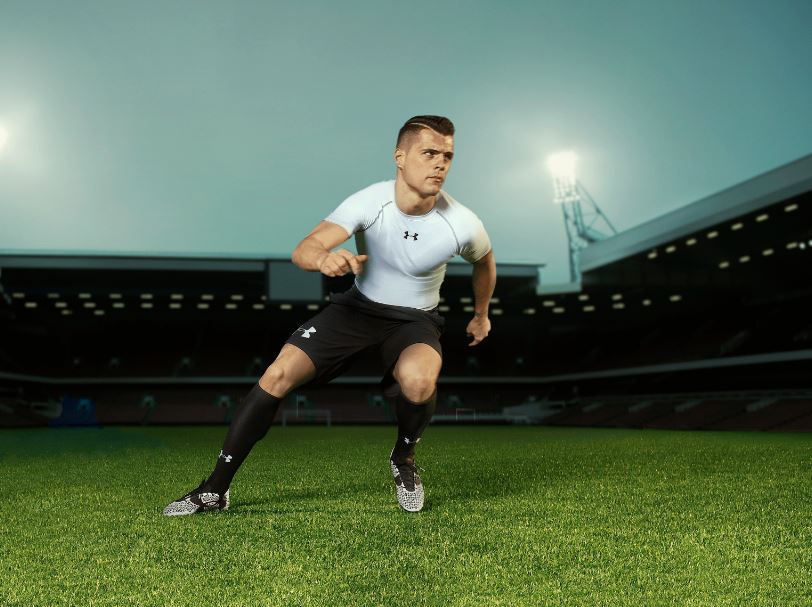 Under Armour continues to expand its global athlete reach with international soccer football star Granit Xhaka.
See all the deets here, courtesy of our friends at UA.
Revolutionary sports performance and innovation brand, Under Armour, announced another global football star to their roster of incredible athletes. Borussia Mönchengladbach and Switzerland midfielder Granit Xhaka has joined the Under Armour football roster, representing another step in the brand's commitment to outfitting footballers with game-changing and innovative products.

Xhaka, 23, is not only one of the top players in the German Bundesliga but one of the top young talents in the world, and sees the partnership as an opportunity to further his training and performance by working with a brand that is constantly seeking to make athletes better through innovation in sport. Going forward, Under Armour will equip him with the cutting-edge sports technology to continue his journey to the top level of the game.

"I feel my young, dynamic spirit is a perfect fit with Under Armour and I am very excited to use their innovative products to add even more control to my game," said Xhaka. "I look forward to taking my game to the next level, as I still have so much more that I want to achieve."

"Granit is a hugely exciting young footballer who has an incredible future ahead of him. We felt his relentless and determined style on the pitch matched our brand values. We plan to provide him with best-in-class gear to reach his goals," said Peter Murray, VP, Global Brand and Sports Marketing, Under Armour.

Xhaka will wear Under Armour's ClutchFit Force™2.0 boot first against Hamburger SV on the 14th February. The innovative boot gives players extreme comfort by using a Trivela microfiber upper with two-way stretch and symmetrical lacing system that works together for a perfect fit.

To shop the full UA ClutchFit™boot range as well as the brand's other football boot offerings, visit UA.com. To learn more about Under Armour's global football campaign and to join the conversation, tag @Underarmour and #SlayYourNextGiant on Twitter and Instagram.