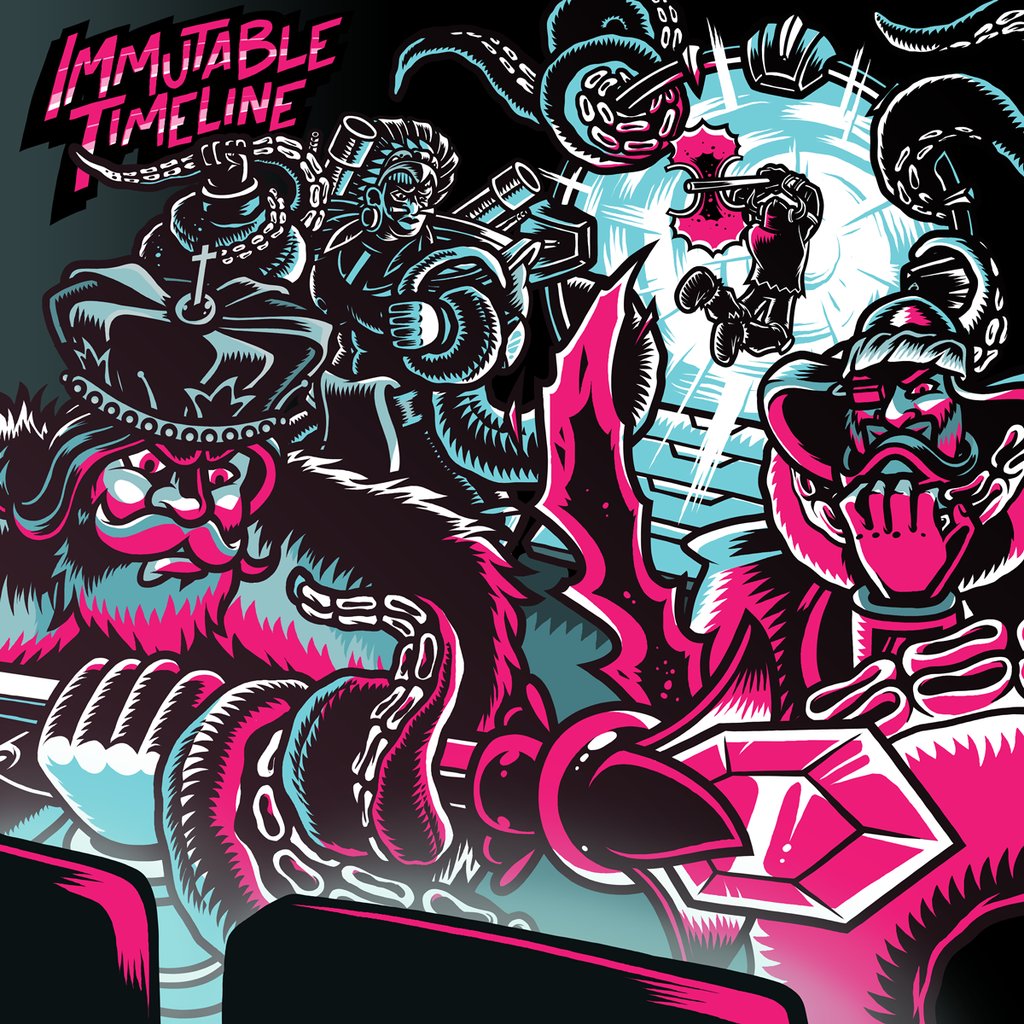 Immutable Timeline is the electric new EP crafted by Bad Royale, boosted into the word by Diplo's highly regarded record label, Mad Decent. All tracks featured on the record will undoubtedly be celebrated worldwide for summer 2016 in every reach of the party spectrum. Whether you're letting it all go at a nightclub booming on the bank of an international ocean or touring the U.S. dance festival lineup this summer, expect to hear the sounds of Immutable Timeline blazing loudly from surrounding speakers igniting the crowd and fueling the body's need for expression through movement.
The soul of the music lies in a combination of dance/party genres, most notably, House, Electronic, Dancehall, Dubstep, and Baile Funk. And for those who don't know the intricacies of the subgenres of dance music, this basically indicates the presence of bass-filled, colorful beats sporting dub and dancehall-style breakdowns with the mellowing sounds of reggae garnished all over the track list. What's also unique and quite pleasant on the ears is this uplifting, peaceful island energy you experience while listening to the album. These beach-like vibrations pair well with the wild and invigorating tempos creating a fluidity in the songs, which help to separate them from your common rave-goer's average soundtrack.
Immutable Timeline, although containing only five tracks, still manages to encompass major features from celebrated artists worldwide. Starting from the top we're introduced to the noteworthy singer/songwriter/producer, Richie Loop. A budding artist out of Kingston, Jamaica who's made major waves overseas, particularly in the Caribbean. His vivacious energy and musical roots can be felt on "The Royal Anthem", kicking off the album with a perfect introduction to the energy and sound of the work as a whole. On the second track, "Dutty Hart", we get to experience the sounds of IAmStylezMusic, another artist whose major influence comes from the Dancehall-Reggae spirit of Jamaica. Growing up in Portmore, IAmStylez made the jump to the states in the mid 2000s to grow his eclectic brand and style. What better way to expand the groove than to collaborate with Bad Royale on their latest EP. Track number three, and my personal favorite, features Konshens, another Jamaican artist with swagger and hip-hop soul for days. Konshens has to be my favorite feature as well as being featured on my favorite track. His beautiful dancehall vocals and Soca musical influence creates by far the most wavy/laid back, hip hop inspired track on the album. It rolls and vibes in a highly sensual way while boasting uplifting lyrics that fit perfectly with the grooving rhythm of "All We Need Is Love". "Bun It Up" encompasses the silver-tongued and highly energetic stylings of Bunji Garlin, who without a doubt takes the dance vibe to the next level. Bunji Garlin is Trinidadian artist specializing in Soca and Ragga Soca sounds. Number four will have the crowd moving passionately and pushing their hands high into the heavens. Capping off Immutable Timeline, we get to hear from Suit Of Black on track five entitled, "Suit Of Black". It's a very distinguished, Dancehall-inspired and energetic piece that sends the album off in style. Suit Of Black is a pretty remarkable group in that it features a collection of three major Caribbean artists: Bunji Garlin who's already featured on the album, Assassin, and Kardinal Offishall, Canadian rapper and producer who's made quite an impression in the Rap community with his Dancehall and Reggae inspired Hip-Hop. On such a versatile EP, the ending could be no better celebrated than by having the presence of such a groundbreaking and significant feature to finish it off.
Immutable Timeline is a compilation of international grooves that inspire raw movement and sensual party vibrations. The record will surely be celebrated in the hottest of environments, both literally and figuratively, throughout the duration of the most exciting season of the year. Mad Decent will surely hold this release in great esteem, as this record will, without a doubt, send people into pleasurable trances and hedonistic states for many moons to come. Unity, synergy and musical variance are the markings of achievement that Bad Royale attained in creating this record and kudos must be given. Nicely done, boys. Nicely done.