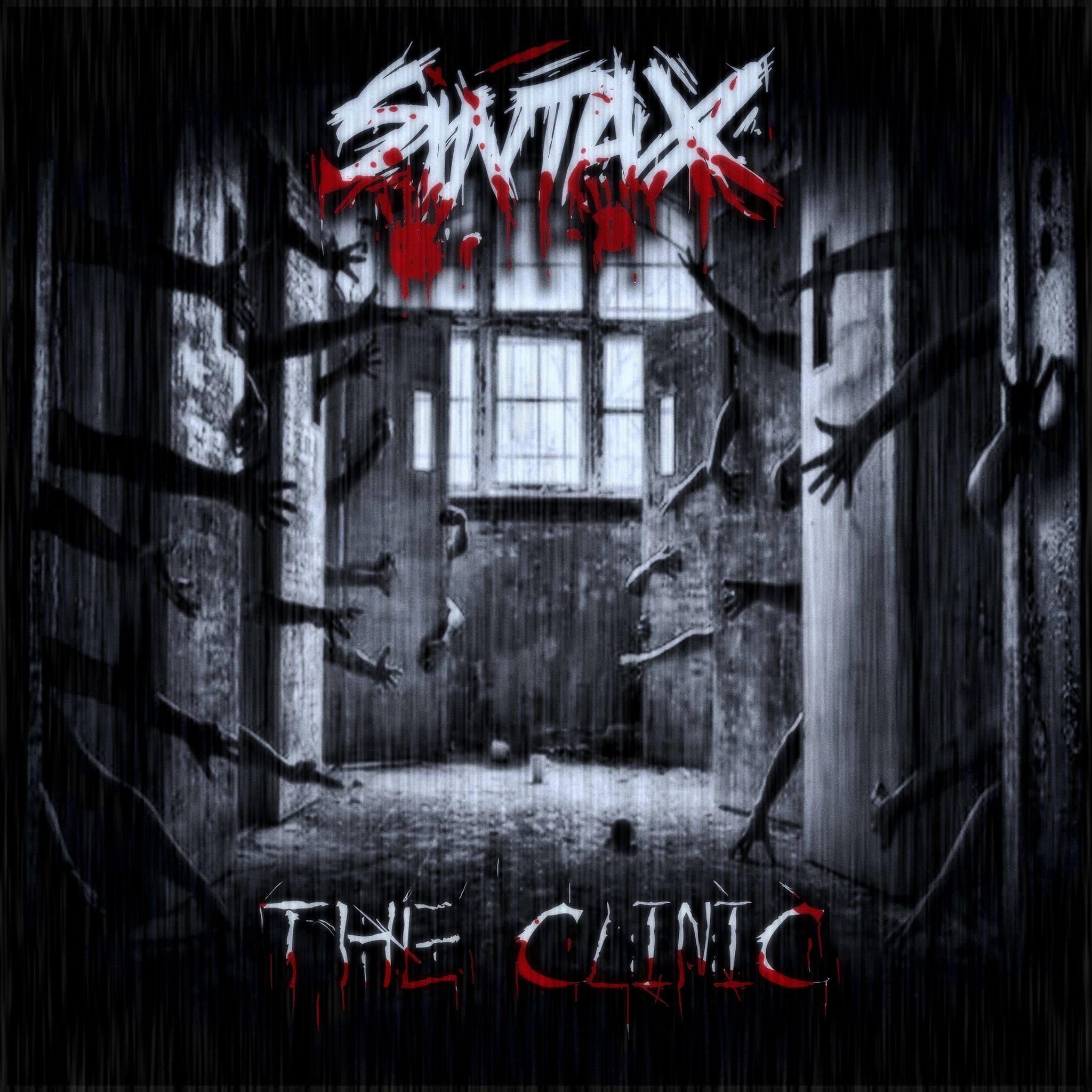 Sintax will be an underground force causing damage for years to come. On this statement, mark my words. Comprised of Pittsburgh, Pennsylvania based rappers Lumi The Impaler and Skippy Ickum, Sintax forms a deadly duo of creative spitters with lyrical talent and impressive chemistry. They also make up Brutal Business Entertainment. For their upcoming album The Clinic which will be available 5/20, I was lucky enough to have early access to the album and be able to review it here for The BMF/Pop Culture Spin.
Let me preface this article by saying I consider myself a hardcore underground rap fan who is not easily impressed. The list of rappers I'll listen to in detail is small. With the monstrous impact The Clinic had on me, I've now added Lumi The Impaler and Skippy Ickum to my short-list of excellent rappers in my rotation.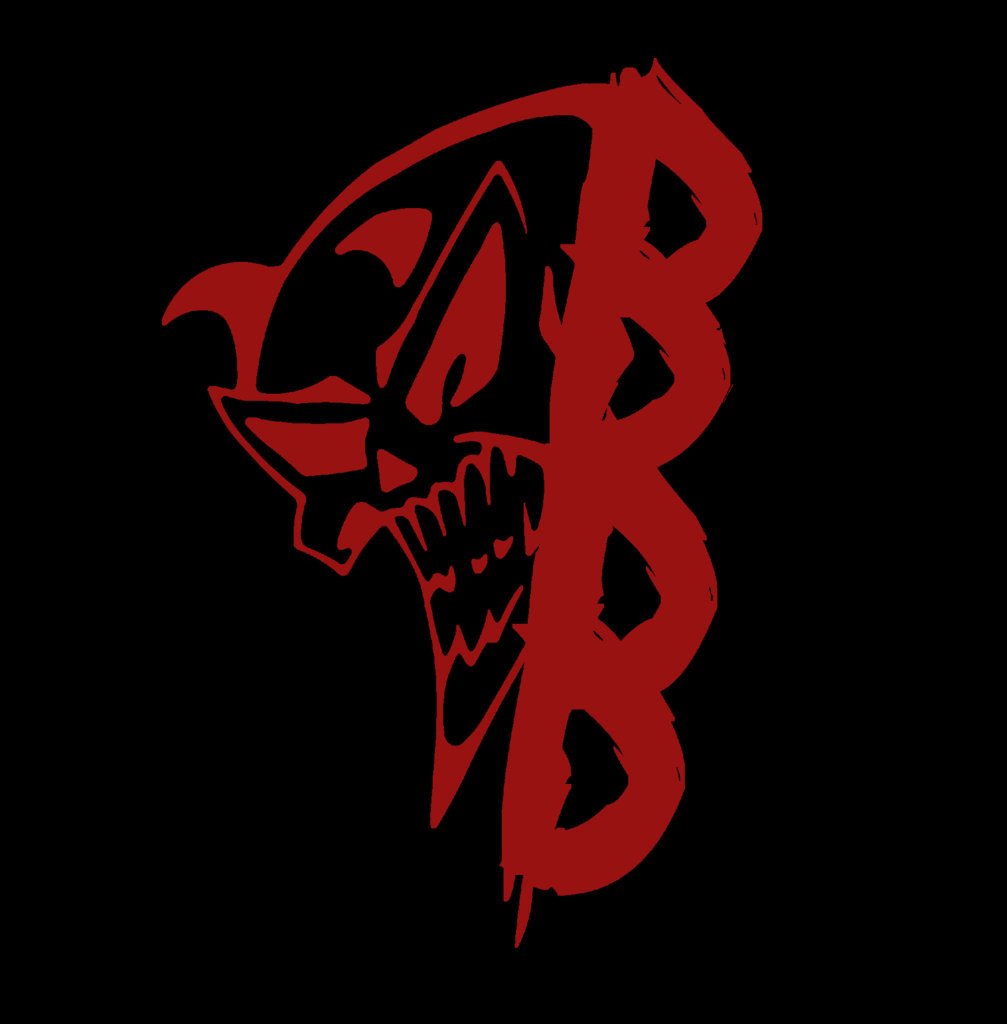 First off, Lumi and Skippy have incredible chemistry in part because of the contrast in their sound. Skippy raps at a quicker pace while Lumi is more deliberate. They rely on similar content – bars of a dark nature that are nevertheless conceptual – but their delivery is noticeably different, something necessary in a duo. The listener can easily tell when Lumi is on a track and when Skippy has his turn. For anyone who enjoys the likes of Immortal Technique, Tech N9ne, Rhyme Asylum, Madchild, or other similar artists, Sintax will appeal to you. Put in a token rap phrase, they "go hard." It's that simple. It was an honor to review The Clinic prior to its wider release – peep my thoughts below where you'll find my track-by-track rundown of the album. Welcome to the darkness.
Note that Legion is the credited graphic designer for the pictures you'll find in this piece. Also keep in mind these three places linked directly below to listen to The Clinic when it drops 5/20… The album will also be available on Bandcamp, DatPiff, and other platforms.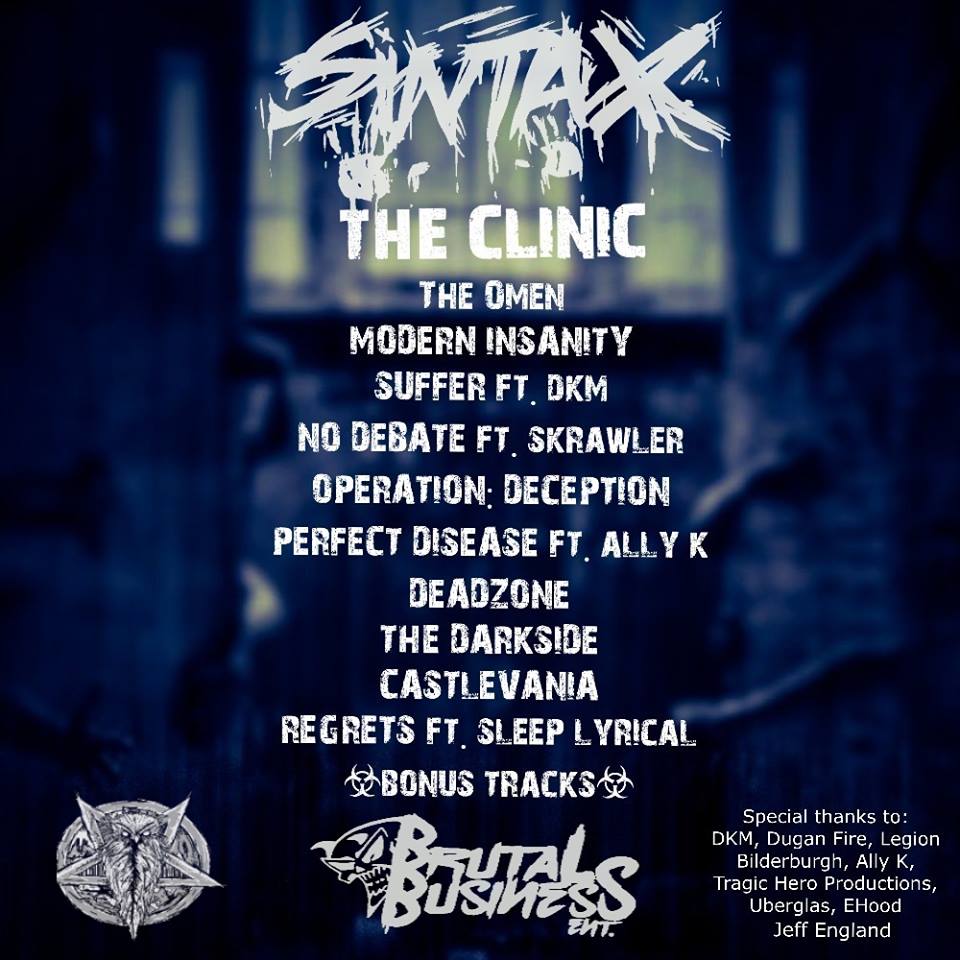 "The Omen" (prod. LAD Productions)
A dark story, horrorcore rap at its purest. Those uninterested in this genre will be offended (but screw them!), while those with an ear for this niche sound will be utterly pleased. Wisely, Lumi and Skippy go back and forth on the chorus which sets the tempo for The Clinic as a whole. Their chemistry is etched in stone from the onset of the album.
"Modern Insanity" (prod. Vherbal)
An eerie beat goes on for a lengthy period prior to the verses… Something that makes the audience eager to hear what's to come. Lumi kicks off the track by dropping multi after multi, a specialty of his. Skippy proceeds to rap about satanic rituals and murder, something that, again, one digs if horrorcore is appreciated. The story is vivid and creative from Lumi/Skippy, similar to a piece of artwork that's hard to look at but nevertheless masterfully crafted.
"Suffer" ft. DKM (prod. DKM)
I can't tell you enough how much I love this track. The hook is simply one of the greatest underground hooks ever created. "They wanna see me suffer" is a theme of the song, and this gem is more of a hardcore hip hop type of joint rather than pure horrorcore. Don't get me wrong, its themes remain loyal to what Lumi/Skippy bring to the table, but there's also a different sort of lyricism here that shows their versatility. I've had "Suffer" on replay for awhile and am not planning to stop anytime soon. Underground rap personified.
"No Debate" ft. Skrawler (prod. LAD Productions)
More dope Lumi multis… He comes out swinging and doesn't let up throughout his entire opening verse. This also marks the first feature on the album. Lumi/Skippy create what I earlier referred to as a niche sound, meaning they're likely selective over who they allow on a track. Skrawler totally holds his own here and fits in awesomely with the Pittsburgh based duo. This song also speaks on the reach Sintax can have internationally – we know underground rappers have rocked shows overseas because there's a fan base there, and hopefully Sintax will tap into that fan base as well.
"Operation Deception" (prod. Vherbal)
One of the nastier beats on the album. It creates an ominous feel that all but guarantees a wicked track is on the way. "Operation Deception" is basically a conspiracy track – Skippy and Lumi take turns speaking to political issues, religious falsehoods, and more. I can't say I agree with every word spoken on this track, I'm not exactly a major conspiracy theorist, but creativity is present and Lumi/Skippy have their trademark rhythm. And it's one of those songs that hip hop heads will dig on sound value alone even if they don't share all the same viewpoints.
"Perfect Disease" (ft. Ally K)
A mixture of violence, vivid material, and textbook underground lyrics that flow on top of an interesting and catchy piece of material from Ally K. After Lumi does his thing, Skippy slays it with a combination of rapping and singing, an element that makes "Perfect Disease" unique on this album. Skippy calls himself "the underground Pittsburgh Dracula," possibly one of his hardest lines on The Clinic. This is a beast of a song primarily because of its unique nature.
"Dead Zone" (prod. LAD Productions)
Horror movie fans, anyone? Any film seeking to have a track play as a killer walks through extensive darkness in a scene's pivotal moment, "Dead Zone" would be the perfect accompanying track. The content is about as grim as it gets, and if you've already dug The Clinic by this point in the album, you will be hooked. "Dead Zone" is used as a multi throughout the chorus, and the end result is a powerful track with points for being memorable.
"The Darkside" (prod. Vherbal)
Another example of Lumi and Skippy being deadly but contrasting in an excellent way. Lumi continues more of his multi focus while Skippy jumps in and out of multis with a style that unquestionably suits him. Also, I don't know exactly what was used behind the beat at the beginning of this track, but it's amazing. Sounds like water dripping. Or blood. It hits before the word "darkside" is heard throughout the track. Shows that The Clinic has quality production value as well as dope rapping.
"Castlevania" (prod. LAD Productions)
Worth noting that LAD Productions is on a number of joints here on The Clinic. Definitely props for the level of production work done on this album. This track starts with Lumi rhyming a series of things off Patrick Bateman, the popular American Psycho lead character. Beyond this, Skippy pens some of his most meaningful material on the "Castlevania" hook. Don't forget that within Sintax's rugged content is undeniable creativity. "Music is an expression of soul" is what Skippy says here… Indeed.
"Regrets" ft. Sleep Lyrical (prod. DKM)
"I got this feeling that my life is ending" is how "Regrets" begins. Sleep Lyrical doesn't always ride the beat he's rapping on, but his easily identifiable voice and storytelling style makes up for that easily. The content of this song touches on past trauma, horrible mistakes, painful realities of life, and more. Lumi kills it here – his verse is horrifying yet brutally honest. The impact his words should have on the listener is massive. When Skippy has his turn he sings a bit before diving into a more poetic/honest feel.
"Relapse" – Bilderburgh ft. Lumi (prod. Anno Domini)
Bilderburgh is another beastly Pittsburgh based group you should be following. They have a similar sound to Sintax, making it obvious that they and Lumi have no problem killing it alongside each other here. The topic here is, as you could easily guess, drug related. But what I applaud is that Lumi and the others on this project have no problem delving into the darker side of heavily using. They don't glamorize drugs here, rather, they speak to the impacts its had and its danger, all while still maintaining a true underground sound.
"I Won't Die" – Lumi ft. Crumb & Blender (of Bilderburgh) (prod. LAD Productions)
This song has all the roots of The Clinic. A nasty hook, hard verses, and an overall sound that will find itself living in the dark edges of your mind. Like "Suffer" when mentioned earlier, I can't say enough about the power of "I Won't Die." Deadly stuff. And the production value here is incredible. "Why, why, won't you die, die?" is the eerie echo throughout this track, something that could definitely makes its claim alongside the "Suffer" hook as being one of the most chilling aspects of The Clinic.
"Come And Get It" – Skippy Ickum ft. Dieabolik The Monster (prod. DKM)
This one grabs you immediately. "Demons call on the outside." You had me at demons. No word is better associated with hardcore underground rap or even horrorcore at that – demons. I wouldn't refer to anything Sintax does as pump up music of course, but this song gets me amped. I imagine it will have the same impact on others with a similar music preference. The chorus sounds like it has some sort of female vocal mix going on in the background that perfectly echoes the lyrics.
"Killer On The Inside" – Skippy Ickum ft. Sleep Lyrical & DKM (prod. DKM)
The penultimate song of The Clinic had me rocking my head back and forth from the jump. Sleep Lyrical calls himself the "illusionist" here and definitely kills it on a higher level than on his other feature mentioned above. Great there, but his excellence is on a different plane with this one. "Your face pisses me off" is a line that perhaps best summarizes Skippy Ickum. He raps like he's angry at someone, and I love that.
"Demon In The Darkness" – Skippy Ickum (prod. DKM)
An ideal way to finish off The Clinic. To listen to this album is to walk through the darkness of what it means to not only be an underground artist, but an underground fan. We as fans deeply appreciate the artistry present in the work of these rappers. Skippy is certainly more horrorcore specific than some other rappers I listen to, but his skill can't be denied.
He and Lumi have crafted something special with The Clinic. Take it from someone with rather high standards for what makes quality rap… This album, and this duo, should be in your focus moving forward. Stay tuned for 5/20 and be sure to not only listen to but also promote this album. In the realm of underground rap, it's a masterpiece.
Album Grade for The Clinic By Sintax – A+