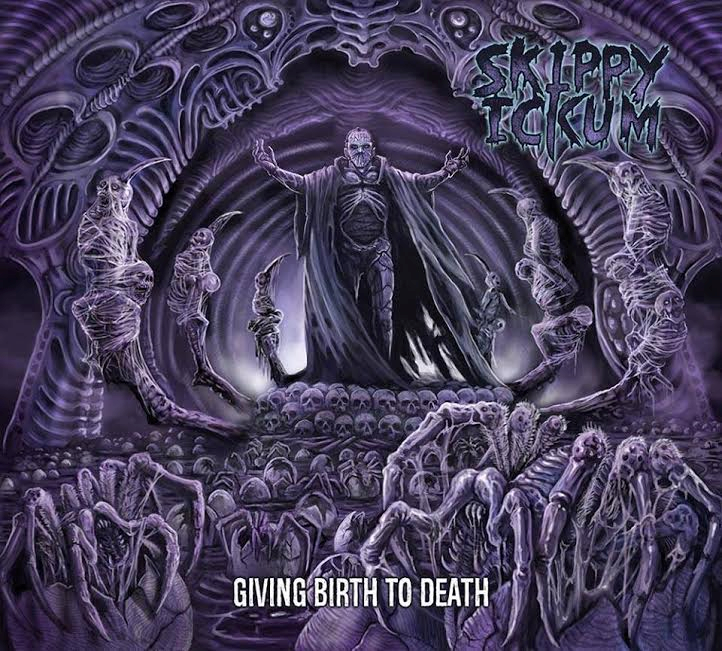 Skippy Ickum defines unique and unapologetic. You won't hear rappers like him dumbing down his material for radio play or trading in aggressive lyricism for sing-songy pop music. Skippy is a beast on the mic, and today brings the news of an awesome project that I had the opportunity to review. Giving Birth To Death, an upcoming solo album from the Pittsburgh, Pennsylvania based artist, is a 12-track project that showcases Skippy's individualized style and displays numerous talented features.
Peep my track-by-track breakdown of the album below and be sure to find Skippy on all social media platforms which are linked below this paragraph. He also forms half of the underground duo Sintax with Lumi The Impaler, a group who dropped "The Clinic" album which I examined back in May. Definitely trek back and read my thoughts there as well. If you like the sound Skippy brings to the table, it's your duty to alert others about Giving Birth To Death dropping.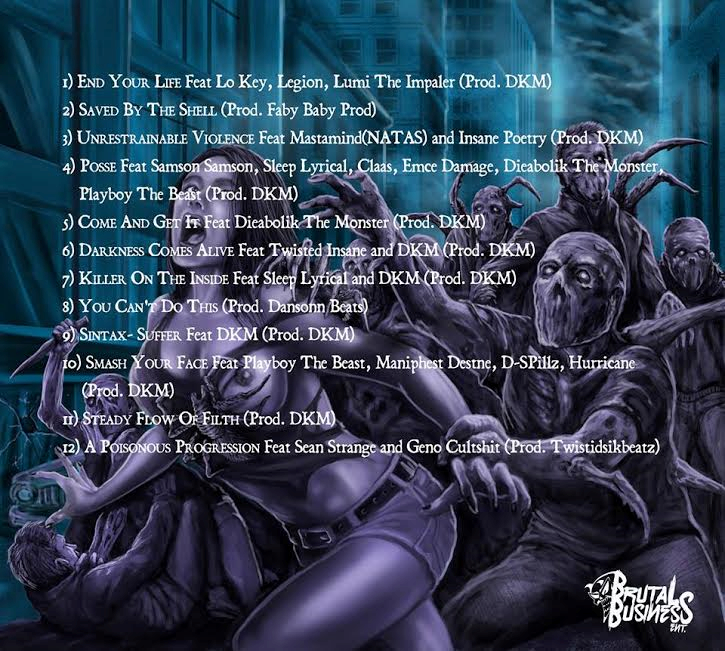 "End Your Life" Featuring Lo Key, Legion, Lumi The Impaler, (Prod. DKM)
This chorus gets inside your soul. As a reader of true crime literature focused on serial killers, this track reminds me of the inner thoughts and darkest desires of these type of murderers. Part of music, much like an actor in a movie, is to bring the art to life. This track certainly won't appeal to more mainstream centric fans, but for those who dig the darkest of the underground, it signals the beginning of what's to be a dope album. And in that regard, this is a form of art. It's also excellent to have Lumi on the joint since they have chemistry from their Sintax work.
"Saved By The Shell" (Prod. Faby Baby Prod)
This song focuses on the psyche of a bullied and tormented individual looking for revenge. As is a theme of the album, Skippy Ickum has developed a knack for catchy choruses even when the subject matter is troubling. I'm not a huge fan of this track's topic and focus, but the storytelling aspect remains a powerful point.
"Unrestrainable Violence" Featuring Mastamind (NATAS) and Insane Poetry (Prod. DKM)
Quite a few serial killer references here including Ted Bundy, Jeffrey Dahmer, Ed Gein, and more. Mastamind and Insane Poetry both go in here with stellar verses. A rapper like Skippy has to have features who suit his style and can match his intensity. They each are up to the task on "Unrestrainable Violence," marking this as one of the best and most complete tracks on Giving Birth To Death.
"Posse" Featuring Samson Samson, Sleep Lyrical, Class, Emce Damage, Dieabolik The Monster, Playboy The Beast (Prod. DKM)
This tracks has a fitting title and doesn't disappoint. Skippy brings with him a squad of underground spitters on "Posse" who each take their turn delivering damage. One of the best type of underground tracks is the kind that is basically a boxing match – punch after punch and haymaker after haymaker. Throw in multiple talented rappers in the same ring and that impact is amplified.
"Come And Get It" Featuring Dieabolik The Monster (Prod. DKM)
"Demons call on the outside, voices live on the inside, I can't seem to make them all slow down." This makes for the best opening line of Giving Birth To Death, and the heavenly yet haunting background voice that plays over Skippy adds to the excellence. Dieabolik The Monster doesn't quite offer the same quality on this track as Skippy, but that's likely because "Come And Get It" showcases one of Skippy's better verses. Dieabolik still proves himself to be a quality feature.
"Darkness Comes Alive" Featuring Twisted Insane and DKM (Prod. DKM)
Horror movie sounding intro, that much can't be debated. The opening music sounds like the kind that would be playing as Michael Myers stalks his prey in Halloween. The beat drops and drastically changes once the chorus kicks in, creating a more complex piece of material that sticks in your ear. What a beat this is… As you can already see, DKM is the producer on the majority of Giving Birth To Death. Arguably his top work is done here.
"Killer On The Inside" Featuring Sleep Lyrical and DKM (Prod. DKM)
This track is a beast. And I'd like to point out that Skippy Ickum provides the sort of music you should be banging while you drive. Sure, this may freak out other members of society driving around you (haha), but I've never found any genre to be better driving music than underground rap. As I said during my review of The Clinic, Skippy raps like he's pissed off at someone. Rap often covers the proverbial "you," a term that could be other rappers, society, or haters. Whoever Skippy is directing his fury towards, it hits hard and squarely.
"You Can't Do This" (Prod. Dansonn Beats)
Skippy steps up the speed here, spitting at a pace few could match. Like "End Your Life" does to kick off Giving Birth To Death, "You Can't Do This" could easily swap its underground song status with being the inner thoughts of a serial killer. It's dark, depraved, and relentless. If you've already become a Skippy Ickum fan by this point in the album, you'll be hooked. Listening to his music is at times like watching a Rob Zombie flick. You're shocked, but equally entertained and impressed.
Sintax – "Suffer" Feat DKM (Prod. DKM)
This is my favorite song that Skippy has ever pumped out. When I discussed this track for my review of The Clinic, I mentioned that it makes the claim for having one of the greatest hooks in underground history. This song works as both a pump up joint and an unforgettable piece of material that showcases a deadly beat and wicked lyrics. If you've ever wondered what it feels like to walk through pure pitch black darkness, I imagine "Suffer" would be a fitting track for that journey.
"Smash Your Face" Featuring Playboy The Beast, Manipriest Destne, D-SPillz, Hurricane (Prod DKM)
Another track that gives multiple talented rappers the opportunity to shine. They hold their own and succeed in carrying the song before passing the torch to Skippy. There's virtually no wasted time on "Smash Your Face" as each rapper follows the other with little break periods between. This is the way to pump out a multi-feature track with the artists working seamlessly together and providing similar themed content that makes for a complete song.
"Steady Flow Of Filth" (Prod. DKM)
Skippy starts spitting right when this tracks gets going. He rides the beat while keeping together the same rhyme scheme for a considerable period. "Steady Flow Of Filth" has the vibe of a mentally ill patient who escaped his living quarters and is inflicting his terror on the nearest individuals. I can't think of a better description for this song or for much of Skippy's music overall. This may be dark and grim storytelling, but it's storytelling nevertheless.
"A Poisonous Progression" Featuring Sean Strange and Geno Cultshit (Prod. Twistidsikbeatz)
This is a perfect way to end Giving Birth To Death. Skippy defends his team and basically spits about how he and his squad are better than the surrounding competition. My takeaway from this song is that Skippy has a tremendous work ethic and isn't going to be drifting away anytime soon. He is a staple of the underground and "A Poisonous Progression" cements this fact in stone.
Taken as a whole, Giving Birth To Death is an impressive album that stays true to its roots. I have massive respect for the artistry that Skippy provides. He and Lumi already hooked me into their music with The Clinic, and it's phenomenal to hear Lumi and various others featured throughout Skippy's solo project here. He manages to both forge his own path while also teaming up with others with a similar ability to kill it in the booth. Bump this album and spread it to everyone you know, that is, if that someone you know appreciates underground rap.
Album Grade for Giving Birth To Death by Skippy Ickum : A