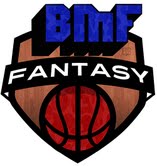 Here is a useful resource I wanted to share that has been pretty useful to me through the years. As I build my fantasy basketball team on draft day, whether for Rotisserie or Head to Head formats, I find myself looking through a spreadsheet searching for certain players to fill specific needs.
In an ideal world you would have a sheet with the projected Top 20 for the upcoming season. However, in a pinch, this will do. See that your team lacks defensive numbers, look up who will pump up your steals like Monta Ellis or blocks with Serge Ibaka. Your team lacks threes made, find the a guy like J.J. Redick to fill your needs. I also took the liberty of showing the league average per statistic to help add perspective on the numbers you're looking at.
For reference here is a sheet with the top 20 players in each of the common counting categories in fantasy basketball from 2015-16.
Feel free to bookmark this page and give it a look come draft day.