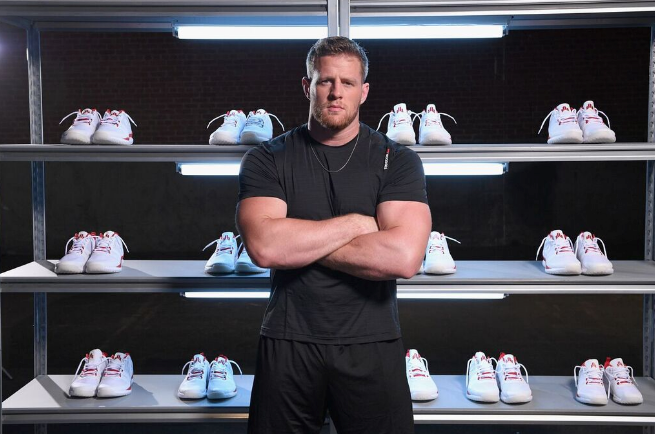 Brought to you by our friends at Reebok.
Reebok has officially launched the JJ I, the first signature training sneaker from explosive Texans' defensive end, J.J. Watt.

The JJ I provides the athlete who wears it with ultimate heel to toe stability. The raised topline midsole keeps the foot locked in on top of the platform for increased support, while the outsole provides multidirectional traction for strong, dynamic grip during the most intense agility workouts.  In the mid-foot, FlexCage technology, a substructure cage with webbing tie-downs integrated into the upper, provides the lock-down feel without sacrificing agility and responsiveness, ensuring maximum transition of power. A second cage is integrated into the toe for added protection during jumping and pushing exercises.  The JJ I also introduces Reebok Liquid Foam technology for the first time, which allows for rapid reaction to every impact.

"I've trained in many different shoes throughout my career, but there was never one that I felt was clearly the best shoe to get the job done," said J.J. Watt. "So I decided to build one and with the help of some great designers, I am proud to say that we have created the best training shoe I've ever worn. We spent over a year making sure that this shoe would perform at the highest level on any surface for any activity. Everyone has their own personal vision of greatness, the JJ simply ensures that you have the right tools for the hunt."

The JJ I are available for $99.99 at retailers including Reebok.com, Academy, and additional stores nationwide.