Reebok celebrates the illustrious careers of two of its most storied basketball athletes – Allen Iverson and Shaquille O'Neal.  As they took the stage in Springfield, MA for their official inductions into the annals of basketball history, Reebok will be releasing two limited edition versions of their two iconic Reebok sneakers – Allen Iverson's Question Mid and Shaq's Shaq Attaq.
Dubbed the Question Mid "Celebrate" and the Shaq Attaq "Celebrate", the shoes are on sale exclusively at Reebok.com – www.reebok.com/us/celebrate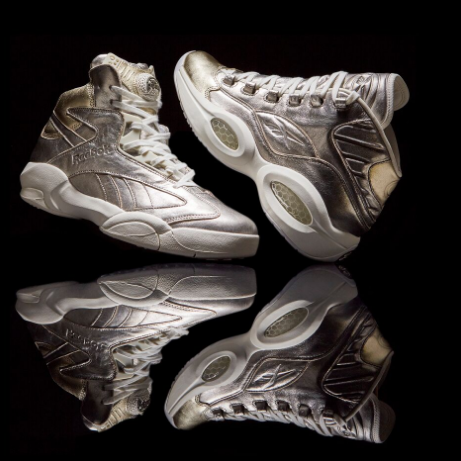 Made of premium Italian Pellegrini leather uppers in platinum metallic, the sneakers sport pale fold smooth leather accents on the heels (and the toe of the Question Mid) with deep debossed logo treatments and glove-soft chalk leather linings.  The shoes are an homage to each of the player's permanent mark on basketball and culture in general, but also serves as a thank you from both Allen Iverson and Shaq to their fants and supporters via messages on the insoles of both sneaker styles.
Allen Iverson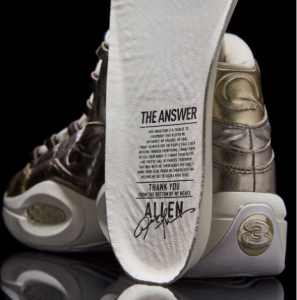 The Answer
This induction is a tribute to everybody that helped me – my family, my friends, my fans.  I want so much for the people that stuck with me through everything, I want them to feel good about it.  I want them to feel like they're Hall of Famers.  Everybody that was with me throughout the ride, I want them to be proud of themselves for helping me get to such a high level.  Thank you from the bottom of my heart. – Allen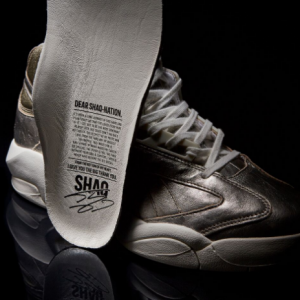 Shaquille O'Neal:
 Dear Shaq-Nation,
 It's been a long journey in this game and I can truly say that I've loved every part of it.  I set out to be the most dominant player ever, but stats don't validate my career, the respect of my peers and love from the fans are my biggest validation.  This induction is only a part of what makes my career so special, the other it you, the fans.  Without your love & support, I would never have become the Big Diesel.  From the bottom of my heart, I give you the big thank you. – Shaq