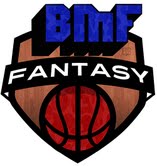 The 2016-17 NBA season is right around the corner and I'm already crazy-excited! To help everyone prepare for fantasy basketball we will be doing a series of posts on some players of interest, players who have shaken up the rankings and are worth closer looks heading into the season.
Let the KAT out of the bag
Let's kick things off with the player who is jumping into the fantasy top 10 rankings in his sophomore year. We're talking about 2015-16 Rookie-of-the-Year award winner, Karl-Anthony Towns. Yahoo! has his pre-season rank pegged eighth overall, while ESPN has the 20-year-old leapfrogging Stephen Curry and taking the number three spot in their rankings. While he did have, arguably one best rookie seasons we've seen in awhile, these are huge expectations to lay on his shoulders.
In 2015-16 KAT dropped 18.3 points, 10.5 rebounds, and 1.7 blocks per game. He showed us all, why he was worth that first-overall pick that the Minnesota Timberwolves used on him. He has shown impressive explosiveness and the ability to finish strong at the rim, as well as a promising post game. The defense is there, as shown by his combined 2.4 steals-blocks, which is not bad for a rookie campaign, but of course we would love to see more this 2016-17.  Obviously, that's something he can work on. At the very least, the foundations of both his offensive and defensive game are there and it is just a matter of him growing as a player. Towns has a very complete skill set. If winning the NBA All-Star Game Skills Challenge doesn't support that enough, I don't know what else will. So you can see how Karl-Anthony's ceiling is a scary, uncharted Universe waiting to be explored. He had an extra advantage last season, he had one of the most versatile big men to ever play the game mentoring him in Kevin Garnett. If you've been playing fantasy basketball long enough, then you know that KG was a fantasy beast who dominated the game during his prime.
Other things about KAT that I love, from a fantasy perspective are his shooting percentages and his center eligibility. His 54.2% from the field is okay as far as the big man standards are concerned, but it's really his 81.1% from the free-throw line (3.4 attempts per game) that truly make him a fantastic asset in 9-cat and 8-cat leagues. The only other high-impact big man with solid shooting numbers is the New Orleans Pelicans Anthony Davis, who did slip a bit in 2015-16 with 49.3 FG%, 75.8 FT%, 24.3 PPG, 10.3 RPG, and 2.0 BPG. And of course, AD is pretty much blacklisted as an injury-prone risk on draft day at this point, but we'll talk about him more in another post. The way I see it, Karl-Anthony could BE the Anthony Davis we hoped to see, but healthier, and that right there would simply be money as far as fantasy basketball is concerned.
At the end of 2015-16 Towns produced value equal to an early second-round pick in fantasy. His expected improvement heading into his sophomore year, should make him a no-brainer if ever he falls in the latter part of the first round of 12-man leagues, but is he really worth a third pick, like ESPN says? Will he deliver better value compared to the Golden State All-Star duo of Stephen Curry and Kevin Durant, or even San Antonio's Kawhi Leonard? Somehow, I doubt that. After those guys are off the board though, book me a ticket on that KAT-Train. "All aboard!" Basically, I'm taking the middle ground here. I'm willing to be a bit more bullish than Yahoo, but not as much as ESPN. That said, if you happened to pick him in your KEEPER league last season, congratulations! You've got one of the NBA's elite players of the next decade on your hands, you lucky bum.