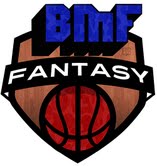 I've been playing fantasy basketball for over a decade and each year I learn something new. In recent years, I have begun to pay more and more attention to the NBA schedule, at least from a weekly perspective. It's the side effect of playing in a lot of head-to-head leagues. It is good to know which teams have loaded schedules towards the end of the regular season. Simply put, it translates to more games played, and more games played equate to more counting stats. I never really considered myself a "schedule guy" in past, but in preparation for the upcoming 2016-17 NBA season I officially am that guy. I adjusted my personal rankings for certain leagues by taking into account team schedules. What that means is that players who play for teams that do not have favorable schedules during the fantasy basketball playoffs get bumped down a notch or two.
Our friends at Basketball Monster have an excellent week-by-week breakdown of the schedule of each NBA team. To help me prepare for this season's draft, I basically eyeballed it and created summaries for key weeks. Different fantasy leagues have different schedules. Some commissioners prefer not to count the last half-week worth of games, as the odd "resting of players" is too much of a decisive swing; while other commissioners like setting things up so that the Finals are played out over an extended period, an allusion to a Best-of-Seven series versus a Best-of-Five. I also took note of which teams have good schedules leading up to the fantasy playoffs. This might prove to be useful mid-season when you're picking up or trading for players to help you qualify for the playoffs.

From the chart you can see that the New York Knicks have the best schedule for the fantasy playoffs. Unfortunately, it IS the New York Knicks. Well there's Kristaps Porzingis. Cleveland, Dallas, San Antonio, and Oklahoma City have a good number of games for the last few weeks of the season. As far as making the fantasy playoffs are concerned, Washington has a solid string of four-game weeks from Week 19 to 23. So assuming John Wall's knees hold up this season, he should be a big help in getting your fantasy team into the post-season.
Los Angeles Clippers have the lightest schedule from Weeks 22 to 25. Here's the best worst-case-scenario example of why paying attention to the schedule matters. If by chance you ended up owning Chris Paul, Blake Griffin, and DeAndre Jordan in one head-to-head fantasy league, and your team made the playoffs; your team is not likely going to take home the championship because three of your top players are playing far less games than your opponent's players are. The Chicago Bulls and the Portland Trail Blazers are not as bad as the Clips, but leave a lot to be desired as far as schedules go.
Someone might ask, "That's the Fantasy Playoffs, shouldn't building a team that gets there be the priority?"  At the end of the day, I'm not sacrificing value for scheduling advantage, at least not entirely. I am simply espousing that it is a factor to be weighed and considered, especially when it comes to comparing players within the same fantasy value tier. It does not mean that just because the Clippers have the worst schedule that I'm going to exclude Chris Paul from my rankings. He's still a top three point guard at the end of the day. It just means that there is now a more serious argument for taking someone like say, Kawhi Leonard or Paul George, ahead of CP3 come draft day because the Spurs and Pacers have better schedules. Both Leonard and PG13 will play eight and seven games respectively over the course of Weeks 23 and 24, compared to Chris Paul's FIVE. That's a three or four game difference right there, depending on who you opted to grab. That's a comparison between players in a close enough value range that schedule is worth taking into account. Drafting to win, or at least with the mindset that your ARE going to make the playoffs in your fantasy league, is simply a winning attitude and part of a true baller's mind frame.
Last season in particular, the "schedule factor" poked at me just that little bit harder. I was playing in a 12-man, 7-cat, H2H league, that was loaded with skilled and active fantasy basketball enthusiasts. It was a trade-happy manager's paradise, as guys were constantly tweaking their teams, trying to both achieve that perfect mix of players and get the most value possible. I actually found it difficult packaging players in trades with some other managers, because they "did not like the player's team schedule" for the fantasy playoffs. I was like, "what? ..but this guy I'm giving you has more value!" and I was met with a respectful "Sorry. No thanks, bud." So from a trade-value standpoint, taking schedules into account, at least in this league in particular should pay dividends in the end.
There you go, I know paying attention to schedule is a little bit on the hardcore side, but hopefully the chart makes appreciating it a bit easier to digest.