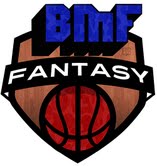 For the first time in recent years, there is a dynamic shift happening in the point-guard landscape. A shift of considerable enough magnitude that it is worth reassessing how the first few rounds of most fantasy basketball drafts will should take place. Several high-tier point guards are coming into 206-17 with injury risks, but new options for managers are crashing into the market as well.
James Harden – The "D'Antoni Effect" is already making waves. Harden has been named the team's starting point guard. Yup. That just happened. "The Beard" will no longer be the best passing shooting guard in the league. While the offense always passed through him in the past, this is more than a gesture of the coach handing his star the keys to the team. Harden will now have a bigger responsibility of getting his teammates involved in the offense. He was already sixth in the league in assists in 2015-16 with 7.5 dimes per game. Expect that number to rise and Harden to be a Top-3, Top-4 passer this season. His point guard eligibility adds a lot more flexibility to teams drafting him this season.
Chris Paul – He is reportedly coming into this season healthy, but unfortunately for managers playing in Head to Head leagues, the Los Angeles Clippers have the worst schedule for the fantasy basketball playoffs. He is still a solid first-round pick, but owners should load up on players, guards in particular, who are on teams with with fantasy-playoff favorable schedules.
Giannis Antetokounmpo – Jason Kidd will be running the "Greek Freak" as the Bucks point guard this season. He is easily cracking the first round of drafts this season and is a viable first point guard for any fantasy team. He's the tallest PG right now and is going to be a nightmare to match-up against. He does bring a ton of extra rebounds and blocks to your PG spot, but he does not shoot the three-ball very well, so you will have to look elsewhere to boost that category.
John Wall – Wall had procedures done on BOTH of his knees over the off-season. This adds a dash (or two) of risk when considering him in the second round of drafts this season. He should still be a prime contributor of points and assists, but the scare of him missing some games due to re-injury is a concern.
Kemba Walker – Kemba broke out last season and was a force to be reckoned with in fantasy basketball, but had to undergo knee surgery in May. He was a limited participant in training camp, but has been cleared for full contact. There are precautions currently in place limiting his preseason games and minutes. While Walker is expected to ready for the regular season, the surgery was to repair a torn meniscus and he could potentially be in for some issues of knee swelling in the middle of the season.
Goran Dragic – The Miami Heat are a drastically different team this season and Dragic is quite possibly the biggest beneficiary as far as fantasy value is concerned. Dragic is worth a reach in the early-middle rounds of the draft and can easily bring on a renaissance of his heyday in Phoenix. 20 points, 2.5 threes, and 6.5 assists per game are not out of the question for Goran.
Solid early round targets are Stephen Curry (still, despite Durant addition), Damian Lillard, and Kyle Lowry.
If you decide to pass up on guys like CP3, Wall, and Walker in the first two rounds, make sure you adjust the rounds you target lower tier point guards who are expected to make a leap this season such as Dennis Schroder, D'Angelo Russell, and the aforementioned Dragic.